Three ex-Rams among 15 Pro Football Hall of Fame finalists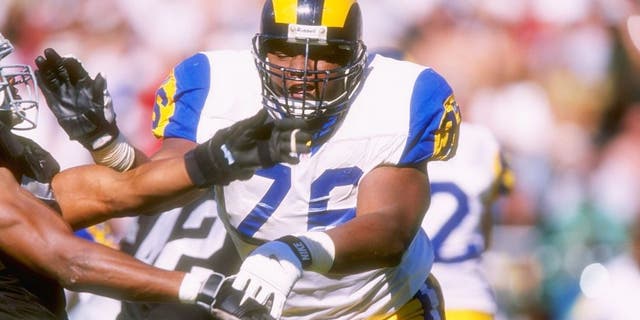 NEWYou can now listen to Fox News articles!
Two members of the Rams' Greatest Show on Turf and one former Los Angeles Ram remain in the running for the Pro Football Hall of Fame.
Offensive tackle Orlando Pace and quarterback Kurt Warner, who won Super Bowl rings with the St. Louis Rams, and former Los Angeles Rams linebacker Kevin Greene were named "Gold Jacket Finalists" for the Hall of Fame's Class of 2016.
The NFL and Pro Football Hall of Fame announced the 15 finalists in an NFL Network special Thursday night. The list was pared down from 25 semifinalists, and Greene, Pace and Warner will have their cases discussed by the Pro Football Hall of Fame selection committee on Feb. 6, a day before Super Bowl 50.
Greene is now a five-time finalist. He spent the first eight seasons of his career with the Rams (1985-92) and ranks third on the NFL's all-time sack list with 160, which are the most ever by a linebacker. Greene was named First-Team All-Decade for 1990s at linebacker and was a five-time Pro Bowler and two-time First-Team All-Pro.
In 15 NFL seasons, Greene led the NFL in sacks twice and finished in the top 10 eight times and the top five five times. He reached double digits in sacks 10 times, third most in NFL history, and led his team in sacks 11 times.
Pace was also a 2015 finalist in his first year of eligibility and will have his credentials debated for a second straight year. Pace was named to seven Pro Bowls and was a three-time First-Team All-Pro selection. He was named Second-Team All-Decade for 2000s by the Pro Football Hall of Fame.
The first overall pick in the 1997 NFL Draft, Pace anchored an offensive line that helped St. Louis finish in the top five in passing offense in eight consecutive seasons (1999-2006). He was a cornerstone on an aerial attack that saw the Rams lead the NFL in yards per game, passing yards per game and points per game for three straight seasons (1999-2001). The Rams finished in the top 10 in the NFL in total offense seven times during Pace's career.
Warner is a finalist for the second straight year as he also reached the "round of 15" in 2015 in his first year of eligibility. His resume includes two NFL MVPs, four Pro Bowls, two First-Team All-Pro selections and a Super Bowl MVP trophy, which he earned after throwing for a Super Bowl-record 414 yards in the Rams' win over Tennessee.
Warner is one of just three quarterbacks in NFL history to start a Super Bowl for two different teams, joining Craig Morton and Peyton Manning. From 1999-2009, his time as a starter, he ranks fifth in passing touchdowns, fourth in passing yards and second in completion percentage.