Three Cuts: Braves' cast of veterans keep coming through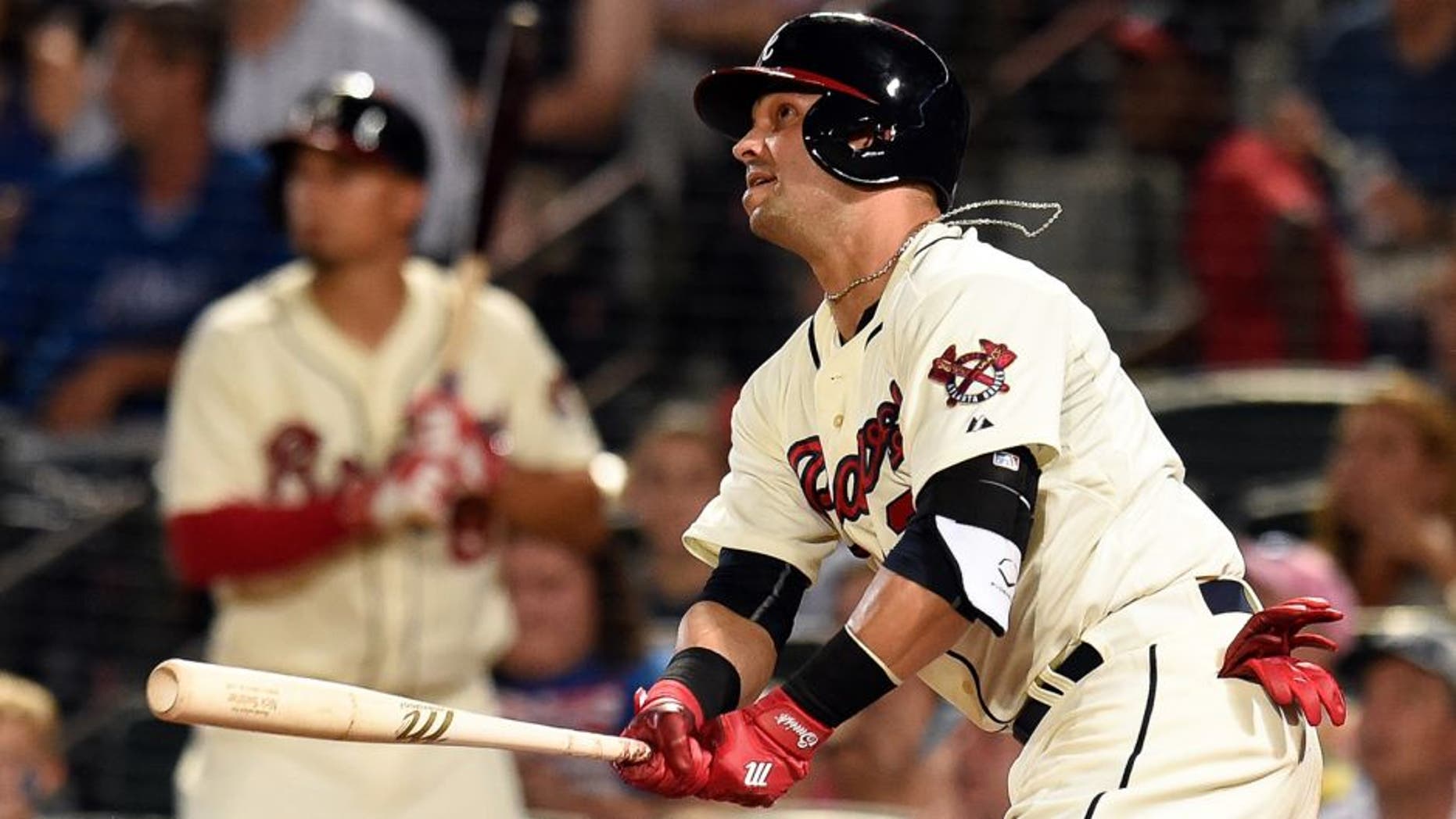 The weekend saw some of the greatest figures in Braves history take center stage and Chipper Jones all but stole the show with the likes of Hall of Famers Bobby Cox, Tom Glavine, Greg Maddux and John Smoltz joining him.
Jones -- who in all likelihood will receive his own call to Cooperstown in 2018 -- was named MVP of the alumni softball game, hitting two home runs in helping the 1995 World Series team to victory.
As much as the four-game series vs. the Marlins was a chance to see old faces once again, it was also an opportunity that new and old faces took advantage of as Atlanta posted a 4-3 home stand vs. Miami and the Giants ... which takes us to this week's Three Cuts.
1. Old Guys Rule
It was out with the old and in with the well, older, as the Braves shipped Chris Johnson to the Indians for 34-year-old Nick Swisher and Michael Bourn, 32.
With Freddie Freeman on the disabled list, Atlanta has the capabilities to have as many as five 30-somethings on the field at the same time with Swisher, Bourn, Jonny Gomes, Nick Markakis and A.J. Pierzynski (not to mention reliever David Aardsma)-- but of late they're all turning back the clock.
Markakis had a 15-game hitting streak before it was snapped Sunday, a span in which he hit .379. Pierzynski's 13-game streak also ended in the finale vs. Miami, a run that he hit .431 during.
Meanwhile, Gomes homered Sunday and has three RBI in his last five games, Swisher's debut included a dazzling unassisted double play at first base and a two-run double he capped with the Tomahawk Chop.
Bourn also delivered a hit in his first game back in Atlanta on Saturday.
It's unlikely that many of these pieces will still be leaned on or in Braves uniforms at all when SunTrust Park opens in 2017, but for now Atlanta continues to tap into these veterans with impressive consistency.
2. More Bad Luck For Shelby
You know the drill. Shelby Miller pitches and the offense disappears. It's now been 15 starts since his last victory -- dating back to May 17 with his near-no-hitter vs. the Marlins -- with the latest bit of frustration coming in the form of five innings in which he allowed two runs on five hits.
It wasn't Miller at his best and he had his shortest outing since July 10 at Colorado, but his pitch count (100) was elevated on Sunday.
If Miller was going to end his drought, though, the Marlins would have seemed the perfect opportunity, given that they are the lowest scoring team in the majors at 3.57 runs per game. But Miami in the midst of a virtual eruption in Turner Field, totaling 19 runs over the four games. By comparison, the Marlins needed six games to reach that number before coming to Atlanta.
Miller got no help as the Braves had three hits (one from Jace Peterson, Gomes' homer and the last from Miller himself) and only his double happened when he was in the game.
Ninth in the majors with a 2.48 ERA, his hard luck ways have to end at some point. His next chance to break out of that run will come Sunday against the Diamondbacks.
3. The Return Of Teheran?
A road start and a home start and both were sensational.
Julio Teheran broke away from his ridiculous splits by delivering away from Turner Field as he held the Phillies in check to the tune of two earned runs over eight innings last Sunday. Then, he went 6 2/3 in going toe-to-toe with the Marlins' Jose Fernandez, allowing three earned runs and six hits.
Criticized for much of the season for not being aggressive, Teheran has been going inside more to left handers (which the Phillies had a litany of) and over the last six games he's racked up 38 strikeouts to 14 walks. He's issued a combined one free passes in his last two outings.
With Alex Wood now a Dodger and the back end of the rotation including three rookies in Mike Foltynewicz, Williams Perez and Matt Wisler, the Braves need this version of Teheran as a complement to Miller, not the one that had a 5.07 ERA at the All-Star break.
Follow Cory McCartney on Twitter @coryjmccartney