Thrashers-Rangers to air on Versus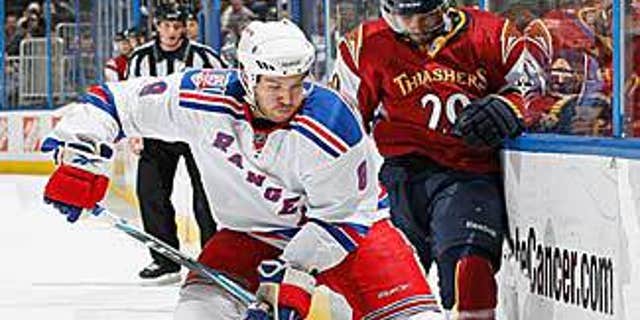 Now playing without the injured Ryan Callahan, the New York Rangers' intense chase for a playoff spot will be televised nationally on Thursday night.
New York, which is just two points ahead of Carolina after the Hurricanes earned a 3-0 win against the Detroit Red Wings on Wednesday, will host the Atlanta Thrashers at Madison Square Garden. Game time is slated for 7 p.m. ET and can be seen on Versus in the U.S. The Rangers lost Callahan indefinitely after he suffered a broken leg blocking a shot in the final minute of Monday's 5-3 win against Boston.
Also at 7 p.m., the Montreal Canadiens face the Ottawa Senators at Scotiabank Place in a game that can be seen in Canada on RDS and CBC. The Habs clinched a playoff berth with Tuesday's win against Chicago.
The Dallas Stars will attempt to stay in the hunt for a playoff spot in the Western Conference as they host the Colorado Avalanche at the American Airlines Center at 8:30 p.m. ET. The Stars helped their chances on Tuesday by beating Columbus 3-0. Ninety minutes later, the Vancouver Canucks host the Minnesota Wild at Rogers Arena in a playoff tuneup.