Thornton comment sparks controversy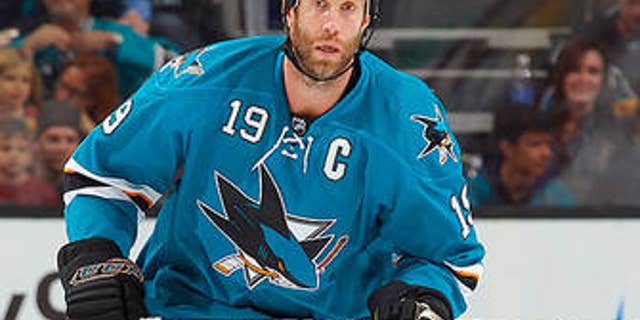 Nineteen-year-old San Jose Sharks rookie Tomas Hertl found the net four times on Tuesday in a 9-2 win over the New York Rangers, making him the youngest player in a quarter century to accomplish the feat, while giving him six goals for the young season.
And we all got very excited about it -- especially the last goal. Of course, you would too if you did this:
But perhaps no one was as stimulated by Hertl's feat as Sharks center and captain Joe Thornton, who did not seem to have any reservations about the propriety of his teammate's celebration, and took it one giant step further with a salacious quote published in The Vancouver Province.
The quote is graphic and somewhat untoward of a player of Thornton's caliber, but rather than censure Thornton, the Sharks responded Thursday by admonishing The Province for publishing what they felt was a privileged, off-the-record remark.
"I don't think it would be a surprise to anyone in the industry that 'locker room talk' exists," Sharks director of media relations Scott Emmert said in a statement. "Professional reporters understand that concept and respect it."
From the Province's account of the incident, it sounds like Thornton was not part of the initial line of questioning before inserting himself very much into it. However, that doesn't necessarily give the Province the right to publish it.
I've been in more NBA and NFL locker rooms, NHL dressing rooms and MLB clubhouses than I care to count, and I've heard more than my share of things that aren't necessarily fit to print -- from conversations about which club the team is meeting up at on a given night to players talking about money owed to one another to "Hey, did you see that dude with the big nose sitting under the basket?"
And while I've never been in a position quite like the one Thornton put reporters in when discussing Hertl -- when Marcin Gortat opined to me about how terrible New York City smells , he specifically did so on the record -- the debate over whether his words were intended for publication doesn't seem like much of a debate at all, and the fact that his off-color remark wasn't published by any of the other reporters within earshot is telling.
That said, many readers across the web have an appetite for the bawdy, and one can certainly understand why the Province felt Thornton's opinion -- fair game or not -- was worth printing.
The Sharks' next game is Thursday night against the Vancouver Canucks. Better dial that seven-second delay back to 15 moving forward, just in case Thornton -- who, thankfully, has no four-goal games to his name, but does have four hat tricks -- happens to go off.