Thorns and Reign paint picture of NWSL's mixed results in its opening season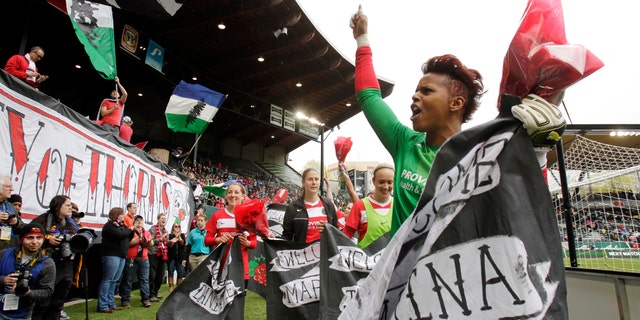 PORTLAND, Ore. – The Portland Thorns' season couldn't be going any better. They're sitting atop the National Women's Soccer League's opening-season standings and drawing more than 11,000 fans to home games. And they've got Alex Morgan.
But just a few hours' drive north, the Seattle Reign are struggling with a roster unexpectedly missing its star power, and with no wins and four total goals so far.
The two contrasting teams paint a picture common to many startups: successes and snags.
The eight-team NWSL, which started play last month, is a collaboration between American, Canadian and Mexican soccer federations. Ultimately, the league's survival will come down to whether fans support the teams.
After its first six weeks, the NWSL had drawn more than 101,494 total fans to 24 league games, a respectable average of 4,229 at each game.
The Thorns, averaging 13,342 fans per game at Jeld-Wen Field, have undoubtedly boosted that average. FC Kansas City has the second-best home gate at the 6,150-seat Shawnee Mission District Stadium, averaging 5,070 fans per match. New Jersey's Sky Blue FC is drawing the fewest fans with an average of 1,586.
"I've had the pleasure and the opportunity to go around to all eight teams and be at all eight facilities, and at each one — whether it's been an excessively large crowd like Portland, or one that might not be as large because the facilities don't all hold the same amount — the enthusiasm from the fans at the games and the quality of play on the field, and the ability of the players, has been outstanding," said Cheryl Bailey, the league's executive director.
There have been two other recent attempts at a women's pro league in the United States, but both failed after just two seasons: The Women's United Soccer Association was founded in 2000, hoping to capitalize on the U.S. national team's victory in the 1999 World Cup, but the league folded in 2003. Another league, Women's Professional Soccer, played from 2010-2012 but had insurmountable internal organization and financial issues.
The NWSL believes it is better positioned to succeed because of its association with the North American soccer federations, which pay the salaries of their national team players to help keep costs down.
"The uniqueness of having three federations come together, not only providing the talent on the field, but also giving the financial support to the teams, now sets us in a different light than the past two leagues, and gives us a different platform to build upon," Bailey said.
To be fair to the rest of the league, the Thorns and their fan base are an anomaly.
Portland sits atop the NWSL standings at 5-1-1. Morgan, whose star rose exponentially when she scored in overtime against Canada to send the United States to the gold medal match in the London Olympics, leads Portland with four goals, while Canadian Christine Sinclair has three.
"So far so good," Thorns coach Cindy Parlow Cone said about the start of the season. "I think with each week the level of play gets better and better, and that's just teams having more time together. It takes a while for everyone to jell. The quality of the individual players is outstanding and as a result you're seeing teams really come together now."
Merritt Paulson, the owner of Major League Soccer's Portland Timbers, also owns the Thorns and both teams share Jeld-Wen Field. Timbers supporters, who have sold out 40 straight games, were quick to support the Thorns, too, and the women's team sold more than 7,500 season tickets for their 11 home games before the season even started.
This past weekend that crowd was announced at 12,474 for Portland's 2-0 victory over the Washington Spirit.
"It was great to come in here and automatically have the supporters have our backs and be behind us," Morgan said. "I think being in the same organization helps and playing at Jeld-Wen, definitely. It's great to see."
In contrast, the Reign was hit with the unforeseeable to start the season. National team forward Amy Rodriguez became pregnant with her first child shortly after she was assigned to Seattle, and goalkeeper Hope Solo needed left wrist surgery before World Cup qualifying. Megan Rapinoe, meanwhile, decided to play in France.
Had the original team come together, Seattle probably wouldn't be sitting at 0-6-1 at this point in the season.
Surprisingly, Reign owner Bill Predmore isn't discouraged. Rapinoe and Solo should join the team next month, and the Reign will likely see a boost to the average of 1,815 fans that have been attending games at the Sounders' 4,000-seat training facility just outside Seattle.
"We're looking at this as a very long-term project," Predmore said. "I had no expectations that we were going to get 10,000 fans to show up on Day 1. We are a brand new club, the business entity has existed for only a little over five months. So I think we're realistic in our expectations that this is going to have organic, grass-roots growth."
Other NWSL teams were similarly hit by disappointing injuries to allocated players. Carli Lloyd of the Western New York Flash broke her shoulder, Sky Blue FC goalkeeper Jill Loyden broke her hand, and Chicago Red Stars midfielder Shannon Boxx had surgery on her right knee late last month.
Additionally, all eight NWSL teams are about to take a bit of a hit for the next couple of weeks. Both the Canadian and U.S. national teams have recalled players for an international exhibition on June 2 in Toronto — a rematch of the nail-biting semifinal in London.
The main knock on the NWSL is that it was launched so quickly; the formation of the league was announced in November and the teams opened the season in mid-April. Teams did not have much opportunity to market themselves.
Bailey said she understands, but it was important to launch in a year without a world championship, so that fans could have access to elite players, and they in turn could maintain training in an off year. The league also serves to develop talent.
"Our ultimate goal is to have a league that's sustaining. What we're doing right now to do that is laying the groundwork and the foundation. It's not perfect," Bailey said. "The timing didn't give us all that we needed to lay out everything ... but it's certainly given us a wonderful platform to put our roots down."