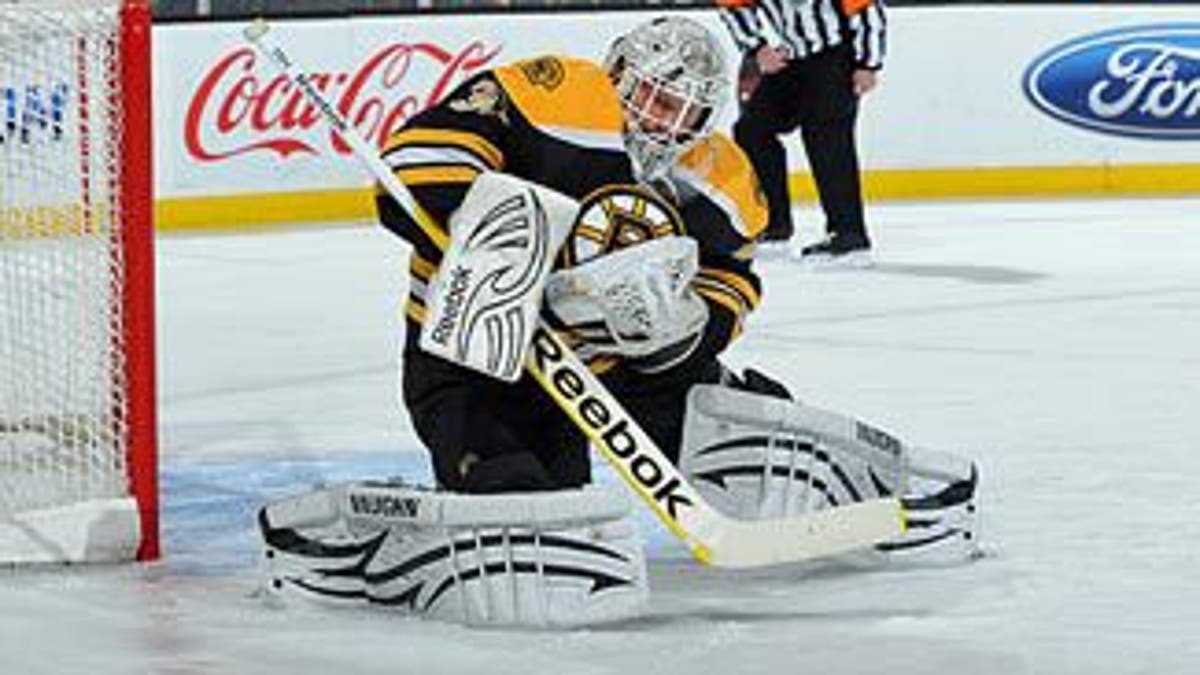 BOSTON – Tim Thomas has made countless saves on his way to becoming a folk hero in Boston and a perennial Vezina Trophy candidate in the National Hockey League.
But, Saturday night, in Game 5 of an Eastern Conference Quarterfinal series against the Montreal Canadiens, Thomas made "The Save," a singular moment that will live on in Boston sports lore long after Thomas straps on the goalie pads for the last time.
Simply, it was a moment of brilliance that saved his team in the second overtime of a game the Bruins would go on to win four minutes later. On a deeper level, it was a moment that may have saved Boston's season.
There is no underplaying what Thomas accomplished when he hurled his body from one post to the other to just get his left-leg pad on a snapshot from Brian Gionta on a 2-on-1 in the fifth minute of the second OT. Nobody, it seemed, thought Thomas could make the save.
"As soon as it left my stick, I thought it was in," Gionta said in a somber Canadiens' dressing room.
Well, nobody except for Thomas and a select few of his teammates believed, it seems.
"With Timmy, anything is possible," Bruins captain Zdeno Chara said.
Still, this particular save – its degree of difficulty combined with both its time in the game and the stakes on the table – seemed even beyond the reach of a Vezina Trophy candidate that spent the regular season setting a new League record for the highest save percentage in a season.
Yet, Thomas found a way, like he usually does to make the impossible possible.
On the play, Boston had turned the puck over at the attacking blue line and was left flat-footed as Montreal went the other way. Travis Moen lugged the puck up the ice and Thomas was playing the shooter, believing it was the only option. The only problem was the speedy Gionta was joining the play surreptitiously.
"Well, when it started I actually came out and was playing it as if Moen would have a breakaway, because that's what it looked like, a break, right off the start," Thomas said. "Then I realized my 'D' was going to get back and make it a 2-on-1, and I was out pretty far so I had to make sure I started to get my backward momentum going so I could play both the shot and the pass. And I was just barely had enough speed to be able to make that push over on the pass. And I was just fortunate enough to get a leg out and cover that part of the net."
Less than five minutes later, Boston scored at the other end, solving Montreal goalie Carey Price for just the second time in 51 attempts. Yet, Nathan Horton's rebound goal was enough to give Boston its second-straight overtime victory and third-straight victory overall in this series.
"If he doesn't make that save, we wouldn't be here right now," defenseman Dennis Seidenberg said. "So he definitely kept us in and he played great."
Here, for the Bruins, is now one win from moving on to the second round and, in the process, vanquishing the hated Canadiens in the best possible manner, by erasing a 2-0 deficit in this series.
If that happens, much of the credit will be laid at the skates of Thomas. Regardless of future outcomes, Thomas will always be remembered for authoring "The Save" in Saturday night's Game 5.
The only problem is he isn't likely to remember it with the same gravitas. He wouldn't even acknowledge as the best of a greatest hits reel, in fact.
"I mean, I don't have a list like that," Thomas said. "I do have a couple that stick out from the past and stuff and I'm sure I haven't had much time to think about it. The game just got over. Yeah, probably because it ended up being such an important save. And I'll have to watch it to get a better picture of exactly what happened because it was the second overtime and thing happen fast and I was just playing goalie."
Maybe he should just wait until the Boston faithful finish crafting the legend of "The Save." It will likely be a far better memory.