Thomas remaining insulated from all the hype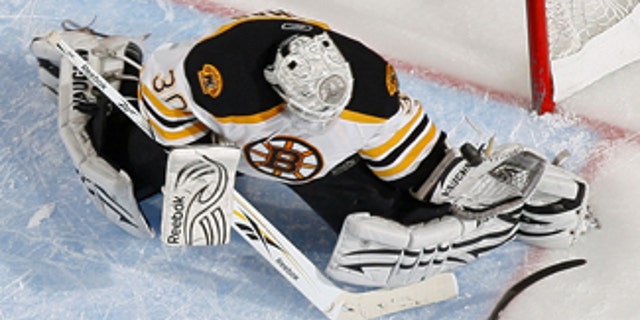 NEW YORK -- A little over a month ago Bruins goalie Tim Thomas started to take a daily glance at his numbers in comparisons to other netminders around the League.
He stopped after only a few days, and vows to not look again until Sunday night, when the regular season is finally over.
"I was like, 'Wait a minute, this isn't the best thing for me mentally,' " Thomas told NHL.com on Monday from Madison Square Garden. "You find ways to perform the best you can perform, and for me one of the ways is not to focus on what other people are doing, and not even really to focus on my numbers either."
Thomas has no idea that he's closing in on an NHL record for best single-season save percentage. He enters Monday's game against the Rangers with a .939 save percentage, two-tenths of a percentage point higher than Dominik Hasek's record of .937 set in 1998-99.
Thomas is also not aware that he could become the first goalie in the post-work stoppage NHL to play in 50 or more games and boast a sub-2.00 goals-against average. He leads the NHL with a 1.98 GAA in 54 games.
He's also tied for 10th in the League in wins with 33 despite being tied for 17th in games played. He's second with nine shutouts, and has 12 wins in which he's allowed just one goal.
"There are still some games left," Thomas said. "You know what I mean."
True, but the race for the Vezina Trophy may already have been decided. Perhaps Thomas should also be considered with Daniel Sedin, Corey Perry and Steven Stamkos as a leading candidate for the Hart Trophy, an award that has eluded goaltenders since Jose Theodore won it in 2002.
"Timmy has been out of this world," Bruins forward Mark Recchi said. "Since we played that exhibition game in Liberec (Czech Republic), he's been unconscious. What's he had, one bad game? Personally, he's my Vezina. I think everybody else in this dressing room would agree and I hope everyone else will, too. We see it every day and he's still unbelievable. He's our best player."
Thomas doesn't need to see his numbers to know he's having an award-winning season. All he has to do is compare how he's felt this season to how he felt when he won the Vezina two years ago.
"Do I feel that I've played as well as I did the year I won the Vezina?" Thomas said, repeating the question." Pretty much -- if not better at certain times."
His teammates don't need to look at the numbers either to know he's been their MVP this season.
"Sometimes they put it on the big screen so obviously I'll look at it, but I don't need to," Bruins center David Krejci told NHL.com. "I know when he's in the net we're going to have a good chance to win the game."
Thomas has had only two semi-average runs this season, and neither lasted more than four games. His latest came from March 5-19 when in four starts he went 0-2-2 and allowed 14 goals. In his five starts since, Thomas is 4-0-1 with two shutouts, a .966 save percentage and a 0.98 GAA.
"I didn't feel that bad during that little streak there," Thomas said. "Just ask any goalie, a lot of how it ends up is team dependent. Those games, we switched over to a run-and-gun style, so I was probably seeing more high quality chances in those games than I was in other games.
"Having said that, the first three months of the year I felt fantastic and over the past few weeks I've been starting to feel like I did at the beginning of the year, which is exactly the way you'd want it. It's my job to keep going in that direction and to keep finding my own sweet spot."
To do that, Thomas said he has to limit outside distractions. He said he never reads a newspaper and rarely listens to sports radio. He uses his wife and his close friends as filters.
He knows people are talking about him, but he doesn't want to know what they're saying.
"I kind of figured out over the years that I'm better off living in a sort of bubble," Thomas said. "Occasionally I'll hear what was said about me through friends or my wife, but I've asked them to be filters and only give me stuff that they thought was really cool. So you can keep some of the negativity out, but also keep some of the high praise out."
Thomas said last season, when he slumped and was eventually relegated to Tuukka Rask's backup in the playoffs, he was guilty of listening to what people were saying about him. Most of it wasn't very good.
"You learn lessons and sometimes you have to re-learn those lessons. Last year I would consider one of those time periods where I had to re-learn these lessons," Thomas said. "I didn't do a good enough job of insulating myself from all the negative talk that was going on about me last year. But I know it goes the other way, too. You don't want to get caught up in all the positives. You can be glad that these things are being said about you, but you don't start believing them because you still have to go on the ice and do it every night.
"I probably won't completely appreciate what I've been able to accomplish this year until the summertime."
Follow Dan Rosen on Twitter at: @drosennhl