Thomas Davis voted as winner of the Bart Starr Award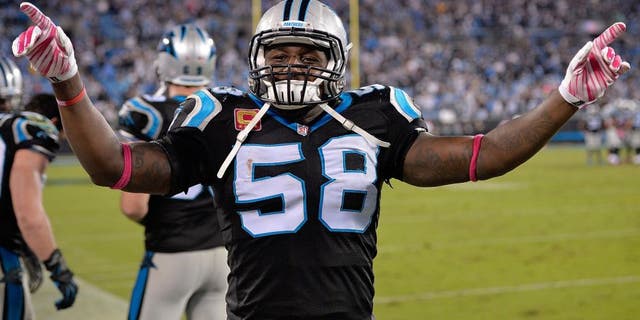 For Thomas Davis of the Carolina Panthers, who was the recipient of the 2014 Walter Payton Man of the Year award, he's now back at it and being recognized by receiving another incredible award.
The star linebacker will receive The Bart Starr Award, after being chosen for the award by other players in the NFL.
Via Panthers.com:
"It means a lot to win the Bart Starr award, and hearing that I won it from Mrs. (Cherry) Starr was exciting," Davis said. "To be recognized for an award that is voted on by my fellow players and carries Mr. Starr's name speaks volumes. I'm truly honored to be selected."
The Bart Starr Award is given to a player who "exemplifies character and leadership on and off the field." Basically, this award has Davis' name written all over it, as he's widely been known as one of the biggest fan favorites in the league, for good reason.
The award will be awarded at the Athletes in Action Super Bowl Breakfast. Davis has finally been voted into the Pro Bowl for the first time in his career, after four straight seasons with 100-plus combined tackles. Davis also had 5.5 sacks, seven passes defensed, four forced fumbles and four interceptions in 2015.
As for his impressive work off the field, the team's site cites the Thomas Davis Defending Dreams Foundation, which helps students to develop both life and social skills to help them become leaders. He also created a program called the Thomas Davis Youth Leadership Academy, which helps give middle school children the skills needed to become "productive, self-fulfilled and achievement-oriented young adults and community leaders."
It's another prestigious and well-deserved award for Davis. Congratulations on the high honor for one of Carolina's team leaders.