This time, Clemson ready for moment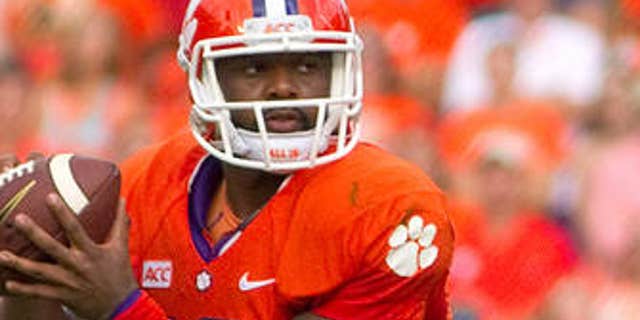 CLEMSON, S.C. – Settle down, Clemson fans. This is good. Playing in a big moment is a great thing. Things should be looking up now, and not necessarily because a piano is about to drop out of the sky onto your head.
Clemson-Florida State on Saturday. Two top-five teams. Maybe the biggest game in ACC history. Winning quarterback (Tajh Boyd or Jameis Winston) is a leader for the Heisman. Winning team is a leader for the BCS title game.
Here's a dirty little secret: Clemson is going to win. The piano isn't falling this time.
"You know, I dreamed about playing in games like this, and I was fortunate in my 13 years in Alabama to play and coach a bunch of these,'' Clemson coach Dabo Swinney told me. "And since I've been at Clemson now that we really got this thing, I think, with a good foundation, one of the things I told the players is `You should expect to be in these types of games. This is what Clemson should be.' ''
That's not exactly Clemson's reputation. Instead, it is this:
Clemsoning. It's another word for choking. The truth is that Clemson is notorious for getting into big moments, and then when they get there?
The wheels fall off. The cliff comes up. The piano falls.
So many groups of fans have gone through this. Buffalo Bills. Even Denver Broncos. And look at the bright side, Clemson fans: The Boston Red Sox went through this for decades. And here they are, multiple World Series champs, one win from going back to the World Series.
I know how it feels, though. That eventual good stuff happens to OTHER people.
This week was the 10-year anniversary in Chicago -- my hometown -- of the Steve Bartman moment. You remember: Bartman was the Cubs fan sitting in the stands at the NLCS when the Cubs, of all teams, were five outs from getting to the World Series. He interfered with a foul ball, and then ...
Piano.
This is true: I was at that game, and at the start of the inning -- before the Bartman moment -- a sick feeling hit my stomach and I told the people I was sitting with: "Uh-oh. They're going to blow this now. I feel it.''
A few minutes later, I ducked as beer bottles and peanut bags zipped past my head when I was near Bartman.
Swinney never stopped smiling while he flinched when I asked him about Clemson's bad habit. But the truth is it's possible that Swinney has gotten Clemson past that now.
True, last year, in this very game against Florida State, things were going fine in the second half. And then, the Seminoles scored 35 points in 20 minutes.
That is a pace of 105 points per game.
"Literally like in about two or three minutes, it was just bam, bam, bam, you know?'' Swinney said. "They bring the kick back, they run a sweep for 80 yards, uh, they hit us over the top and it's just a few plays.
"And when you're on the road and all of a sudden that inferno gets going, momentum is a hard thing to turn.''
But here's the thing about that: It was a turning point for Clemson's program in a good way. It was a learning moment.
Swinney is not responsible for Clemson's piano-falling recent history. He is the guy trying to put an end to it. It's going to take just one moment to break through, and as simple as it sounds, you have to get to the moment to break through it.
After last year's game, Boyd told me, he called a team meeting to explain about "the nature'' of what had happened.
"Because in years past, and being in a situation similar (to that), you can't let one loss beat you twice,'' he said. "It was important to make sure that we understand that we have a whole season ahead of us, and we have everything that we want in front of our eyes.''
The voice of the experience of Clemsoning?
"Um, redshirt sophomore year,'' he said. "We were 8-0, lost to Georgia Tech in a bad little fashion later in the game. You know, we went on to finish that last six games 2-4 ...
"Once you're in that situation again and you do have a loss, you've got to understand how to rebound from it, the repercussion that can come from that loss and how to deal with it.''
Clemson learned. Boyd learned. Tigers went on to beat LSU in the Chik-fil-A Bowl with a fourth-quarter comeback. Boyd led a game-winning last-minute drive, including a 26-yard completion on fourth and 16.
The belief carried over, and they beat Georgia this year.
"It's unfortunate, but sometimes you've got to have some failure to succeed,'' Swinney said. "If you have the right perspective, that's what it takes. I mean, every great player or business person or whatever in society has had failure. But the reason they've had great success is because they ... did not let the failure define them.
"Where we were when we played LSU last year, compared to where we were when we played Florida State in the fourth game of the season was night and day, and we're a better football team right now than we were this time last year.''
Clemson fans are hoping that Winston, a redshirt freshman in his first big moment, will get nervous under the pressure of Death Valley. Don't count on it. Young college quarterbacks today have no nerves. On top of that, Clemson's defense isn't going to be able to stop the run.
But Clemson has grown through this together for years now, and at some point, you're just ready. That's now, with Boyd.
Of course, any Cubs fan would tell Clemson fans after winning Saturday to keep one thing in mind: There is still the South Carolina game at the end of the season that could drop on their heads.
The original article can be found at FOXSports.com: This time, Clemson ready for moment.