This sleeping giant will emerge for the Packers in 2015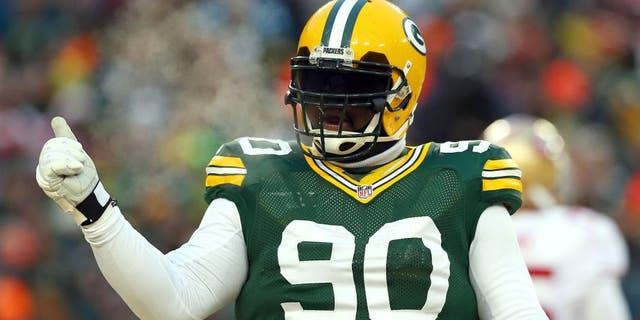 Five years ago, B.J. Raji was the cornerstone of a Green Bay Packers defense that won the Super Bowl. That season, his presence at nose tackle was imposing. His success in the spotlight led to stardom, and the former ninth-overall selection was considered among the best interior D-linemen in pro football.
Since then, however, Raji has gone into hibernation.
The Packers need the old Raji back in 2015. Especially now that Letroy Guion has been suspended for the first three games of the season, the team needs someone to step up and anchor the defense. Raji plans on playing that role, and he's not setting the bar at his 2010 performance.
"I actually want to exceed that," Raji told Paul Imig of FOX Sports Wisconsin in June. "That's the parameter for what this kid can do when he's locked in. And I plan on displaying that I can do that and more."
Raji recorded career-high figures for tackles (39), sacks (6.5) and passes defensed (3) in 2010. The 337-pounder was an effective space-eater, who plugged the middle and penetrated the backfield with consistency.
Most importantly, Raji started all 16 games during the 2010 season. Now, he's 29 years old and coming off a torn right biceps injury that kept him out all year. It might seem like a long shot for him to come back and start all 16 games in 2015, but he's using the missed time as motivation.
"When I leave here, I want to leave on a great note, and on a great season, not being injured and missing the year," Raji told FOX Sports Wisconsin. "I don't want to leave this great place with that kind of taste."
Raji's absence last season is explained by his injury, but that doesn't excuse the way his production has steadily declined since that Super Bowl season.
Raji hasn't recorded a sack since 2011, his only Pro Bowl season. He hasn't eclipsed 20 tackles since the 2012 season. In 2013, he started filling in at defensive end. He told FOX Sports Wisconsin that he doesn't expect to play any end this season.
While on injured reserve, Raji tried to rejuvenate his body and regain the flexion he had when the Packers spent a first-round pick on him back in 2009. Defensive line coach Mike Trgovac believes the big tackle accomplished that and more during his rehabilitation.
"No. 1, he got himself into great shape," Trgovac told Tyler Dunne of the Journal Sentinel earlier this offseason. "Two, he stayed around here and not only learned the football part of it but learned different things about it -- what's going on at this position, what's going on at that position. He didn't sulk about it.
"Part of the beauty of this game is, guys get sore, guys get hurt but they're always looking forward to Sunday. Sunday is the easiest day of the week to them. That's what they love and look forward to. When you know you don't have that every day, it takes great discipline to wake up every morning and work out and get better."
The Packers are glad to be getting a player like Raji back. The optimism surrounding his return has come from all corners, including head coach Mike McCarthy.
"I think B.J.'s in a great place," McCarthy told FOX Sports. "I thought last year was his best training camp in his time here. He's in great shape. He's always been very bright, very in-tune schematically, fundamentally very strong. B.J. looks great."
In Green Bay, Raji's determination to replicate his past success makes him the sleeping giant who's most likely to emerge from his slumber this season.
Photo Credit: Ronald Martinez/Getty Images