This half-field equalizer in Liga MX was this weekend's best goal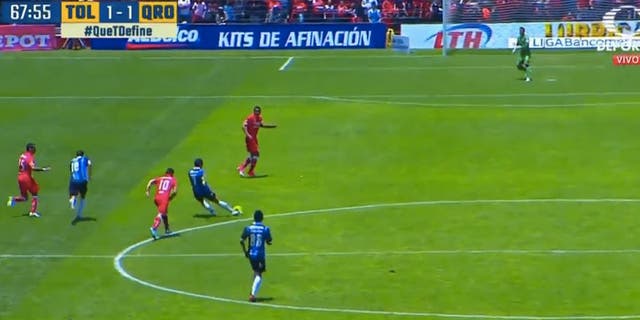 It's been a tough week for soccer fans. The Premier League gave us a bunch of scoreless draws, the Bundesliga title race is sewn upand there has been a dearth of worldies scored.
But Liga MX is here to the rescue and the Mexican league gave us what just might be the best goal of the weekend. On Sunday, Camilo Sanvezzo looked up, saw a chance, and fired a rocket from halfway up the field:
It wasn't just that Queretaro's Sanvezzo caught Toluca's goalkeeper way off his line, although he did. It was Sanvezzo's placement into the corner of the far post that made it impossible for goalkeeperAlfredo Talavera to get a hand on it.
With that goal and one more fromSanvezzo 20 minutes later, the former Vancouver Whitecaps striker locked up the 2-1 comeback win for Los Gallos Blancos. Itlooks like a lost cause forQueretaro to advance to the playoffs -- they sit way down in 14th place with the final week of the Clausura coming next week -- but if they can score more goals like this, who cares?
MORE FROM FOX SOCCER