Thirty years ago, Bears-Packers featured the dirtiest hit in NFL history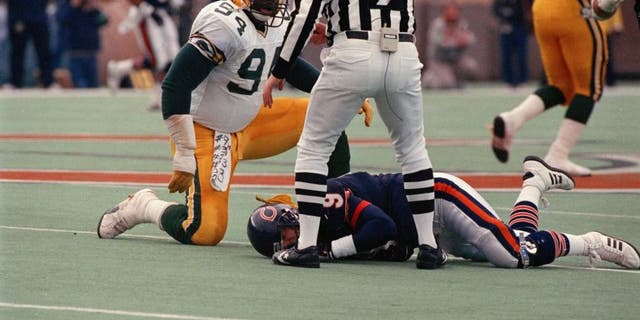 NEWYou can now listen to Fox News articles!
The Chicago Bears, Monsters of the Midway, and Green Bay Packers, rulers of the Frozen Tundra, have been arch-rivals seemingly forever.
The teams meet again Thursday night, but tensions are nowhere near as high between them as they've been at times in the past -- particularly 30 years ago, when Packers defensive lineman Charles Martin delivered one of the NFL's all-time cheap shots on Bears quarterback Jim McMahon.
The stage was set before kickoff of the Nov. 23, 1986 game, when Martin waved a white towel that had the numbers of some Bears players on it -- 9, 34, 83, 63, 29 ... McMahon, Walter Payton, Willie Gault, Jay Hilgenberg and Dennis Gentry. In simpler terms, a hit list. The Bears were the defending Super Bowl champs, and the Packers were on their way to a 4-12 season. Chicago had all the talent, and Green Bay had, well, the towel.
Back where McMahon threw the ball, Martin approached the quarterback, well after the ball was released -- at least two full seconds, maybe more -- and suddenly grabbed him and viciously threw him to the rock-solid artificial turf of Soldier Field.
"It was at least 20 seconds after the interception," Jerry Markbreit, a retired NFL official who worked the game, told the Chicago Tribune, after Martin's death in 2005. "I don't think he had an awareness of how late it was, or that the play was over. McMahon was walking to the sideline, had relaxed, and he picked him up and smashed him to the ground."
Markbreit ejected Martin. In 2012, he recalled to ESPN.com the discussion after the act:
"I walked to the sideline and gave him to (Packers coach) Forrest Gregg and said, 'This man is ejected from the game.' All Gregg said was 'What did he do?' and with that I turned and ran back out onto the field. (Bears coach Mike) Ditka was out there and he was hollering, 'There are two flags. What does that mean?'
"After the play, Jim Covert had come over and nailed Martin with a very late hit, and I said, 'They're off-setting coach, you know the rules.' And Ditka said, 'You've got to be kidding. My guy could be dead.'
"The line judge was Ben Montgomery, and I said, 'You know what, Ben, pick up the flag. Covert was trying to protect his guy. We're not going to have an offset today.' There were a lot of late hits, but [Martin's] had to be 10 to 12 seconds after the play was over. It was the most violent act of its day."
The play had major repercussions: Martin was suspended for two games, the first such multi-game ban for an on-field incident in the NFL. McMahon, who had missed the prior four games due to a shoulder injury, suffered a torn rotator cuff and was lost for the season, and the Bears were one-and-done in the playoffs.
Commissioner Pete Rozelle, when announcing the suspension: ''It was a very serious act,'' Rozelle said. ''In other aggressive acts against quarterbacks, the quarterback at least still had the ball or the ball was in play. That wasn't the case this time.''
Ditka never forgave Gregg for Martin's act, which was quite something considering how many seasons they played and coached against each other.
"You can't try to hurt people, and they tried to hurt some of our guys. (Running back) Matt Suhey is lucky he didn't get hurt badly," Ditka said on the radio in 2011. "And when McMahon was picked up by Charles Martin and thrown down, he was lucky he wasn't hurt very badly.
"These things were after the play, after the fact. So either you are coaching that or your players are stupid. That's what I'm going to say. In this case I believe they were coached. That's why I never got along with Forrest Gregg. To this day, I don't respect him for that reason. . . . When the play is over and you pick somebody up and slam them on the ground. 'Oh, big deal' (Martin says). I'm a tough guy.' You're not a tough guy. You're a dumb guy."
A family friend read a letter from one of Martin's former teammates, who used the infamous McMahon incident in an attempt to explain what made Martin tick.
" 'Too Mean' just didn't want to run across the field without hitting someone that day," the letter said according to the Chicago Tribune. "That's the way he was."