Third time's a charm for Brewers' Santana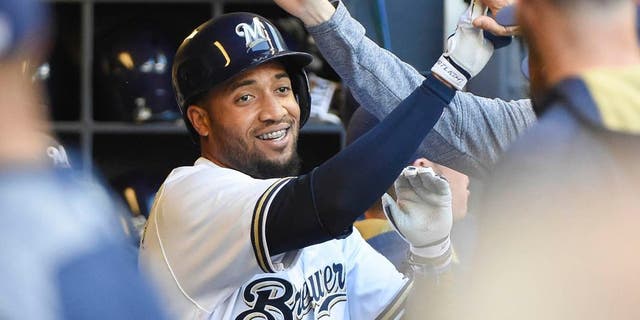 NEWYou can now listen to Fox News articles!
Shhh, don't tell opposing teams, but they might want to yank their starters from the game before Domingo Santana comes up for the third time.
The Milwaukee Brewers right fielder is enjoying a career year so far in 2017, and there are still plenty of games to be played.
In his 60 games (entering Tuesday's doubleheader), Santana is hitting .281 with a .377 on-base percentage and .493 slugging percentage, all of which would be career highs. He also has 36 runs and 34 RBI -- also career bests -- and 11 home runs, which ties his single-season high.
Six of Santana's home runs and 14 of his RBI have come when facing a team's starting pitcher for the third (or more) time in a game. Those numbers rank second in all of Major League Baseball, behind just Baltimore's Manny Machado in home runs (7) and Kansas City's Mike Moustakas in RBI (17).
However, Santana does lead MLB in at-bats per home run when facing a pitcher for the third time and beyond in a game at 6.0. He also leads in at-bats per RBI with 2.6.
In addition, only Washington's Ryan Zimmerman has a better slugging percentage and OPS than Santana when going up against a pitcher for the third time or more. Santana's slugging percentage in those situations is 1.000 and his OPS is 1.500 (Zimmerman is at 1.027 and 1.637).
Other notes:
-- Brewers outfielder Keon Broxton is just one of three players in the National League who score a run at least 40 percent of the time after reaching base. Broxton is second in the NL at 41.9 percent (26 runs/62 times on base). Cincinnati's Billy Hamilton leads at 45.9 percent and Washington's Trea Turner is the only other NL player over 40 percent, barely, at 40.2 percent.
-- St. Louis is 6-14 in the opening game of a series in 2017. The .300 winning percentage in such games ranks last in the majors.
-- Left-handed batters are hitting just .216 against Jimmy Nelson this season.
Statistics courtesy STATS and baseball-reference