Third time around: Browns hire Rob Chudzinski as coach, had 2 tours as assistant with team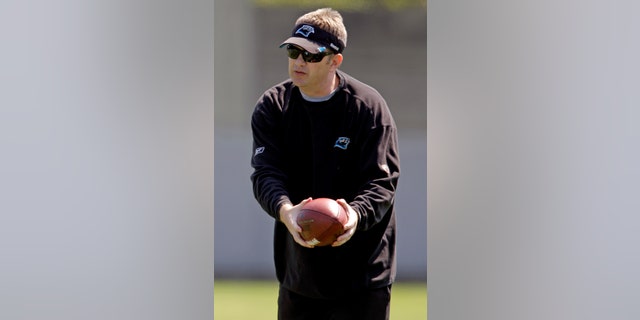 CLEVELAND – The Browns hauled their coaching search to Arizona and back. They talked to high-profile college coaches, NFL assistants and a fired pro coach who took a team to a Super Bowl.
None of them was hired.
Instead, Rob Chudzinski became their pick.
With no experience as a head coach at any level, Chudzinski was hired Thursday night by the Cleveland Browns, the team he cheered for as a kid. This is Chudzinski's third stint with the team, but this time around he's the guy in charge.
Chudzinski, who spent the past two seasons calling plays as Carolina's offensive coordinator, is the Browns' sixth full-time coach since 1999 and 14th in team history.
Just as it appeared the Browns might be going in another direction, the team selected the 44-year-old Chudzinski to revive a team that has made the playoffs just once in the past 14 years.
Chudzinski will be introduced Friday at an 11 a.m. news conference, where owner Jimmy Haslam and CEO Joe Banner likely will be asked how they selected Banner after speaking to at least seven other candidates and flirting with Chip Kelly before he returned to Oregon.
"Chud," as he's known to players and friends, Chudzinski worked as the Browns' tight ends coach in 2004 and was their offensive coordinator in 2007, when the team won 10 games — their most since an expansion rebirth in 1999.
A lifelong Browns fan who grew up in Toledo, Ohio, Chudzinski replaces Pat Shurmur, another first-time coach when he was hired, who was fired on Dec. 31 after a 5-11 season. For the past two years, Chudzinski has worked with talented Panthers quarterback Cam Newton and resuscitated Carolina's offense, which was one of the league's worst before he arrived.
When Haslam and Banner embarked on their coaching search as 2013 began, the pair vowed they would wait as long as necessary to find "the right coach" for Cleveland. They promised to give their new coach final say over the roster and planned to pair him with an executive to help pick players.
Chudzinski wasn't seen by many as an option.
And then he became the choice.
Chudzinski interviewed with the team on Wednesday, when the club also visited with Cincinnati defensive coordinator Mike Zimmer. Chudzinski appeared to be a long shot for the job, not because he wasn't qualified, but because it was thought Haslam wanted to make a big splash with his first coaching hire.
However, Chudzinski wowed Haslam and Banner during his meeting and the team decided it was time to end its search in its second week.
It's not yet known whom Chudzinski will bring in as coordinators. There are reports he may hire former San Diego coach Norv Turner to run his offense. Chudzinski worked for Turner with the Chargers.
In his first season in Carolina, Chudzinski turned Newton, the No. 1 overall draft pick, loose and the Panthers set club records for total yards (6,237) and first downs (345). Carolina also scored 48 touchdowns after getting just 17 in the season before Chudzinski arrived. The Panthers jumped from last in the league in total yardage to seventh, the biggest improvement since 1999.
Following the season, Chudzinski interviewed for head coaching jobs with St. Louis, Jacksonville and Tampa Bay before returning to Carolina.
In getting the Browns' job, Chudzinski was picked over Zimmer, Montreal Alouettes coach Marc Trestman, fired Arizona coach Ken Whisenhunt and Cardinals defensive coordinator Ray Horton. Whisenhunt was in Cleveland for a second interview on Thursday, and appeared to be the front-runner. The Browns also were expected to interview Indianapolis offensive coordinator Bruce Arians.
Newton continued to develop in his second season with Chudzinski, and the QB's development may have helped his case since the Browns are hoping Brandon Weeden will improve this year after his uneven rookie season.
After his first stint on Cleveland's staff, Chudzinski spent two seasons as San Diego's tight ends coach, working with perennial Pro Bowl standout Antonio Gates.
Taking over the Browns' offense in 2007, Chudzinski helped the Browns go 10-6. They barely missed the playoffs, but four players, including quarterback Derek Anderson, made the Pro Bowl. However, in 2008, the Browns struggled on offense and a six-game losing streak led to a 4-12 finish and Romeo Crennel's firing.
Chudzinski's hiring may not be popular with Cleveland fans, many of whom at fantasies about Nick Saban or Jon Gruden or Kelly brining his supersonic offense to the NFL.
But his selection is in keeping with at least one of Banner's past moves. When he was in Philadelphia's front office, Banner went outside the box and hired Green Bay assistant Andy Reid, a relative unknown who spent 14 seasons with the Eagles.
Now that they've got their coach, the Browns can focus on finding a GM to replace Tom Heckert, fired after three seasons.
___
Online: http://pro32.ap.org/poll and http://twitter.com/AP_NFL