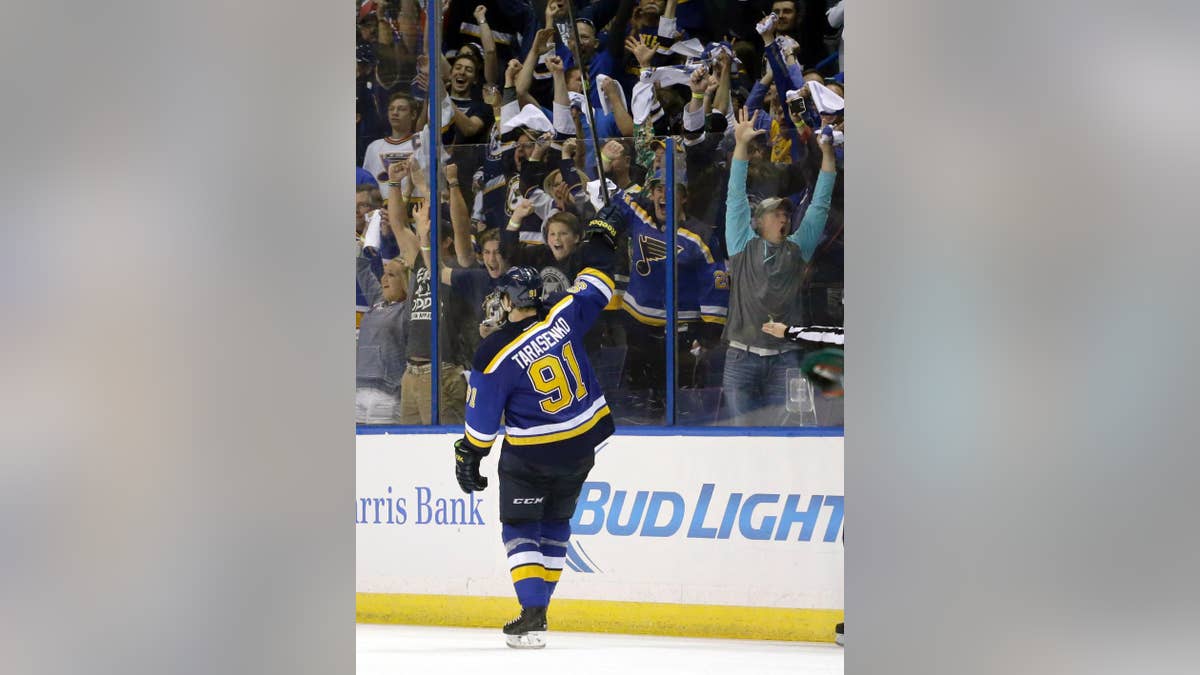 PITTSBURGH – Sidney Crosby is shooting the puck. Even more importantly for the Pittsburgh Penguins, it's going in. Funny how success seems to follow when that happens.
The Penguins evened their series against the New York Rangers with a momentum-shifting 4-3 victory Saturday night. Crosby scored twice, including a diving deflection off a centering pass from Chris Kuntiz that gave the Penguins the lead and the hope their late-season fade is now a thing of the past.
Heading into Monday night's Game 3, Pittsburgh has momentum and — perhaps just as importantly — a much-needed infusion of swagger.
"You're going into New York, you obviously want to go there and get one win and we did that," forward Brandon Sutter said. "So, we got the split we wanted. But obviously, there's a lot of work left to be done and we definitely need to have some confidence and belief that it's a team we can beat."
Having Crosby do what he does better than just about anyone else certainly helps.
"We need him to be a threat offensively, and he's been that through two games," Sutter said. "He's had the puck a lot. When he has the puck down low and he's spinning in the corners, that's when he's so dominant and he was big last night."
It will take more than Crosby, however, for Pittsburgh to upset the Presidents' Trophy winners. Evgeni Malkin has just four shots through two games and hasn't recorded a goal in six weeks. The 2012 MVP said he's maybe "85-90" percent due to an undisclosed injury but isn't looking for an excuse.
"I feel pretty good, but I can play better," Malkin said. "I need more confidence. Shoot the puck more, play with the puck, work hard and the goals and points will come."
___
Rangers at Penguins, tied 1-1, Game 3, 7 p.m., NBCSN
ROAD WARRIORS: The Rangers had the NHL's best road record, going 28-11-2. In fact, they had a better road mark than they did at Madison Square Garden; seven teams had as many points or more than did New York at home.
Now, they'll need at least one win in Pittsburgh in this first-round series. They split two games at Pittsburgh, losing 3-2 in a strange shootout in which they had a goal disallowed, then winning 5-2.
"It's important in the playoffs to make sure you can play in a home building and in a road building," Derek Stepan said. "We have to make sure we get ourselves refocused and get ourselves ready for Game 3."
___
Blues at Wild, tied 1-1, Game 3, 8 p.m., NBCSN
ROUGH STUFF: After losing Game 1, St. Louis got extra physical in Game 2 with bruiser Ryan Reaves and agitator Steve Ott. At one point Ott gave Wild forward Jason Zucker a patronizing pat on the head to try to get under his skin, and the Wild came home for Game 3 determined not to take the bait. "It's part of the game," Zucker said on Sunday after practice. "That's the way it goes. That's something that I don't want to get involved in." Wild coach Mike Yeo downplayed the Blues' increased aggression, pointing out that the hits were even in Game 2. "You're just better off ignoring that stuff," forward Zach Parise said. "It's got no impact on the game, for us we just have to stay away from that stuff and stay out of that stuff. I don't know if he was trying to embarrass the guy or what, but for us there is no point."
COMING HOME: The Wild come home to Xcel Energy Center expecting the same kind of ear-splitting noise from the fans that helped them beat Colorado in the first round last year. They have played better on the road this season than they have at home, but players expect to get a big boost from being back in their building. The other pro sports teams in the Twin Cities have struggled mightily in recent years, and Zach Parise said they will feed of the fans' hunger to support a winner. "From all sports, but hockey in particular is just part of the culture here," he said. "They're loyal and they're excited about us being in the postseason and you want to give them a good performance and put on a good show and you want to far for them."
___
Ducks at Jets, Anaheim leads 2-0, Game 3, 9 p.m., NHL Network, NBCSN (joined in progress)
FINDING PERSPECTIVE: Through two games, underdog Winnipeg has gone stride for stride and hit for hit with the top team in the Western Conference, led for over 30 minutes and gotten strong goaltending from Ondrej Pavelec. For all their hard work though, the Jets find themselves in a 2-0 hole to Anaheim heading into Monday night's Game 3, including a last-second loss on Saturday. Moping about it, however, won't help and the Jets know it. "We have a great opportunity to head home and put on a show for our fans in Game 3," winger Drew Stafford said. "Bottom line, there's nothing we can do about these last two games. You have to take what you can from it. But we're feeling just fine right now."
LET'S GET LOUD: The volume in NHL arena ramps up during the playoffs. Throw in a crowd that's waited 19 years for the return of postseason hockey as the folks who will file into the MTS Centre on Monday will do on Monday and the Ducks know they better pack some ear plugs before Game 3. "It'll be pretty wild," Anaheim coach Bruce Boudreau said. "It's a great time to be a hockey player. Going to Winnipeg, and it's the first time in awhile they've hosted a playoff game. They'll be into it, and hopefully that makes our players into it even more."
___
AP Sports Writers Barry Wilner in New York, R.B. Fallstrom in St. Louis and Jon Krawczynski in Minneapolis and The Canadian Press contributed to this report.