They could never be Royals: Poetic season ends Kansas City's 29 years of baseball failure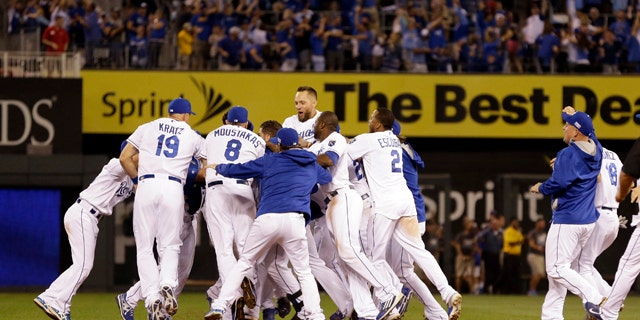 NEWYou can now listen to Fox News articles!
"A poem begins as a lump in the throat." -- Robert Frost
It was Sunday, July 20, and hope was dimming for long-suffering fans of the Kansas City Royals. Coming out of the All Star break, the team was in second place in its division and had just been swept by the lowly Boston Red Sox.
Boston ace Jon Lester completed the sweep with a devastating 6-0 shutout that felt like the door slamming shut on postseason hopes. After a competitive first-half of the season that included a 10-game winning streak that had fans giddy, Kansas City was back below .500, where it had spent most of the last three decades. Fans felt a lump in their collective throat.
"When the pressure's on, the Royals turn off," columnist Sam Mellinger wrote in the Kansas City Star. "They are the worst kind of hometown team: too slow in developing, too quick to claim victory, not good enough to be more than hope and not bad enough to completely forget."
The spiral continued as the now-third place Royals traveled to Chicago a day later, now seven games out of first place. Facing the division rival White Sox who were in fourth place, it seemed like a chance to get back on track. But the Royals lost by a score of 3-1, bringing their second-half record to a dismal 0-4. Meanwhile, the mighty Tigers won, adding to their division lead.
"That's what speed do."
On the Royals postgame radio show that night, host Josh Vernier vented frustration, telling his audience not to mention the playoffs until the Royals at least won another game.
It wasn't pitching, defense or speed that caused the swoon. A solid staff, stellar bullpen and a knack for stealing bases that had fans quoting Royals speedster Jarrod Dyson's famous saying, "That's what speed do," were all in play even as the team nosedived.
The problems were at the plate. The Royals lacked consistent hitting and had little power. There was no superstar in the cleanup spot.
To understand a Royals fan, one might consider the slogan selected by the team's marketing department in 2012: "Our Time." A confident declaration for a team built on youth. We wanted to believe it.
The team went 71-91 that year, finishing 16 games out of first place. It was the ninth consecutive losing season and 17th in 18 years.
Plenty of superstars have come up through Kansas City's farm system, including Carlos Beltran, Johnny Damon, Jermaine Dye and Zack Greinke. But most became household names after moving on, prompting rival fans to joke that the Royals were a farm system for big money teams. After 2012, it looked like young phenom Wil Myers would be the next Royals star to be developed by the organization, only to play for some other team. In the cold offseason, the team announced it had traded its hottest prospect and a young pitcher to the Tampa Bay Rays for starting pitcher James Shields and reliever Wade Davis.
Fans were furious. The Royals had converted their hottest prospect into currency, only to land a pitcher with only two years left on his contract and an unknown quantity in this Davis guy. But Shields ended up providing both leadership and strong pitching in 2013, as the Royals just missed the postseason. They finished 16 games over .500. But finally, there was a reason to watch in September.
"In a small way, I feel like we won the World Series," Royals General Manager Dayton Moore told reporters. People scoffed, but he was kind of right. Even if it was a poorly worded statement, I knew what he meant.
And there was always 2014.
While the brief second-half stumble had some fans feeling déjà vu all over again, it didn't last. The Royals won two against Chicago, went to Cleveland and took three out of four games and then bested Minnesota in a four-game series. They went on a seven game winning streak, sweeping the Diamondbacks and the Giants.
And as the Royals August fortunes rose, fans were joined by a Kansas City enthusiast who would become 2014's greatest baseball sidebar. On Aug. 5, SungWoo Lee arrived in Kansas City from South Korea. For nearly two decades, Lee had cheered for the Royals in spite of having never been to the U.S.
He was met at the airport like an international celebrity. He threw out the first pitch. He ate Kansas City barbecue with Royals veteran Billy Butler. He hugged players in front of the dugout. And on Aug. 11, when the Royals reclaimed first place, he solidified himself in Kansas City baseball lore by joyfully leaping out near the majestic Royals outfield scoreboard to hoist a giant "W" after the team defeated the Oakland A's.
Lee was the Royals' good luck charm and a symbol for a season in which anything could happen.
"Lee Sung-woo has done something even more improbable than spreading Korean pixie dust all over the organization: He's made me want to believe again," wrote lifelong Royals fan and blogger Rany Jazayerli, who is also the organization's most vocal critic.
Heading into September, fans were beginning to believe winning the division was possible. Detroit's pitching had melted down and the Royals had stayed on their heels. But somehow, it slipped from their grasp. Again. After nearly a month in first place, they went 15-12 in September. They finished a game out of first place in the Central Division.
It wasn't great, but it was good enough to get them into a one game wildcard playoff against the Oakland A's. Yet, fans were conflicted. After 29 years without a post-season appearance, would the season mean anything if they lost? The lump swelled in fans' throats.
That night, one of the smaller but most dedicated fan bases in professional sports gathered at Kauffman Stadium, at homes and at sports bars across the country, hands cupped over their mouths. James Shields, the guy we'd traded the farm for, was pitching against the man who had shut us out just months earlier, Jon Lester. He'd been traded during the season.
The game felt like a metaphor for the entire season. The Royals took the lead. They lost it. They tied the score. They fell behind. After so much hope, the team's long-awaited chance was slipping away on national television. Trailing 7-3 in the eighth inning, they rallied for three runs. But going into the final frame and down a run, fans' hopes were on life support. Would it ever be Our Time?
All season, they hadn't been the type of team to get dramatic walk-off home runs, and they wouldn't get one on that night. They did it their way. After Josh Willingham singled to shallow right field, manager Ned Yost sent Jarrod Dyson in to pinch run. Royals fans know: When Dyson is on base, good things happen.
A sacrifice bunt got Dyson to second base. Then, with everyone certain Dyson would try to steal third, he did just that. The showman who was the Royals 50th-round draft pick in 2006 left a trail of smoke behind him as he slid into third base, avoiding the tag. As if to tell Royals fans everywhere that everything was going to be OK, he did a little dance that kids in Kansas City will be doing on little league fields for years to come. He tied the score on a sacrifice fly.
That's what speed do.
The A's reclaimed the lead in the 12th, leaving Royals fans once again feeling it had all been for naught. Yet Eric Hosmer tripled and Christian Colon singled him in to tie the game. Salvador Perez, a fan favorite for his infectious grin and enthusiasm, but mired in an 0-5 performance, came to the plate.
An out meant a 13th inning, but Perez had something else in mind.
With two balls, two strikes and the pressure of 29 years of futility on his shoulders, Perez hit a hard ground ball just past a diving third baseman to drive in the winning run. Game over. Nearly 30 years of agony over. Endless needling from fans of more successful teams, over.
"Poetry is the spontaneous overflow of powerful feelings," wrote William Wordsworth. And he hadn't even been to Kauffman Stadium for playoff baseball.
If that moment was the only postseason that Royals fans got to experience, it might have been enough to get them through another pennant-less winter. Indeed, the story could have ended there. But it didn't.
Two days later, the Royals fittingly took the field against the best team in baseball, the Los Angeles Angels. And in shockingly un-Royal fashion, they dispatched the high-priced team in short order. Never had a team with the best record in baseball been swept in a division series-- until last week.
"This could turn into something legendary for this city," outfielder Raul Ibanez had predicted before the post-season had begun.
He was right. No matter what happens after the American League Championship Series against the Baltimore Orioles begins Friday, Royals fans everywhere will hang their hats on this season for years to come.
And for baseball fans all over America who are now pulling for the underdog Royals, this may be just another great baseball story. But for Royals fans, this is baseball poetry, the kind that leaves a lump in your throat.
Dan Gallo is a field producer in the Los Angeles bureau of Fox News. He is a lifelong Royals fan.