There's only one reason for the Warriors not to keep resting Kevin Durant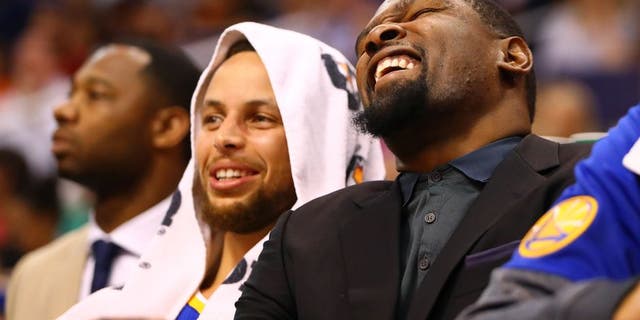 NEWYou can now listen to Fox News articles!
This might shock you, but the Golden State Warriors won't need Kevin Durant to close out the Portland Trail Blazers.
Thanks to big-time performances from Stephen Curry, Draymond Green and JaVale McGee (?!?), the Warriors eviscerated the Blazers in a 110-81 Game 2 win. Games 3 and 4 look like foregone conclusions, as well.
Durant missed Game 2with a left calf strain, an injury coach Steve Kerr acknowledged could be a big deal if it worsens. And after last year's Curry injury in the postseason, another hobbled superstar is the last thing the Warriors need.
The plan from here is simple, then. Golden State should keep Durant on the sidelines until the start of the next round, even if doctors say he is fully healthy. As Kerr said before Game 2, playing KD just isn't worth the risk of aggravating the injury.
Unless …
Mark D. Smith-USA TODAY Sports
There's really only one reason for the Warriors to bring Durant back this series: if they're at all concerned about their chemistry moving forward in these playoffs.
Golden State is two different teams with and without the former MVP. Both are fantastic; both are championship contenders. But when Durant's healthy, the Warriorsstill struggle to make the most of his sharing the court with Curry.
When Durant's out of the lineup, though, the Warriors approach the Platonic ideal of who they are as a franchise. They're not better, per se. They're just more fun to watch and they feel unbeatable.
Ideally, Golden State would find the happy medium. A squad with Durant, Curry, Green, Klay Thompson and Andre Iguodala should destroy all comers. That kind of familiarity takes time, though. And if the Warriors believe they need to be at their very, very best with Durant to beat the Cleveland Cavaliers and winthe 2017 NBA title, then resting him now does them no good.
Brian Spurlock-USA TODAY Sports
Given the way the Cavs look of late, though, I'd feel pretty comfortable rolling the dice.
As for the Clippers or Jazz, Golden State's potential second-round opponent? They're both fine teams, but are you really worried about Durant messing up the Warriors' chemistry against an L.A. team that hates each other or a Utah squad fighting its own major injuries?
I didn't think so.
So go ahead and get comfortable on the bench, KD. Your services won't be required until the second round tips off on May 1.