There's a First Time for Everything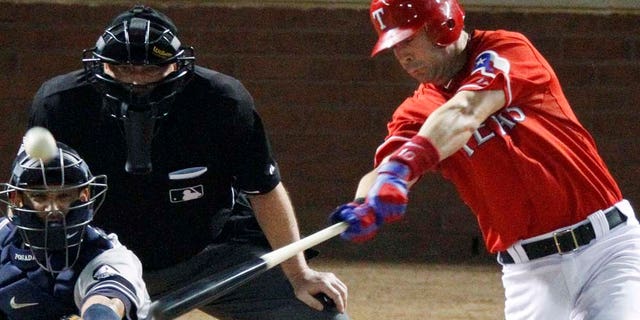 Saturday night was game two of Major League Baseball's (MLB) American League Championship Series (ALCS). The Texas Rangers hosted the New York Yankees.
Texas has never beaten the pinstripes in a post-season series and until this ALCS match-up, Texas has never even advanced this far in the playoffs.
"I think this is our year, " said Rangers fan Pedro Esquivel, who proudly wore his bright red American League Division Series championship t-shirt. "There's a first time for everything."
True. Very, true.
Texas won the game 7-2. It was the team's first post-season win at home in franchise history. The Rangers have been playing baseball in north Texas for 39 years.
During the game I was taking pictures of the crowd at the Ballpark in Arlington. I thought it would be nice to give you, the reader, a different perspective of a post-game interview too—one you can't see on TV.
It's common practice after the game, for sports reporters to interview players in the locker room. Notice I said sports reporters. I guess you could say, as a news reporter, I sailed into uncharted waters.
As a pack of reporters and photojournalists jockeyed for position around Yankee's starting pitcher Phil Hughes, I stood back, pulled out my camera—stepped up on my tiptoes and snapped away.
Apparently that's a clubhouse no-no.
A representative with the Yankees organization tapped me on the shoulder and asked, "What are you doing?"
I was told taking pictures is not allowed in the clubhouse. And for the record, several people I asked before and after the fact, didn't know either. Upon further reflection, it makes sense.
After a brief conversation with officials, it became increasingly clear that my actions were not intended to raise alarm.
The Rangers got their first playoff victory at home and I got a good lesson in locker room etiquette.
There really is a first time for everything.