There were actual cubs at Cubs spring training on Friday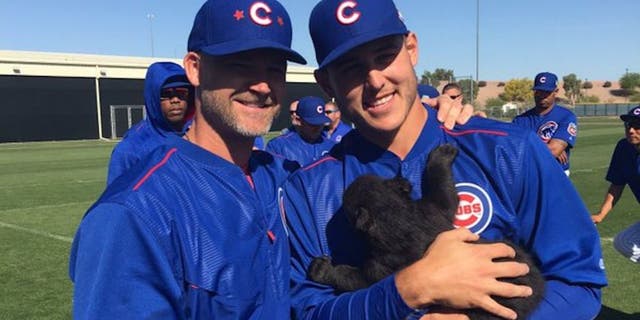 The Chicago Cubs had a pair of visitors at spring training on Friday, and they were absolutely adorable -- and actual cubs. Yep, the Cubs had baby bears on the premises before warming up before their game against the Milwaukee Brewers, because how else would MLB players get pumped to play.
The team even took a group photo with the cubs.
This had to be Joe Maddon's doing. The guy loves to have fun with the team and doesn't enforce any sort of dress code as long as his players think they "look hot."
Now back to the cute little bears.
Anthony Rizzo was apparently keeping them all to himself ...
... so of course one peed on him.
The Cubs take on the Brewers at 1:05 p.m. on Friday, but the real excitement took place before the game.