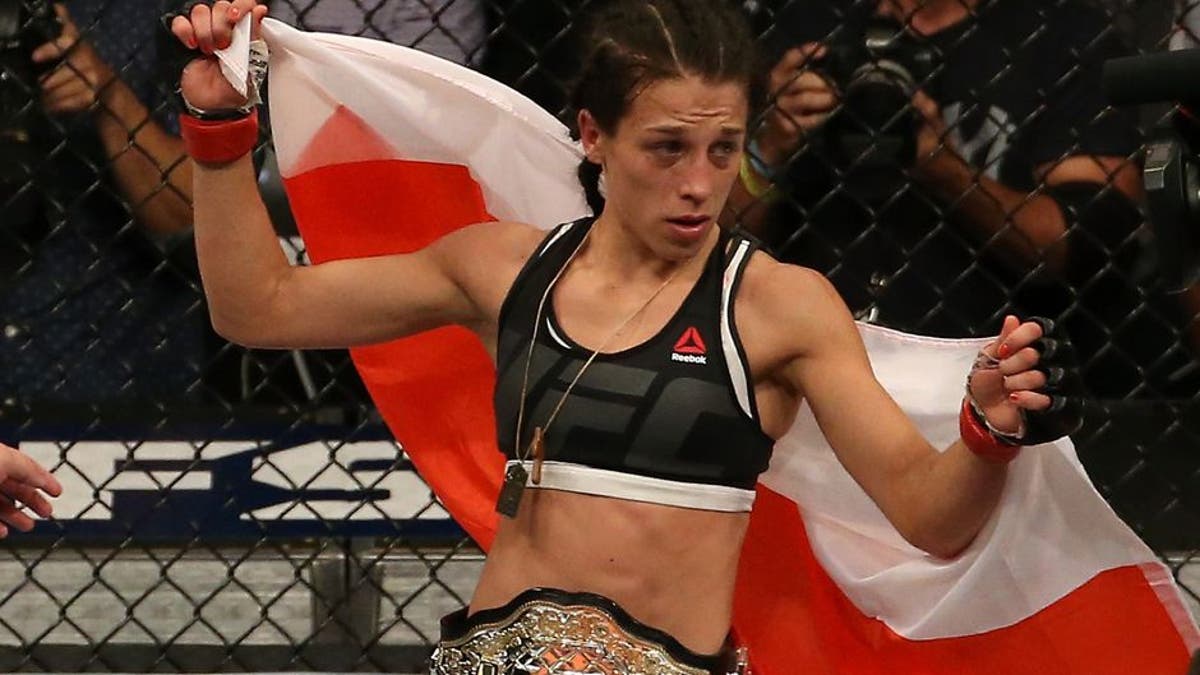 FOX Sports presents an inside look at Joanna Jedrzejczyk ahead of her fight at UFC 211 in Dallas. In the final part of our three part series, Jedrzejczyk explains what separates her from every other fighter on the roster and the legacy she wants to leave behind when it's all done.
There are dozens of clichs to describe a fighter, and Joanna Jedrzejczyk has probably heard them all since arriving in the UFC.
Fearsome. Ferocious. Determined. Relentless. Undefeated.
All of those may be true, but the one word that probably defines Jedrzejczyk more than any other is unbreakable.
To understand why that term applies so well to Jedrzejczyk and her mentality going into any fight it requires a trip to this past July when she faced off with arguably her greatest rival, Claudia Gadelha at "The Ultimate Fighter" finale in Las Vegas.
During her UFC career, Jedrzejczyk has been rather dominant but no one has pushed her more during two separate fights than what Gadelha has managed. Their first fight ended in a razor-close decision, which prompted Gadelha to earn a championship rematch after Jedrzejczyk had won the women's strawweight title.
The two fighters engaged in a bitter battle during a season coaching against each other on "The Ultimate Fighter" before finally facing off in the Octagon with the title on the line.
Gadelha was clearly up for the challenge after she stunned Jedrzejczyk early and then proceeded to drag her to the ground several times over the first two rounds. Gadelha seemingly had the perfect strategy scouted out to beat Jedrzejczyk and through the first 10 minutes it appeared that she was en route to becoming the new champion.
As Jedrzejczyk walked back to her corner at the end of the second round, she sat down on the stool to rest and receive instructions from her coaches. It was clear that she had already dropped the first two rounds, which meant she would have to either finish Gadelha or win the next three convincingly to ensure she was leaving with the title around her waist.
One of Jedrzejczyk's corner men told her that fact, in rather loud fashion, and it didn't go over very well with the defending strawweight champion.
"He was like 'you're losing the fight, do something!' and I got so mad," Jedrzejczyk explained when speaking to FOX Sports. "For even a second, I didn't lose my confidence. I said before the fight that I'm going to win this fight and I did that. People think they train hard and they do everything they can do to win the fight but they don't.
"They just think. They have excuses. I'm trying to not have excuses."
As she predicted, Jedrzejczyk rallied back over the final three rounds to win a clear decision over Gadelha while marking another title defense on her record.
Despite their past rivalry, Jedrzejczyk calls Gadelha "one of the greatest female fighters" but she knew beyond a shadow of a doubt that even after losing two rounds that there was no way she was going to lose the fight.
Losing isn't an option in Jedrzejczyk's mind and breaking her is an impossibility.
"I lost the first two rounds, but I was not passive. I was fighting from the first second of this fight until the end. The thing is I made her tired. Even when she took me down so many times, I made her tired. I broke her confidence after that second round," Jedrzejczyk said.
"Of course everyone wants to win. I think they are desperate and this is what makes them lose the fight. It's not easy to break me. They can come and fight me but I'm the real fighter. When I step into the Octagon, there is never going to be a question is she ready, did she train hard enough? There will never be those questions. I make sure every day that I'm 100 percent."
Ed Mulholland/Zuffa LLC/Zuffa LLC via Getty Images
The foundation of Jedrzejczyk's drive actually starts long before she ever steps into the Octagon or unleashes that steely glare that intimidates her opponents.
To understand where that gleaming confidence comes from it requires a trip to the gym to see the way Jedrzejczyk attacks a training session with the same kind of passion she uses to defend her UFC title.
As much as she appreciates the compliments about her skills inside the cage, Jedrzejczyk is insistent that her performances are only a small piece of the puzzle that makes up fighting DNA. The rest comes from the blood, sweat and tears that pour into every training session during the long days and nights of preparation for any upcoming opponent.
"I always say if people want to see why I'm the champion, I invite them to my training so they can see why I'm the best in the world," Jedrzejczyk said. "We deal with the bruises, the injuries, the physical and mental issues, but this is what makes us. That's what makes us different.
"I deal with it and I train even when I'm tired or exhausted. I put my head on the mat sometimes because I'm so tired and I cannot even move, but I don't give up. I don't make any excuses. I go hard. Everything has a price but there are no excuses."
Between the arduous training camp, living thousands of miles away from her family and the grueling battles she endures inside the Octagon, Jedrzejczyk sacrifices a lot to be the best in the world.
The payoff comes when she gets her hand raised and UFC president Dana White wraps the title back around her waist at the end of the fight. Of course, Jedrzejczyk also enjoys the spoils of war, including a hefty paycheck that's attached to each one of her victories but for her it's never about the money.
Now make no mistake, Jedrzejczyk wants to be fairly compensated for her performances, but unlike some champions such as Conor McGregor, who sounds almost like a mercenary when approaching a fight, she prefers the glory to the gold at the end of the rainbow.
"I'm a real fighter. For 10 years, I used to fight for the fight. It was, and it is, and it will always will be about the heartbeat, the passion," Jedrzejczyk said. "Of course it's my job and I make money at it. I make good money and I'm happy the UFC treats me so well. We can all make money but it's up to us how we are going to drive our fighting careers.
"People follow money, the fame, I'm enjoying this. I'm enjoying my life as champion but there's more important things than the money and the hype."
Mike Stobe/Zuffa LLC/Zuffa LLC via Getty Images
As much as money might be a determining factor for most prizefighters, there are also a litany of other reasons to compete in combat sports. Perhaps it's the love of the competition or the thrill of victory. For some it might even be a fetish for violence or just the pure passion for fighting itself.
There are undoubtedly elements from all of those reasons that live and breathe inside Jedrzejczyk, but she also has other ambitions that go beyond any single fight in her career.
"I want to be undefeated and retire as undefeated," Jedrzejczyk said. "Two years ago, I said I want to be a legend one day. I want people to remember me as one of the best female fighters of all time."
"People ask me what am I doing? Why do I hold the belt? Why do I train so hard? What motivates me? I always say that I have new goals and new dreams. I want to be an undefeated champion. I want that to be my legacy."
Now if Jedrzejczyk's goals sound eerily familiar, she's not the first fighter to want to retire undefeated as champion.
Less than two years ago, Ronda Rousey echoed those exact same desires and much like Jedrzejczyk, it seemed more than attainable based on her results. Rousey was a wrecking machine, tearing through opponents like papier-mch, and it didn't seem like anybody was even on her level much less skilled enough to hand her a defeat.
That was until a fateful night in November 2015 when Rousey suffered a brutal head kick knockout courtesy of Holly Holm on the same card where Jedrzejczyk actually defended her title for the second consecutive time.
Now it's easy to draw parallels between the two fighters, especially considering Rousey and Jedrzejczyk have been the most dominant champions in the UFC women's divisions. In a way, Jedrzejczyk could also benefit from Rousey's defeats because she's seen the mightiest crumble and that could prevent her from tumbling down the same pitfalls.
On the surface that all seems well and good, but Jedrzejczyk is quick to point out one major difference when it comes to her career and the legacy she's set to make for herself before she retires.
"I'm not Ronda Rousey. People ask me this question, what I learned from Ronda's career, but it's nothing. We are different people," Jedrzejczyk said. "I am smart enough to drive my career as I want to drive it. That's the thing. I'm still focused on training first.
"First of all, I'm an athlete and I don't care about all the hype. I want to be in the best shape. I'm trying to be focused on my performance and being a better athlete and that's more important than being more popular."
Josh Hedges/Zuffa LLC/Zuffa LLC via Getty Images
For her next fight, Jedrzejczyk will look to defend her title for the fifth consecutive time, which would put her one win away from tying Rousey's record for the most title defenses in UFC women's history.
She faces powerhouse Brazilian Jessica Andrade at UFC 211 on May 13 and while she's currently the favorite to win the fight, Jedrzejczyk has also heard the buzz that she's finally met her match.
Andrade is a former bantamweight with huge power in her hands and a very dangerous ground game to compliment her striking. She's torn through her first three opponents at 115-pounds, including a lopsided win over former title contender Jessica Penne in her strawweight debut.
On the night that Jedrzejczyk faces Andrade in Dallas, another contender will also be sitting just a few feet away from the Octagon watching the strawweight title fight first hand. Fresh off a win over Michelle Waterson in April, Rose Namajunas will be in attendance as she's expected to face the winner in the fight between Jedrzejczyk and Andrade.
Whether it's Andrade at UFC 211, Namajunas later this year or another boogeyman that shows up out of nowhere looking to take her title away, Jedrzejczyk has heard it all before and nothing is going to surprise her.
"They say this one or that one is coming for me. This one or that one is going to choke me or submit me, kill me, knock me out. I don't care," Jedrzejczyk said. "I just want to go there and show who I really am. I want to show people who I am and just shine.
"I hear 'oh she's coming for you and will take your belt away from you. Oh yeah? Let her try."
Considering those comments combined with the path Jedrzejczyk has forged for herself in regards to the legacy she hopes to leave behind, it would appear that she's got plenty of time left in the sport but it wasnt all that long ago that she set a time limit on her career.
Jedrzejczyk had actually planned on retiring at the end of 2017 but moving to Florida and finding a new home with American Top Team helped reinvigorate her passion for the sport while simultaneously re-igniting her desire to go down as one of the greatest of all time.
Will she get there?
Only time will tell but her next chance to prove it will happen at UFC 211 in Dallas on May 13.
"Honestly, last year I set up a date. I said to myself you're fighting until the end of 2017 but then I was like no. I would put pressure on myself and with my new team I feel so much better so now I will go for the next two years minimum. I will see. Even if I finish fighting after my next fight or two fights, I'd be very happy because I already have my legacy," Jedrzejczyk stated.
"I don't want to be cocky. I want to be humble every day of my life but on the day of the fight, I want to be the toughest chick on the planet and prove to people that I'm simply the best."