The UConn-Florida Final Four matchup is a lot more than the stars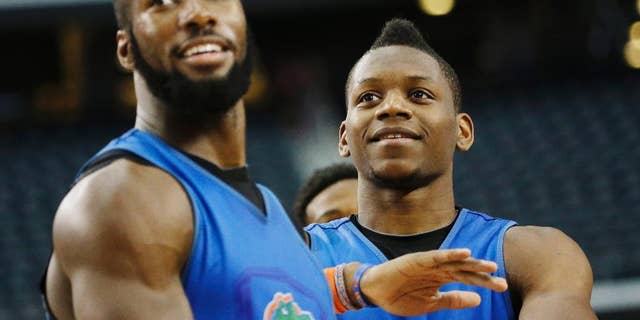 ARLINGTON, Texas – Mention Connecticut basketball and Shabazz Napier is the first name to come up.
Talk about top-ranked Florida and Scottie Wilbekin is the player most often brought up.
Connecticut and Florida — and Napier and Wilbekin — meet Saturday in the Final Four with the winner getting a chance to win the national championship.
"The one thing I would say with Shabazz, which is a little bit different, is he is a very, very good distributor of the ball," Florida coach Billy Donovan said Friday of Napier, who leads the Huskies in scoring (18.1), rebounding (5.9) and assists (4.9), a first for the program.
He has scored at least 19 points in the four NCAA tournament games and there hasn't been a big play made by the Huskies that hasn't started or ended with the ball in his hands.
"He gets fouled a lot. He gets to the free throw line a lot. He opens up things for other guys. I would say Scottie Wilbekin maybe in a different way does some of those similar things for our team as well."
Wilbekin, like Napier a senior, was the Southeastern Conference player of the year, an honor Napier took in the American Athletic Conference.
Wilbekin will have the ball in the final minutes for the Gators. He had a career-high 23 points in the win over Dayton in the South Regional final and the Huskies, and specifically Napier, will focus on Wilbekin.
"We understand that we have to be mentally there on the defensive end," Napier said. "Shots may not fall for us offensively, but if we hang our hats on the defensive end, we have something to fall back on. ... We have to stick together and communicate. Lately, we have been communicating much better on defense, and I think that is one of the main reasons why our defense has been much better."
The last time Florida lost was Dec. 2 and the Gators have won every game since that loss at Connecticut — a school-record 30-game winning streak.
"They are playing great basketball. They are sharing the basketball. They are all playing hard. They haven't lost since then. It will be really tough," Huskies forward DeAndre Daniels said. "We feel great. ... I feel like nobody is playing harder than us right now. We are just out there having fun and not playing for ourselves, but playing for each other."
Connecticut, the seventh seed in the East Regional, has won nine of its past 11 with both losses to Louisville. That's no 30-game winning streak but it's enough to have the Huskies two wins from a fourth national championship and the first under a coach besides Jim Calhoun.
Florida, the tournament's overall No. 1 seed, is looking for its third national title, the first two coming in consecutive years under Donovan.
"I think that the confidence level our team has has been what it's been really the entire year," Donovan said. "These guys understand what goes into playing and competing, they're really good as it relates to scouting report and preparation. I think they understand how hard they have to play, how well they have to play defensively together, offensively together."
Napier hit a buzzer-beating jumper from the free throw line to give Connecticut (30-8) the 65-64 victory in Storrs, Conn., four months ago. The dramatic win didn't exactly propel the Huskies as they lost three of their next five games.
Now Connecticut, just like that day before winter even started, has a second chance at Florida.
The Gators were different that day in that freshman guard Kasey Hill was out with an ankle injury and freshman forward Chris Walker was clearing up eligibility issues.
Wilbekin, playing in his third game of the season after being suspended for the first four, had 15 points but injured an ankle with 3:01 to play, was taken to the locker room and never returned.
"I was in the locker room and there was a clock but no score," he recalled Friday. "I kept asking one of our managers to go check the score. He came back and said we were up one and there was only a couple of seconds left. I was laying there with ice on my leg and I heard the roar from the crowd and I knew we lost. That was the low point of our season.
"We're familiar with them, and they're familiar with us. They've done a great job of improving the defense since we played them, especially in the postseason. They've really stepped it up on defense and the amount of effort they're giving on defense is at a high level right now. They've always been a good offensive team, and now they're playing better on defense."