The Trump truck is back: Korbin Forrister takes campaign to Pocono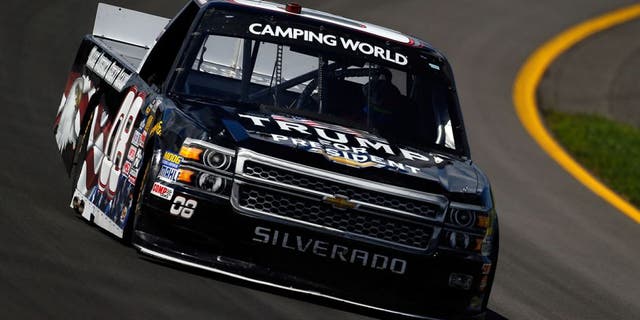 For the second consecutive week, Korbin Forrister's NASCAR Camping World Truck Series ride will show support for Republican presidential candidate Donald Trump. With no sponsorship backing his efforts, Forrister decided to once again show his support for Trump by putting his campaign on the truck, along with an American flag and bald eagle.
"We didn't have quite the finish we had hoped for last week, but we certainly left an impression on the race," said Forrister. "I support Donald Trump and what he is trying to do, America needs it. A large majority of the response we received was positive, there was some negativity, but we expected that. It's my decision and we're going to do it again this week."
Trump is not behind Forrister's efforts, but that has not stopped the 22-year-old from Georgia from supporting the "Trump for President" campaign.
"I believe that Trump speaks the truth and it's my right to show my support for his campaign," he said. "He's kind of going at it on his own and that's the way I approach a lot of things so we are going to do it again at Pocono, only better with some American flags along with the symbol of our great country, a bald eagle."