The Trouble With Tri – History Is Wiped Out At World Cup For Shaky Mexican Team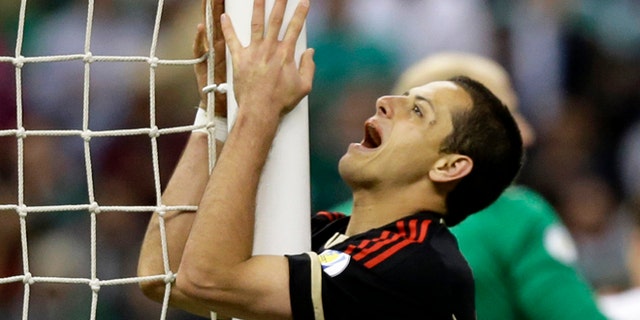 NEWYou can now listen to Fox News articles!
On August 11, 2012, Mexicans of all ages, regions, political affiliations, socioeconomic categories and sides of the law poured into the streets to celebrate the result of a soccer game.
But not just any game. It was "the most important game in the history of Mexican soccer," as one Telemundo sportscaster put it: The gold medal match between Brazil and Mexico at the London Olympics.
It was a hard-fought affair, with Oribe Peralta scoring twice for El Tri. Hulk gave millions of Mexicans a small heart attack by scoring in stoppage time, but it proved too little, too late.
Could it be? Many of those street celebrants were surely asking themselves. Was a glorious new era of Mexican ascendancy in fútbol finally dawning?
Well, not quite.
Everything that could have gone wrong in 2013 did. Players got injured, didn't develop the way they were expected to or outright refused to play for the national team.
Then there were the friendlies lost, a series of scoreless ties at Estadio Azteca to open World Cup qualifying, two Gold Cup losses to Panama, a three-and-done exit from the Confederations Cup.
And as World Cup qualifying progressed, things deteriorated to the point that they became, as Mexicans like to say, a total desmadre.
There were soul-crushing losses last September to Honduras – Mexico's second-ever home loss in 78 Cup qualifying matches – and in Columbus, Ohio, to the United States.
Those losses caused the coach of El Tri to get canned. At that point, Mexico had two games left in qualifying and a 1-2-5 record that put it in a position to miss out on Brazil entirely.
In which case the entire country would surely have collapsed into a puddle of green, white, and red goo.
What the country needed to avoid such a fate was no less than two October surprises from the unlikeliest of sources.
The first came against Panama at Estadio Azteca. With the score tied in the 82nd minute, Mexico's coach du jour, Victor Manuel Vucetich, made the coaching move of the match—of World Cup qualifying, even—bringing in the young forward Raúl Jiménez, whose style is what they call a "supporting striker," who had been a solid cog in Mexico's Olympic squad.
Three minutes later, with only five minutes left on the clock, Jiménez received a hard, bouncing pass just inside the penalty area. He tried to control it with the side of his right foot and sent it 10 to 12 feet in the air.
Jiménez took a step and a half to his left, scissored his legs as he leaped, and ripped the ball into the right corner of the goal, pretty as you please for a 2-1 win.
All Mexico needed in its last match was a tie with Costa Rica (which was already assured qualification) in San José. El Tri looked good for stretches in the first half, but then folded like a flour tortilla in the second half to lose 2-1.
The bungler-in-chief was Mexico's most famous soccer son, Javier "Chicharito" Hernández, who missed a handful of excellent scoring opportunities, including one in which he squibbed a shot on goal so badly you could almost hear the groans all the way from Mexico.
With Panama leading the U.S. by a goal heading into injury time, things looked grim until the Americans choppered in some much-needed foreign aid in the form of goals in the 92nd and 93rd minutes and beat Panama, 3-2.
It was an entirely fitting end to World Cup qualification that El Tri only won by actually losing.
Of course, it was too late for Vucetich, who received his thanks with an axe.
So much of Mexico's fate and identity has been seemingly determined by geography. Perhaps the most famous iteration of that thought is often attributed to the strongman Porfirio Díaz: "Poor Mexico—so far from God, so close to the United States."
The one realm of human endeavor in which Díaz's bon mot didn't seem to apply was soccer. At least, until Landon Donovan came of age. But geography hasn't helped Mexico there much, either.
For much of its soccer history, the country has appeared to be a dominant team, but that appearance has mostly been mirage.
Since 1938, Mexico has qualified for all but five of the 20 World Cups, but only three times did it actually fail to qualify, in 1934, 1974 and 1978. (Mexico withdrew from Cup qualifying in protest over the selection of France as host country in 1938, and, in 1990, it was banned by FIFA for using over-aged players on its youth teams.)
Mexico's best finishes at the Cup were in 1970 and 1986, when it reached the quarterfinals. Along with Brazil and Germany, Mexico has reached the round of 16 in the last five Cups in a row.
In other words a long, impressive record of achievement. Except:
1) Both those quarterfinal appearances occurred when Mexico was the host nation, and so they can be partly explained by home-country advantage.
2) While Mexico is in some pretty heady company in terms of reaching the last five knockout rounds, it has lost all five of those games.
Beyond that, a pretty good assortment of nations have reached three or four of the last five knockout rounds, including the U.S. Which tells you that in the Finals' current 32-nation format, there are enough patsies to go around and reaching the Round of 16 isn't a major accomplishment.
And 3) part of what has always given people, including Mexicans, an inflated sense of El Tri's importance on the world stage is that CONCACAF is a relatively important FIFA federation—historically ranking No. 3 behind UEFA in Europe and CONMEBOL in South America.
The bottom line is that Mexico, while a regional soccer power with a rich history, has never posed a credible threat to win any World Cup.
So what, exactly, is the trouble with El Tri?
In a couple of words, Chicharito Hernández. Well, not Chicharito himself but what he personifies.
As a goal-scorer, Chicharito is an opportunist. The kind of player who always seems to be in the right spot at the right time in order to tap in that rebound or to take a shot at an empty net after somebody else has drawn out the keeper.
Even that mishit against Costa Rica in October actually trickled toward one corner of the goalmouth at a snail's pace, rolled under the arm of the lunging keeper, and finally found the net—only to be called back on an offside penalty.
But Chicharito doesn't create scoring chances for himself or for his teammates, which gives the impression that the enormous success he has had at Manchester United is the product of him just showing up.
And that is precisely what El Tri does during Cup qualifying—shows up with an entitled expectation of victory.
The good news and the bad news for Mexico is that none of the past—not its dreadful 2013 qualifying nor its historical success—counts for anything in Brazil.
What does count is that Group A doesn't seem to be a tough nut to crack. It can be assumed that Brazil will claim one of the group's two spots in the Round of 16, but neither Croatia nor Cameroon are the most intimidating of opponents.
In one sense the worst thing that could happen to Mexican football is for Rafa Márquez to captain the team to its sixth consecutive Round of 16 as if everything were just as hunky-dory as it has always been.
Because maybe the dawn of that glorious era of Mexican soccer ascendancy that everyone was expecting to happen has to be preceded by some early exit darkness for El Tri.