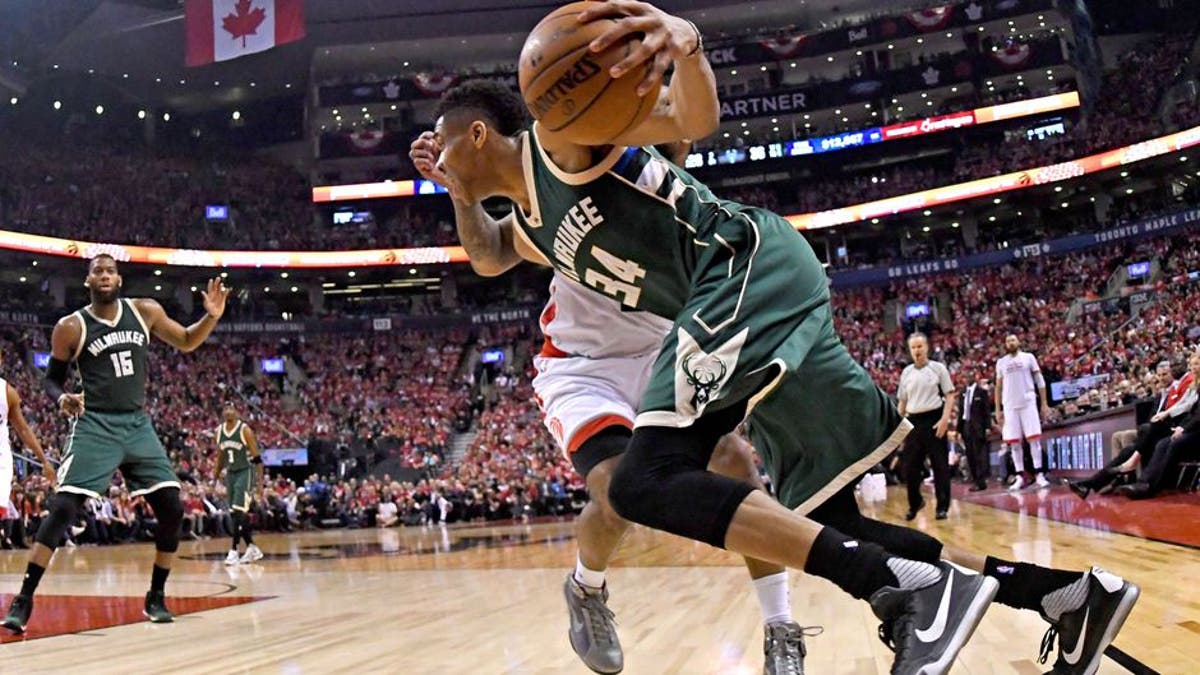 Giannis Antetokounmpo is one of the best young players in the NBA.
He's become a point guard in a 7-foot frame a free-flowing collection of limbs, motor, and ever-growing basketball intelligence that wants to destroy everything in his path.
But he's not infallible, and the flaws in his game allowed the Toronto Raptors to escape with a 106-100 win over the Milwaukee Bucks on Tuesday in Game 2 of their first-round playoff series.
Antetokounmpo roasted the Raptors in Game 1, looking like a Hall of Famer in the making. He wreaked havoc on Toronto's defense by driving into the lane over and over, then either dunking the ball from ridiculous angles or finding the open shooter. Toronto's defenders simply couldn't keep up with the Greek Freak as he snaked his way around screens.
So in Game 2, the Raptors made a simple adjustment: dare Antetokounmpo to shoot.
P.J. Tucker gave his Bucks counterpart all the room in the world on the perimeter. He ducked under screens by a good five feet to the free-throw line, sending the clear message: that Toronto knows Antetokounmpo knows he's not a good shooter. The more he's in his own head, overthinking his game, the better off the Raptors are.
Antetokounmpo's hesitation gums up more than just his offensive game. His reluctanceto shoot leads to overpassing, as the Bucks swing the ball around the perimeter in a desperate bid for someone to make a play. As the shot clock slowly ticks down, Milwaukee's offense grinds to a halt, until someone has to chuck an off-balance jumper.
He's still talented enough to put up numbers, to be sure. Antetokounmpo finished with 24 points and 15 rebounds in the Bucks' Game 2 loss. Yet he needed 23 shots to get there, and Toronto forced him into several awful turnovers.
So give the Raptors credit for a hard-fought Game 2 win. Kyle Lowry came up big when his team needed him the most, Serge Ibaka was a defensive force, and DeMar DeRozan kept the Bucks honest.
But if you're looking for why the Raptors flipped the script from Saturday, take note of how Toronto adjusted to Antetokounmpo's monstrous presence. You might not be able to stop the man, but you can help him stop himself.