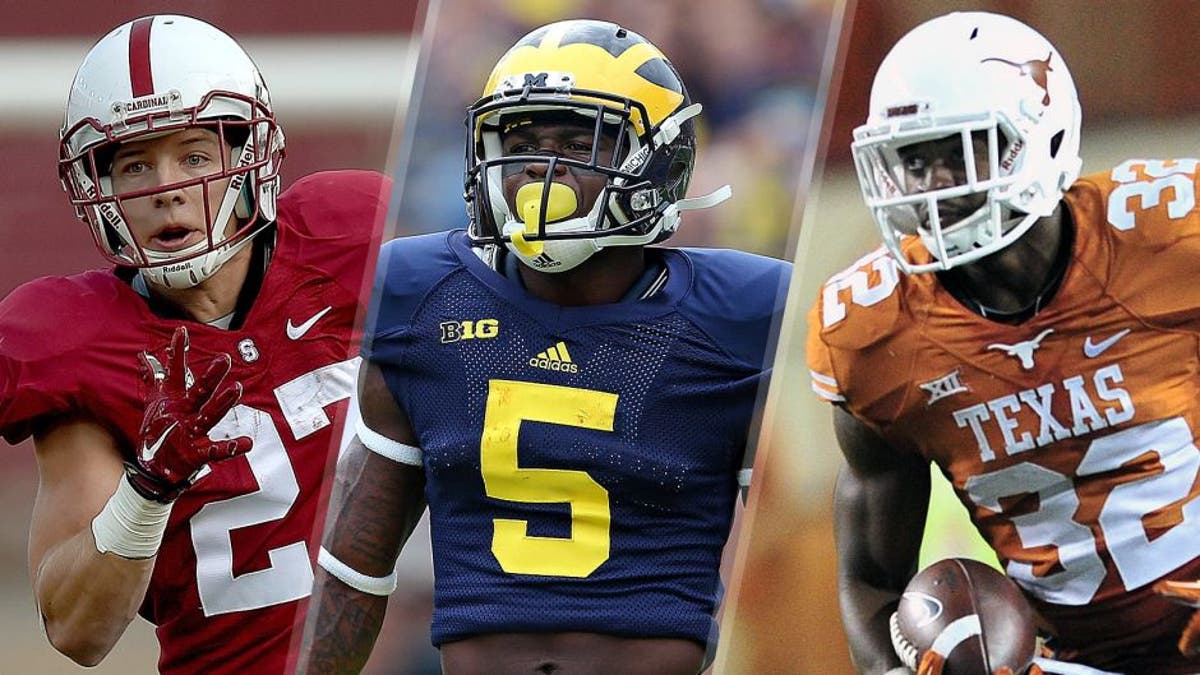 With training camps just a week or so away, it's time to examine who has the toughest non-conference schedules among Power 5 conference teams (we'll size up the softest non-conference slates in next week's top 10 list).
A caveat: Since some teams play three non-conference games and others play four, I assigned a point system to try to put each in context. The system is as such: Teams merit five points if I think they'll be top-five caliber; 4.5 for top-15; four for top-25; 3.5 for top-40; 3 for top-60; 2.5 for top-80; two for top-100; one for bottom of FBS; 0.5 for a winning FCS program; and zero for a losing FCS program. I also gave a bonus 0.5 for a road game and 0.25 for a neutral site game before adding up the points and dividing by the number of non-conference games to get an average index score.
With that, here's how I'd rank the 10 hardest non-conference schedules in the Power 5 (index score in parentheses).
1. Stanford Cardinal (3.67)
There is one other slate that I thought seemed much rougher, but what made the Cardinal No. 1 is that they play no cupcakes. David Shaw's team opens at Northwestern, which is two seasons removed from a 10-win year. The Wildcats have been pretty average the past two years but did beat a top-20 Wisconsin team at Ryan Field last year. The other two non-conference games are UCF, which has won 31 games in the past three seasons, and Notre Dame, which has 20 starters back and should be a College Football Playoff contender.
2. Texas Longhorns (3.50)
Texas is another team with only three non-conference games, and ND is also one of them -- but UT has to face the Irish in South Bend. While lots of folks will roll their eyes at Rice, the Owls are 18-9 in the past two seasons with only Baylor having a better record during that span among FBS programs from Texas. The other game is against an explosive Cal team that has 17 starters back, led by rising star QB Jared Goff.
3. Virginia Cavaliers (3.38)
On paper, I figured the Cavaliers would top this list when I first sized it up given they have three opponents that have a good shot to be in the top 25. Those three -- UCLA (on the road), Notre Dame and Boise State -- are among the 17 most experienced teams based on returning starters, with ND tied for first and UCLA ranking sixth. The fourth game, which is why UVA isn't No. 1 on this list, is against FCS William & Mary, which was 7-5 last year.
4. Michigan State Spartans (3.25)
The Spartans have four non-conference games, and all four are FBS programs that had winning records last season -- combined they were 38-16 (6-1 in conference) against ranked opponents. MSU opens at Western Michigan, then gets a visit from Oregon. After that Air Force comes in, and then Central Michigan closes out the month.
5. Georgia Tech Yellow Jackets (3.13)
This slate is trickier than it looks. Paul Johnson's team opens against an FCS team, but it's a very good one. Alcorn State won 10 games last year and has a potential pro prospect in John Gibbs, a very athletic 6-foot-6 QB. Tulane's next, and the Green Wave are coming off a clunker of a season but do have a promising QB in sophomore Tanner Lee. The last two are rough: Notre Dame on the road and then the regular-season finale against Georgia, the preseason SEC East favorite.
6. Louisville Cardinals (3.06)
Bobby Petrino's team will see some dynamic QBs. Louisville opens against Auburn, which has good receivers and a budding star in QB Jeremy Johnson. The Cards follow that with Houston, which should make a run at a 10-win season and has a speedy trigger man in Greg Ward Jr. Following a Clemson game, U of L gets FCS Samford, led by 6-5 ASU transfer QB Michael Eubank. The regular-season finale is against what should be a very much improved Kentucky team and its talented QB (Patrick Towles).
7. Utah Utes (3.00)
Here's another Pac-12 program with no cupcakes on the docket. The Utes open on Thursday night at home as Jim Harbaugh makes his Michigan debut. That won't be easy. Utah also gets to visit a Fresno State team that has won 26 games in the past three years and hosts Utah State, which has won 19 games in the last two seasons and is 2-2 against ranked teams and STILL has Chuckie Keeton (73 career TDs and some 7,500 total yards) around.
8. (tie) Michigan Wolverines (2.88)
Harbaugh doesn't have that much wiggle room here aside from a UNLV team digging out of a deep hole. The opener, as mentioned above, is at Utah, which last year beat No. 8 UCLA, No. 20 USC and Stanford and returns Heisman contender Devontae Booker. A visit from Oregon State, which follows the Utah trip, will be interesting. New Beavers coach Gary Andersen actually didn't face the Wolverines in his two seasons at Wisconsin and has only two returning starters on D this year. The fourth game will be a handful. It's against a very physical BYU squad that was a top-20 team and 4-0 last year till star QB Taysom Hill got hurt. He's back -- and so are most of the Cougars' top players from last year.
8. (tie) Virginia Tech Hokies (2.88)
The opener's brutal, against the defending national champion Ohio State Buckeyes, who return almost everyone. After that the Hokies get two 3-9 teams in FCS Furman (home) and Purdue (road). The other non-conference game is at ECU, which has won 26 games in the past three years and is 4-2 against ACC teams in its last six meetings.
8. (tie) South Carolina Gamecocks (2.88)
Three challenging games and one cupcake (against an FCS Citadel team that was 5-7 and is picked to finish seventh of eight teams in the SoCon). The three tough ones: neutral-site game against UNC, which has the most starters back (17) in the ACC led by QB Marquise Williams; UCF, which is 31-9 in the past three years; and Clemson, which has a potential Heisman contender in sophomore QB Deshaun Watson and a talented crew of receivers and has finished in the top 15 in each of the past three years.
Bruce Feldman is a senior college football reporter and columnist for FOXSports.com and FOX Sports 1. He is also a New York Times Bestselling author. His new book, The QB: The Making of Modern Quarterbacks, came out in October, 2014. Follow him on Twitter @BruceFeldmanCFB and get all of his content on Facebook.