The story behind how Panthers coach Ron Rivera wasn't almost fired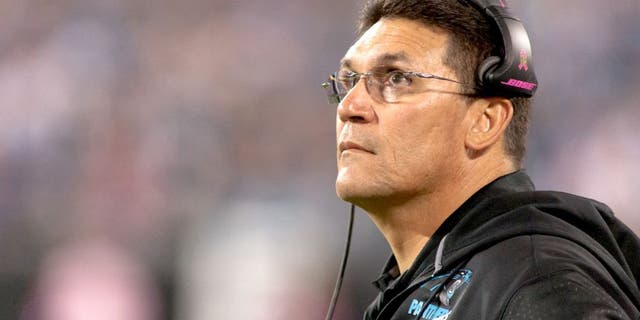 If you believe what you hear, you might think the mighty 16-1 Carolina Panthers almost made the wrong decision to fire Ron Rivera while at a fork in the road with their coach early in the 2013 season.
The thing is -- as GM Dave Gettleman revealed to FOXSports.com's Alex Marvez in an exclusive Q&A -- there never was a fork.

Let's review.
Gettleman was in his first season as GM with the team when a report surfaced that the Panthers had begun doing background checks on head coaching candidates. Carolina was 1-2 and had gotten off to slow starts in each of Rivera's first two seasons, so his position seemed tenuous -- particularly after he had been left for dead the previous offseason, just before Gettleman was hired.
The only thing is -- according to Gettleman -- replacing Rivera was the furthest thing from his mind.
"When that (media) report came out when we were 1-2 that we were looking for a head coach I was so f****** furious," he told Marvez. "I got up in the press box when one of the (reporters) came over to me about it and said, 'This is unbelievable bulls***. It's unequivocally false.' I went to Ron after I heard it and said, 'Talking man-to-man here, that is bulls***.' Let's keep working and get this fixed.' We then went on an eight-game winning streak."
Carolina finished that season 12-4, starting a run of three straight playoff appearances that has Gettleman looking like a genius for the move he didn't make -- or rather, the move he wasn't even thinking about making.