The Spurs' Fearless Manu Ginobili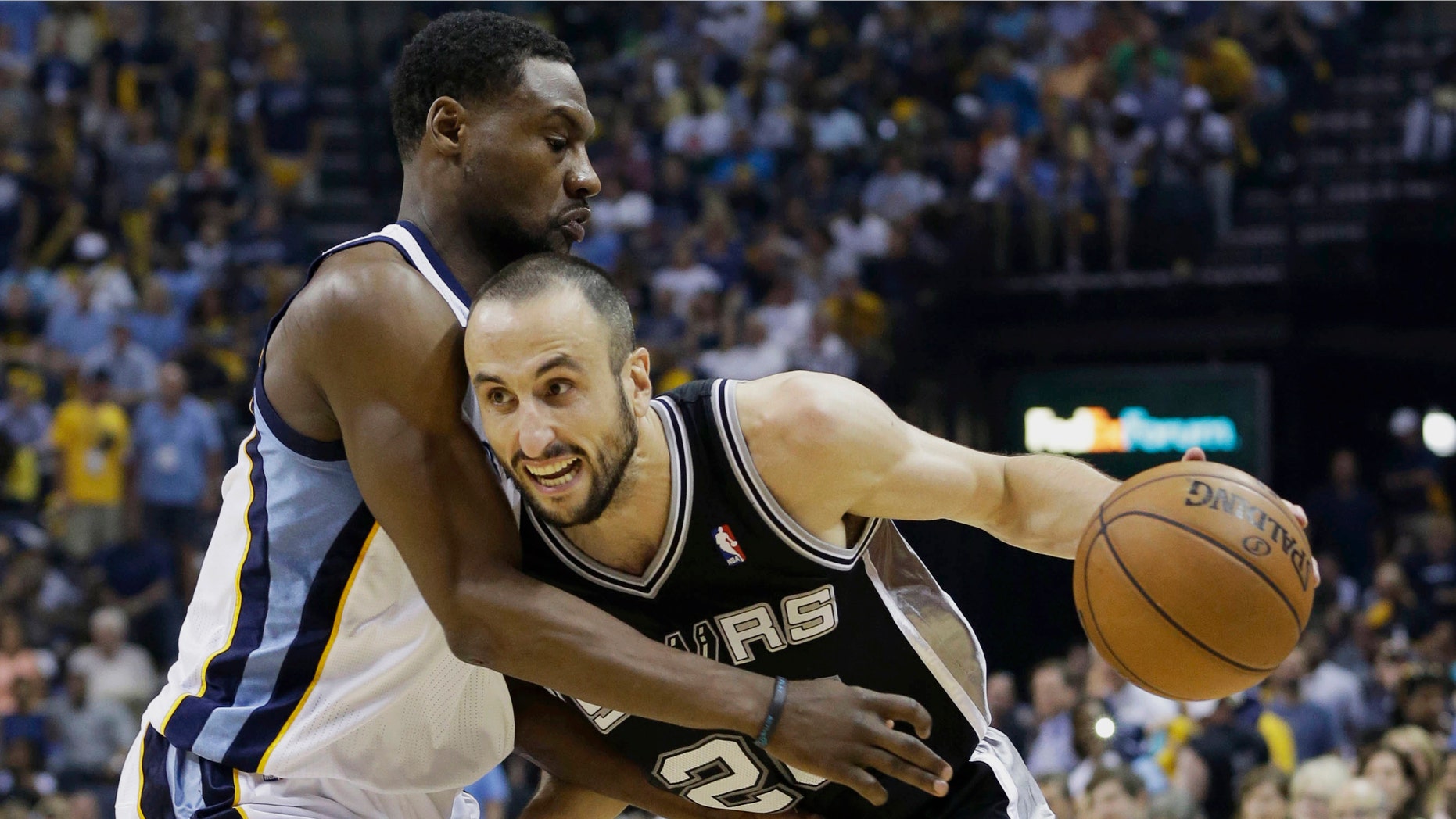 An Argentinean basketball star has captured the heart of a city in Texas.
The energy begins to build as soon as Gregg Popovich points over to the bench, usually midway through the first quarter.
Manu Ginobili rises and so does the excitement level inside the AT&T Center in San Antonio. Of course, the anticipation is ambiguous because no one knows what the San Antonio Spurs' veteran guard will do once he gets on the court.
He could miss a wild 3-point attempt, the way he did in the second overtime against Golden State in this season's playoffs. Or he could do something big in the clutch, such as hitting a 3-pointer a short time later to win that same game.
"It's what you live with with Manu," Spurs forward Tim Duncan said. "Does it amaze me? Everything he does amazes me — his good stuff, his bad stuff. It's what you learn to live with with him.
"He's someone that gives us so much of a different face. People can't plan for what he does. We're well-coached when we execute well, but you can't prepare for what Manu does, and that's one thing that makes us a better team."
Ginobili and the Spurs are gearing up for the franchise's fifth appearance in the NBA Finals, where they will meet the defending champion Heat starting Thursday in Miami.
Not since Hall of Famer George Gervin finger-rolled his way into the hearts of San Antonio fans during an 11-year career have the Spurs had a player as popular as Ginobili. Duncan, Tony Parker, David Robinson and Sean Elliott all hold a special place in fans' hearts, but Ginobili has become one of the city's own.
"I don't know how we connected at first," the Argentine said. "I just know that they kind of adopted me from the first minute I got here. Maybe it's my Latin roots, Spanish speaking, or maybe it's my type of game. I guess it was a little bit of everything.
"But it really helped me, especially early in my career. Now I'm a developed player, I've been everywhere and now I'm more used to it. But at the beginning, when I had so many doubts, I was the new guy in the NBA, the uncertainties and all that, having 18,000 people supporting me and cheering you up was a big help."
The 6-foot-6 guard has given Spurs fans plenty to cheer about — and groan over.
He averaged 20.8 points and 5.8 rebounds during the postseason in guiding San Antonio to the 2005 NBA championship. During Game 7 of the 2006 Western Conference finals against the Dallas Mavericks, Ginobili scored 21 of his 23 points in the second half to rally the Spurs to a three-point lead with 32 seconds left. He broke their hearts seconds later by haphazardly fouling Dirk Nowitzki on a dunk, leading to a three-point play and an eventual Mavericks win in overtime.
Ginobili is averaging a respectable 11.5 points, 5.4 assists and 4.5 rebounds during this postseason, but the Spurs know there is another level to his game and they are eager to see it in the Finals.
"I still feel like Manu is saving his best for last," Parker said. "I can feel a big final for him. That would be nice; we are definitely going to need it."
Duncan agreed: "I told him he's saving himself."
Truthfully, Ginobili has never saved himself on the court since his earliest days playing basketball in Bahia Blanca, Argentina.
"He's just hell-bent for leather, absolutely all-out," Popovich said. "He plays with a ferocity at both ends of the court that's very unique. Coaches love that stuff."
At age 35, Ginobili no longer has the long, flowing hair that whipped violently each time he tumbled to the court — opponents would say flopped — but the fierce drives are still there in his 11th season.
"He's one of those guys, who, at age 50, won't be able to walk," former NBA coach Nate McMillan has said.
Ginobili already has difficulty staying upright, missing 22 games this season after missing 32 in the lockout-shortened 2012 season. After missing much of the final month of the regular season with a strained hamstring, Ginobili said he feels as healthy as he did entering training camp.
"It's great to have had this opportunity to keep playing," Ginobili said. "I feel better. If we had lost in the first round, I wasn't even back. After three weeks sitting, then four games, five games and the season's over, you go back home with a really bad feeling about the season. But since the way things have turned out, to tell you the truth, I even forgot what happened during the season. I'm feeling good now. We're in the Finals, so who cares? No one is going to remember I missed 20 games during the regular season."
While Parker and Duncan receive a lion's share of credit for the team's successful 16-year run, they know they need a healthy Ginobili to thrive.
"Manu is one of the ultimate competitors in our league, and has been for a long time," Popovich said. "He has been a big factor in us winning games (and) winning championships. He's very important to what we do."
It's not just his willingness to take a charge or fearlessness in taking a last-second shot that makes Ginobili critical to the team. He is a vocal leader and the team's resident cut-up, chastising the younger players when he isn't playfully bullying them.
Ginobli said he has no plans to retire, but he is cherishing this trip to the Finals more than his three previous appearances.
"I completely love what I do, and I think people can tell," Ginobili said. "Even though I can start to see the end of the road, it's hard to really imagine being a retired player because I still really love what I do. I enjoy the locker room before a game. I even enjoy it after a loss; just the camaraderie, the stay together, going to dinner to talk about what we've done wrong.
"I feel like you've got somebody that supports you and you support somebody else. Trying to get over humps all together is great. It's a great feeling that you are probably never going to have ever again once you retire.
"Sometimes you are tired, you are older; it's harder to come back from injures, but at the same time, you enjoy what you do."
Based on reporting by The Associated Press.
Follow us on twitter.com/foxnewslatino
Like us at facebook.com/foxnewslatino