The solution for the Mets is easy: Sign Yoenis Cespedes to a five-year deal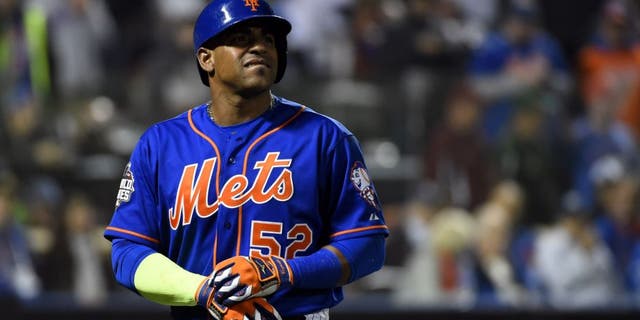 The solution for the Mets is easy -- so easy, I can't believe I didn't think of it before.
Sign Yoenis Cespedes.
Sign him to a five-year, $120 million contract with a two-year opt-out and a ton of deferred money.
Cespedes, 30, could claim victory -- he would get the long-term security he wants and a higher average annual value ($24 million) than Justin Upton ($22.125M).
The Mets would win, too -- the five-year term is shorter than Cespedes desires, the deferred money would lower the present-day value of the deal and the opt-out would ensure that the outfielder stays motivated.
"We continue to have conversations with Cespedes' agent," Mets general manager Sandy Alderson told season-ticket holders Tuesday, according to a tweet from the club. "That's all I can say at this time."
To this point, the Mets only have been interested in giving Cespedes a contract of three years or fewer, according to major-league sources. Well, any number of teams are interested in Cespedes for that short of a term. The team that gets him will need to separate from the pack, and the way to do that is by adding years and money.
The Mets should have the money. They have spent a combined $35.5 million on four free agents this offseason -- less than the Marlins, less than the Rockies, less than the Athletics -- and made a trade for second baseman Neil Walker that was essentially cash-neutral. Their payroll, including pending arbitration cases, does not figure to increase much beyond where it was at the end of last season -- about $110 million.
By contrast, the payroll of the Mets' World Series opponent -- the Royals -- figures to top $130 million. The Royals play in Kansas City, a low-revenue market in the Midwest. The Mets play in New York, a high-revenue market in the nation's media capital. What's wrong with this picture?
Mets officials bristle at criticism that they do not spend enough money. Well, they hear such criticism because they ... do ... not ... spend ... enough money.
Cespedes, mind you, is not a perfect fit. He is a better defender in left field than in center, but he likely would need to play center for two seasons until Curtis Granderson's contract expires. Then Cespedes probably would move to right, a position he has yet to play in the majors.
What's more, anyone who expects Cespedes to be the same offensive player he was for the Mets in August and September ... forget it. Cespedes still will produce such streaks on occasion, but let's not forget, we're talking about a hitter with a career .319 on-base percentage.
The Mets quietly have constructed a better, deeper position-player roster this offseason, adding Walker, shortstop Asdrubal Cabrera and outfielder Alejandro de Aza. But as presently constituted, they will ask too much of left fielder Michael Conforto, who is entering his first full season, and third baseman David Wright, who will manage spinal stenosis for the rest of his career.
The situation is not much different for the Mets than it was when they acquired Cespedes at the non-waiver trade deadline. They need a force in the middle of their order, a hitter whose presence alone will reduce the pressure on his teammates. Cespedes is that guy. He was that guy in Oakland, that guy in Detroit (though with a deeper lineup) and that guy as the Mets blew past the Nationals for the NL East title last season.
For whatever reason, he wasn't that guy for two months in Boston in 2014, and the Mets would need to tolerate some of his diva-like tendencies -- "not taking batting practice, not hustling during games at times and constantly smoking cigarettes between innings," according to the New York Daily News' John Harper.
So?
Cespedes is not the first superstar with personality quirks, and he will not be the last. But he is the one hitter remaining on the open market who would give the Mets the best chance of maxing out with their otherworldly -- and relatively inexpensive -- starting pitching.
Five years, $120 million, two-year-opt out, a ton of deferred money.
If the Mets don't do it, some other team will.