The Sidelines: Missouri's Cuonzo Martin and Oklahoma State's Mike Boynton join the show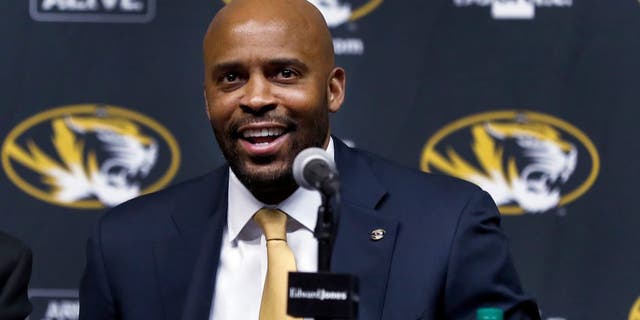 While it was a difficultseason on the court, few programs have had more success off the court in recent weeks than Missouri. And the man behind all that success, new head coach Cuonzo Martin, joined this week's edition of " The Sidelines Podcast" with FS1 college hoops insider Evan Daniels. Evan was also later joined by new Oklahoma State head coach Mike Boynton.
Starting with Martin, he and Evan discussed the following topics:
Martin's decision to leave Cal for Missouri. What went into the decision -- and why did Martin's daughter have the final say on whether he came to Columbia? Also, what was the transition like for Martin, who is originally from the area?
The process of landing the nation's No. 1 high school player, Michael Porter Jr. What was Martin's pitch to Porter's father and new assistant coach Michael Porter Sr.? Also, Martin discusses how Porter Jr.'s commitment has helped Mizzou land other top recruits as well.
What will Missouri look like in future seasons? Martin lays out what kind of program he wants to build, and what kind of players he covets on the recruiting trail.
Next up, Boynton joins the show.Boynton recently got his first head coaching job when Brad Underwood left for Illinois. The two discussed the following:
His rapid rise to being named Oklahoma State head coach. The 35-year-old was an assistant at Stephen F. Austin two years ago. Could Boyntonhave ever imagined being the lead man at a Big 12 school two years later?
What were his selling points to convince Oklahoma State to hire him as a head coach? He discusses the keys to landing the job -- and how his wife found out he got the head coaching job in the most unlikely way possible!
How does he plan on building the Oklahoma State program? What types of players will he recruit? What areas of the country will he target? And what impact can returnee Jeffrey Carroll have?
Finally, what would Boynton be doing if he weren't coaching? He gives an absolutely stunning answer.
This is just the latest edition of " The Sidelines" podcast, as Evan has welcomed some of the biggest names in basketball to the show. Previous guests include legendary coaches Mike Krzyzewski, Roy Williams and Tom Izzo, as well as star players like Jayson Tatum and Markelle Fultz.
To listen to all old episodes, click here.
To subscribe and have new episodes downloaded straight to your phone, subscribe below:
SUBSCRIBE: iTunes | Google Play | SoundCloud