The secret to Kevin Harvick's team: 'We believe we will win!'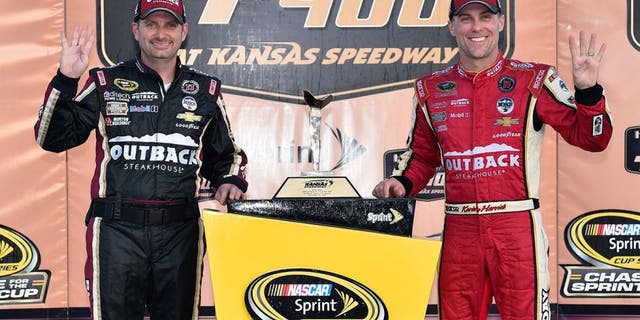 NEWYou can now listen to Fox News articles!
I have said this before and it bears repeating: Champions approach their craft differently than those who are merely good or even very good.
There's a reason Kevin Harvick is a championship driver, Rodney Childers is a championship crew chief, and the folks who work on the No. 4 Stewart-Haas Racing Chevrolet are a championship team.
After Harvick's late-race charge to victory at Kansas Speedway on Sunday, the team members filled Victory Lane, loudly chanting, "We believe we will win! We believe we will win!"
And the thing is, they do believe. They absolutely do.
Harvick and Childers set the tone and the team members do whatever it takes to win.
"It feeds down through him (Harvick) as far as being confident and being determined and working hard," said Childers. "That comes down through me, then our shop foreman, our car chief."
Having confidence is a good thing, of course.
But it takes a lot more than just confidence. It's lots of faith and even more hard work.
"We're just fortunate to have a lot of guys that won't quit," said Childers. "They don't take 'no' for an answer. They don't care how many hours they work. They don't care what they have to do. They just try to make it happen."
Harvick, who won the 2014 championship and was runner-up last year, agreed.
"I'm having a lot of fun being a part of a team like this," said Harvick. "We could say we needed to go jump off a cliff in the morning, and everybody would be there at sunrise and say, 'All right, where do we jump?'
"That's just the type of group that it is," Harvick said. "Everybody's got each other's back. Nobody takes offense to somebody telling them they need to do something better, see something better. It's just a unique bunch of people. You're only as good as the people you have around you. That's true in every business. It's no different in this garage"
Indeed, people are what make the difference.
"It's cool to be in that environment and be around people like that," said Childers. "It's something that we all hope that we can do sometime in our lifetime."
He's right, of course.
It is something all racers hope to do.
And it's something that only the champions get to do.