The secret to Demian Maia's submission mastery: A 'Vale Tudo' mindset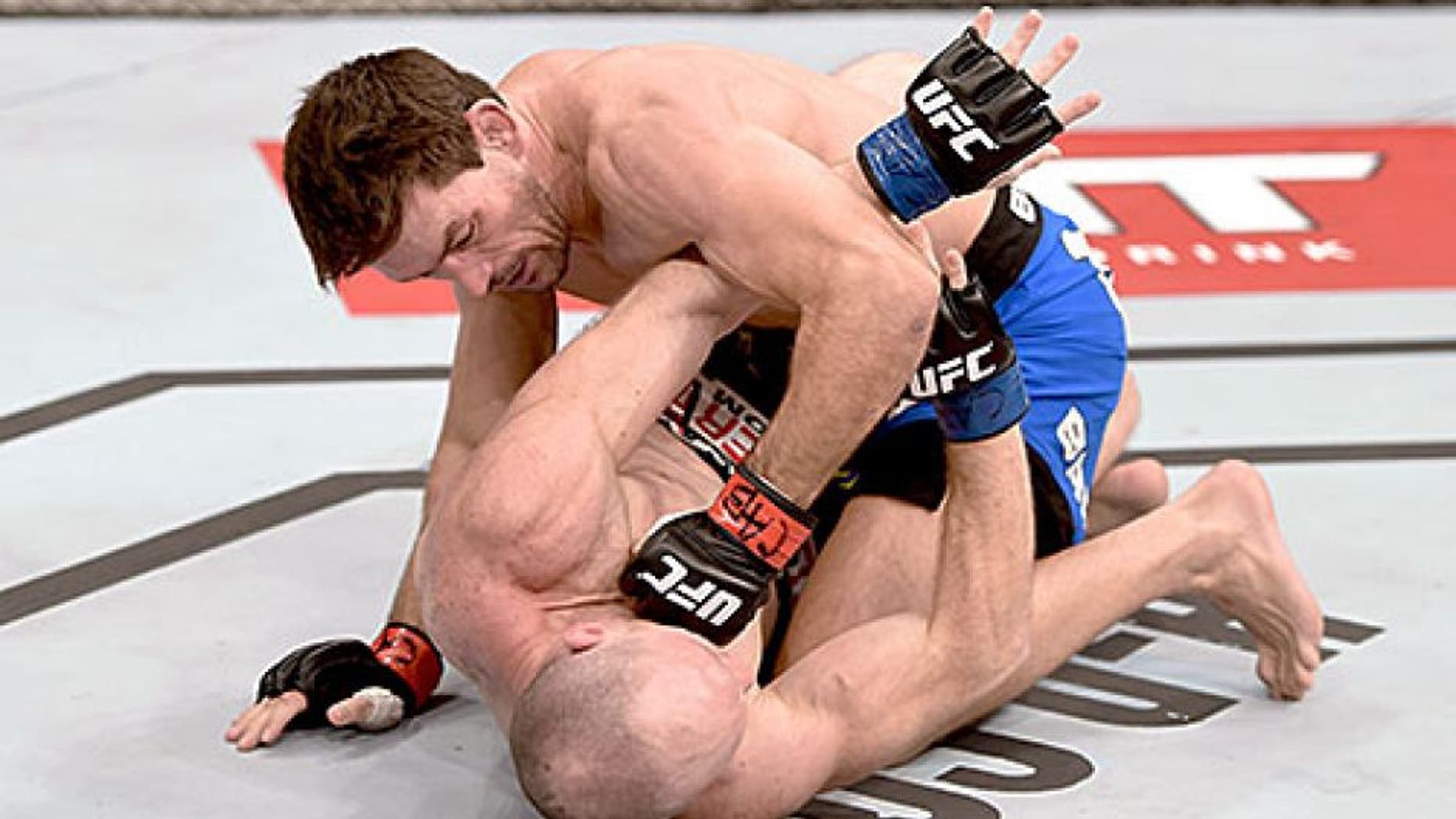 Demian Maia transitioned into MMA after a long and successful career in submission grappling competition. On the surface, it may have actually appeared that he'd made the switch a little too late to ever become a world champion or top contender.
However, the Brazilian jiu-jitsu black belt took the MMA world and the UFC by storm on the strength of his incredible submission skills. Now, he heads into his UFC 194 bout against Gunnar Nelson as a top welterweight title contender, after having already fought for a championship at middleweight.
A big reason why Maia ended up being one of the most successful Brazilian jiu-jitsu-based fighters in modern MMA history is because even when he was competing in submission matches with no strikes allowed, he always thought like a fighter.
In fact, fighting is the very reason he got into jiu-jitsu to begin with. Even as a little boy, Maia trained the martial arts with the thought in his mind to fight Vale Tudo, MMA.
"Yes, since the beginning," he told FOX Sports at Wednesday's Ultimate Media Day.
"You know, I've been in martial arts since I was four years old. I trained judo, then I stopped for a while. Then when I was 12, I trained Kung Fu, karate. I had a friend who was training Tae Kwon Do, and we trained for a little bit. When I watched the first UFC I said, I want to train jiu-jitsu, first of all because it was efficient. I always liked to learn efficient styles. Secondly, it was a part of Brazilian culture and that was important to me because I'm Brazilian. It was very different than traditional martial arts and for me that was very interesting."
These days, jiu-jitsu is so popular that many schools and practitioners get away with only focusing on the limited and unrealistic rules of grappling competitions. Some people, it seems, enjoy pulling complicated inverted guards, ignoring takedowns, and relying on grips on uniforms.
Not Maia. His jiu-jitsu was always focused on what would work in a real fight.
So, it's no surprise that his jiu-jitsu works well in real fights, against the best in the world. "With jiu-jitsu, my mind was always on Vale Tudo," he says, referring to the "everything goes" Portuguese term that preceded the term mixed martial arts, in Brazil.
"Then, I had my career in jiu-jitsu and it was so nice. But it was a way to develop my Vale Tudo ability."
Even though he would go on to become a black belt and grappling champion, Maia wasn't satisfied.
Jiu-jitsu tournament medals were wonderful, but they weren't the goal for Maia. UFC gold was.
"Sport jiu-jitsu was just the way, it was not the end," he explained.
"The end was fighting Vale Tudo, or MMA, or in the UFC. So, everything I developed I did so for efficiency in no-gi. That's why I liked (no-gi submission grappling world championships) ADCC so much."
Even before he became an MMA fighter, Maia would train his submission work with strikes and realistic possibilities in mind. "When I would train my guard, I would always think about punches," he said.
"The takedowns I used -- I always used double- and single-legs. I never did too many judo throws. With my sweeps, I didn't use the lapel very much. I was always looking for the Vale Tudo (application)."
Though he came in to MMA with the right fighting mindset and real, applicable submission skills, Maia also said he's learned a lot over the years. Take, for example, the typical jiu-jitsu fighter aversion to standing and exchanging strikes.
Most grappling-based fighters take some time to, or never really get used to, striking on the feet. They close their eyes, turn their back or back away.
It's natural. The dangers they face on the feet with real fighting may involve techniques that are relatively new to them.
What Maia began to learn, only after his five-round middleweight title bout against Anderson Silva. "No one likes to get punched, right?" he admitted.
That aversion creates an instinct to avoid. In fact, Maia learned that jiu-jitsu fighters need to lean in to the danger, in order to give themselves the best chance to get to the inside range they want, and then win.
"No one likes to get punched, but at the same time, or jiu-jitsu, you can't stay far away. You need to close the distance," he said.
"Like in the Anderson fight, when I tried to just stay away, I kept getting punched. But when I finally said, 'ok, hit me,' and leaned in, with my eyes open, pressing, he stepped back a bit and didn't throw too much because he felt that it was different."
Once you make peace with the inevitability of getting hit, you can at least be more selective and capitalize on the danger, Maia sagely advised. "I think you realize when you spar, and spar ... some punches, even if they are hard, don't hurt so much if, for example, they hit you in the forehead. If you give the forehead, you realize that punches to the forehead don't hurt too much," he remembered.
"So, you can move in a little bit, start getting it in your head to slip and shoot, slip and shoot. When you try to stay far away and lean away from punches, it can hit you other places, and you don't see the punches coming."
For Maia, making peace with stand-up striking isn't about delusions of grandeur and offensive ability, for jiu-jitsu-based fighters. Instead, it's about mitigating and capitalizing on risk by leaning in and then putting yourself in a more comfortable situation.
"I think the posture of a jiu-jitsu fighter must be a little bit more down," he says, gesturing with an upright hand, tilted forward, slightly.
"I have a friend, he is a yoga teacher and he said, 'you're from jiu-jitsu, so you need to be glued to the land.' When you're a jiu-jitsu fighter, you're about the land. You're not flying around in the air throwing kicks like maybe a Muay Thai fighter. So to be a good jiu-jitsu fighter, I think you need to glue your base to the ground and lean your body a little bit forward -- straight forward, and not back. Of course, you do that sometimes, and it's normal, but that puts you in more danger."
At 36 years of age, Demian Maia is still moving forward, head down and chin tucked, believing in his jiu-jitsu, and shooting for gold.