The SEC has now become a league of ridiculous excuses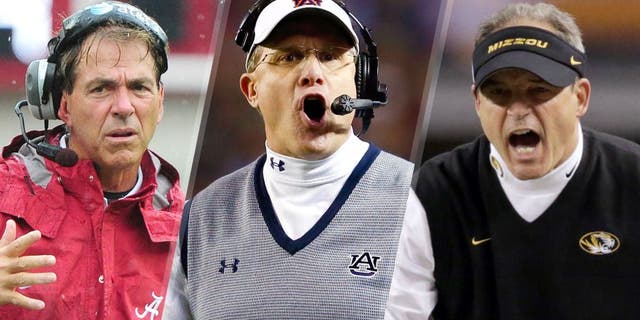 For seven years, as the SEC lorded its string of BCS championship trophies over the rest of college football, its coaches reminded us at every turn just how much tougher, stronger and faster their conference was than everyone else's. As insufferable as it may have seemed at times, it was hard to argue otherwise.
Now, after consecutive disappointing postseasons, we're hearing a slew of excuses from SEC coaches why they're no longer dominating the rest of the country. Which is not only insufferable, but patently absurd.
It started last year when Alabama coach Nick Saban suggested his team's Sugar Bowl loss to heavy underdog Oklahoma came in part because his team, accustomed to playing for national titles, viewed the bowl as a "consolation game." The poor Crimson Tide had apparently become too good to win a non-championship bowl game.
This year, Saban said that pending NFL Draft decisions by its bevy of pro prospects affected 'Bama's chemistry leading up to its playoff semifinal loss to Ohio State. More first world problems.
But during the recent Media Days/car wash circuit, some of Saban's own SEC rivals also proffered excuses why the conference fell short in the first year of the new postseason system. Auburn's Gus Malzahn told ESPN.com's Travis Haney that the rigors of competing in the stacked SEC West actually put league teams at a disadvantage in the playoff system. They just become so worn down.
"Compared to everyone else? Yeah [we're disadvantaged]," Malzahn told Haney. "Look at the SEC West. All of the teams are in the top 25. What other conference can say that? Then, if you win that, you've got to play another really good team from the East. And then you're in the [playoff] semi, having to win two more games."
Oh, the humanity.
Never mind that there's nearly four weeks between the SEC championship game and the first playoff games. Or that just a year earlier, before Auburn faced ACC foe Florida State, Malzahn had former star Cam Newton deliver a pep talk that emphasized how the 'Noles' "... ain't played no Alabama. [They] ain't played no Georgia. [They] ain't played no Missouri. ... [They] ain't been tested."
Apparently, a year later, all that testing is now a hindrance.
Missouri's Gary Pinkel is a relative newcomer to the SEC, but he's already caught on to the league's new pastime of complaining how hard they have it. He said this week that independents (read: Notre Dame) should be forced to join a conference if they want to be in the playoff and that all conferences should be forced to hold a championship game. It's surely a coincidence that Pinkel's teams are 0-4 in Big 12 and SEC championship games.
And let us not forget the biggest conspiracy of them all -- satellite camps. SEC schools currently aren't allowed to barnstorm like Michigan's Jim Harbaugh. "It's a disadvantage not to be able to do something in one league and be able to do it in another," Saban said this spring.
With all those disadvantages, it's a wonder the SEC is even able to field FBS programs much less win national championships.
To hear their coaches describe it, Alabama had to play last year's Sugar Bowl with the equivalent of one arm behind its back against well-rested, clear-minded, satellite-camp fueled Ohio State. Which presumably also explains why Ole Miss couldn't get in the end zone against TCU, Mississippi State could not tackle Georgia Tech's quarterback and Auburn couldn't handle the same Wisconsin team that Ohio State beat 59-0.
What else would you expect from a conference hampered by so many handicaps?
Except, of course, for the fact that SEC teams actually enjoy more built-in advantages than any other conference. Frankly it's a wonder how they ever lose a bowl game.
No other conference reaps the benefit of such a fertile recruiting backyard as the SEC. Pinkel and Saban believe that college football teams, like NFL teams, should have to abide by the same rules in order to reach the playoff. If we take that a step further, though, the NFL also has a draft and a salary cap to ensure every team has the same opportunities to acquire talent.
No other conference allows its schools to near universally schedule a de facto bye week smack dab in the stretch run of the season. On Nov. 21 this year, while Ohio State clashes with Michigan State and USC visits Oregon, Alabama plays Charleston Southern and Auburn plays Idaho. How ever will they recover by Dec. 31?
No other conference has mastered the art of never having to play a non-conference road game. Alabama, a staple of the annual neutral-site openers in Dallas (where the Tide face Wisconsin this year and USC next year) and Atlanta (where they meet Florida State in 2017), hasn't visited an opponents' stadium outside the SEC since Penn State in 2011 and won't again until at least 2018. Florida has not voluntarily left its home state since 1991.
As of next year, the SEC and ACC will be the only remaining power conferences that don't play nine league games (and five ACC teams annually do play an unofficial ninth game against Notre Dame). Even if Missouri has the misfortune of drawing a 13th game this year it will still play one fewer Power 5 opponent than the Pac-12 champion.
And in no other conference will a 10th-place coach (at best) still make $4 million this year. USA Today reported this week that Stanford coach David Shaw made $2.2 million during the second of his consecutive Pac-12 title seasons, a certifiable bargain compared with one-time SEC West runner-up Dan Mullen ($4.275 million annually).
So you'll have to forgive us if we're not exactly spilling tears over all the apparent slights that are keeping down the S-E-C, where the "E" apparently now stands for "Excuses."
Stewart Mandel is a senior college sports columnist for FOXSports.com. He covered college football and basketball for 15 years at Sports Illustrated. You can follow him on Twitter @slmandel and Facebook. Send emails and Mailbag questions to Stewart.Mandel@fox.com.