The Rays still could be a surprise contender, if everything goes right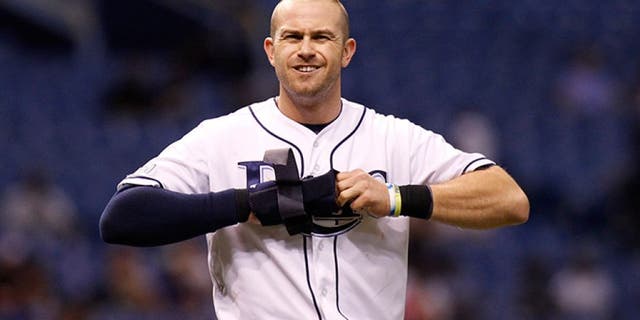 News flash: The Rays are trying. Still trying, in fact.
The trade of second baseman Logan Forsythe to the Dodgers irritated franchise third baseman Evan Longoria, but the Rays actually have done more adding than subtracting this offseason, and they aren't finished yet.
The Rays, not the Dodgers, had the high bid for free agent Sergio Romo, according to major-league sources; the former Giants reliever, who grew up in a family of Dodgers fans in Brawley, Ca., took less to stay on the West Coast, according to major-league sources. His deal with the Dodgers, which is pending a physical, is for one year and $3 million, per FanRag Sports.
The pursuit of Romo demonstrated that the Rays still want to add a late-inning reliever to a mix that already includes right-handed closer Alex Colome, righty Brad Boxberger and lefty Xavier Cedeno. The team also would like to acquire a right-handed hitter either through free agency or trade, sources said, with first baseman Byung Ho Park -- recently designated for assignment by the Twins -- among the possibilities.
Do not confuse the Rays with the Reds, Brewers or any other rebuilding club with zero designs on contention; Tampa Bay is putting together a team that, if everything goes right, could emerge as a surprise contender. FanGraphs currently projects the Rays to finish tied for third with the Yankees in the AL East at 82-80 -- and another addition or two could push that projection higher.
Why such confidence in a team that last season finished 68-94?
Well, the Rays' rotation again looks deep and promising, even after the trade of left-hander Drew Smyly to the Mariners. The offensive sequencing, or clustering of hits, figures to improve. And injuries last season -- most notably to center fielder Kevin Kiermaier, who missed nearly two months with a fractured left hand -- proved crushing.
Yet, it all could have been so different for the Rays this winter if they had received offers that they deemed suitable for Kiermaier and right-hander Chris Archer. At that point, club officials would have launched a full-scale rebuild -- one that still could occur at the non-waiver deadline or next offseason, if the team proves a disappointment.
Longoria, using stronger words than usual, told the Tampa Bay Times that he was "surprised and upset" when the Rays traded Forsythe on Jan. 23, just 12 days after parting with Smyly. But the Rays, operating at or near the bottom of baseball's revenue food chain, consistently seek value for their more expensive players, regardless of their competitive position.
Smyly and Forsythe brought back a combined four prospects, including right-hander Jose De Leon and center fielder Mallex Smith, and cleared $12.6 million in 2017 salary. The trade of Forsythe also created greater flexibility, enabling the Rays to move Brad Miller from first to second, re-sign first baseman Logan Morrison and still pursue one more bat.
Remember, the Rays earlier added two other free-agent hitters, catcher Wilson Ramos and outfielder Colby Rasmus. Ramos, recovering from major surgery on his right knee, probably will not be ready at the start of the season. But shortstop Matt Duffy, who appeared in only 21 games due to injuries after arriving in a deadline trade from the Giants, amounts to yet another addition.
Catcher Matt Wieters and first baseman Chris Carter, meanwhile, are among the remaining free-agent options. The Twins will release Park, to whom they owe $9.75 million over the next three seasons, if they cannot trade him. The Rays then could sign Park as a free agent for the minimum, with the Twins paying the rest.
Will the Rays be a threat to the Red Sox, even if everything clicks? Probably not. But the current FanGraphs forecasts have the Rays winning only two fewer games than the Blue Jays, who are projected to finish second.
This is not a full-blown rebuild. Not even close.
AS FOR MR. CARTER ...
The Dodgers, believe it or not, checked in on Carter, who remains a free agent after hitting 41 homers with an .821 OPS -- and leading the NL by a wide margin with 206 strikeouts.
A deal appears unlikely; the Dodgers, who again project to be above the luxury-tax threshold, must pay a 50 percent tax on every dollar they spend above the limit, and might be subject to an additional surtax as well.
Carter, meanwhile, is looking for more at-bats than he probably would get from the Dodgers, who likely would play him at first base against left-handed pitching and give him an occasional start in left field.
"It's going to be important for Chris to get significant playing time," said Carter's agent, Dave Stewart. "He already took a step back last year when he was non-tendered. It looks like he'll take a step backwards after getting being non-tendered again. We don't want to get him in a place where he doesn't get enough at-bats and is doing the same dance next year."
The Brewers, who signed Carter to a one-year, $2.5 million contract after the Astros declined to offer him a deal last offseason, non-tendered him again rather than pay him an estimated $8 million in arbitration. Stewart said that he continues to talk with Japanese clubs about his client, who turned 30 on Dec. 18.
The Dodgers, whether they add Carter or not, could look to give Adrian Gonzalez additional time off against left-handers. Gonzalez batted .244 with a .602 OPS off lefties in 181 plate appearances last season. He hit lefties well in 2015, but also was poor against them in '14.
Over those past three seasons, Gonzalez has made between 27 and 29 percent of his plate appearances against lefties. The Dodgers' 40-man roster includes five right-handed or switch-hitters who played first base last season -- Forsythe, Yasmani Grandal, Darin Ruf, Rob Segedin and Scott Van Slyke.
AND FINALLY ...
The Rays have ranked last in the majors in attendance five straight seasons. They still are not close to building a new ballpark. But one of their revenue streams could improve soon, through a new regional television contract.
The Rays' deal with FOX Sports Sun, which pays them a reported $20 million annually, expires after the 2018 season, according to major-league sources. A new deal, even in a changing television landscape, would figure to pay the team considerably more.
While Rays ratings have dropped sharply in each of the past two years, according to Nielsen data compiled by RaysIndex.com, the team last season still ranked 13th out of the 29 teams that play in the U.S.