The <i>Other</i> Football: Will soccer chants take hold in the U.S.?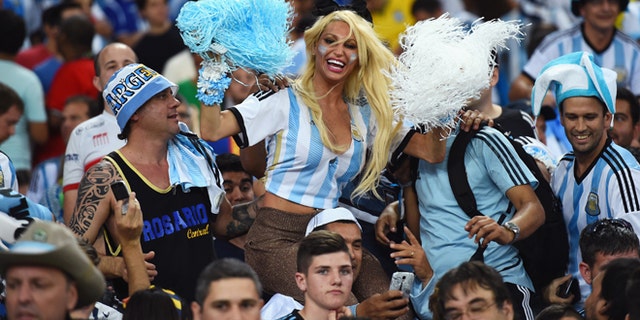 NEWYou can now listen to Fox News articles!
American soccer crowds are being out-sung by fans of other club teams around the world – where singing and chanting for their sides are age-old traditions.
In England, supporters hoping to see their club make it to the FA Cup final at Wembley Stadium, the nation's showcase arena, have long recast Doris Day's classic signature tune with the words:
Que sera, sera,
Whatever will be, will be,
We're going to Wem-b-ley,
Que sera, sera
Argentine fans hit a high note, as it were, at last year's World Cup finals in Brazil when they sang their "Brazil, tell me how it feels..." lyrics to the tune of Credence Clearwater Revival's "Bad Moon Rising."
The verses include a dig at Pelé, with supporters belting out Diego Maradona is "más grande" than the Brazilian all-time No. 1 star.
The song became such a fixture at the tournament that a video of Argentinean fans in full voice at a food court in Porto Alegre went viral:
"The cánticos – or chants – are a basic part of the [soccer] culture," Eamonn MacDonagh, a journalist and translator based in Buenos Aires, told Fox News Latino.
"The themes are usually very basic: We are real men; We have balls, you don't; We support our team, no matter what, you don't and are fickle; We are Argentines, real Argentines."
He quipped that the soccer stands are a source of free speech that hasn't been heard outside the stadium gates in decades. "Political correctness is not really a thing here," he said.
Just like the title of the acclaimed book on the U.K.'s soccer chants by journalist Tim Marshall, "Dirty Northern Bastards! and Other Tales From the Terraces," terraces being the U.K. term for grandstands.
Marshall says that fans of Norwich City sang "On the Ball, City," as far back as 1902.
It's "still sung today," he told me – and it is believed to be the oldest soccer song still in use.
West Ham United fans in London have been singing the music hall song "I'm Forever Blowing Bubbles" since the 1920s, Marshall explained, and it is firmly established as the club's anthem.
But "widespread, consistent chanting" had to wait until the rise of pop culture in the early 1960s, he said, when an "increasing number of chart hits began to be taken on by the terraces."
"You'll Never Walk Alone" is the best-known example.
"Although originally from the 1945 U.S. film 'Carousel,' it was a hit for a Liverpool band called Gerry and the Pacemakers in 1963, and, by 1965, it was being sung week-in, week-out by Liverpool fans," Marshall said.
English club crowds were almost alone as stadium chanters in the 1960s and early 1970s, with one big exception: the Catalan-speaking fans of FC Barcelona.
Marshall said, "During the Franco dictatorship in Spain" – which ended in 1975 – "people were not allowed to speak Catalan, so Barcelona fans used to sing Catalonian songs, daring the police to arrest thousands of them."
I asked about the uglier side of the singing that happens today.
He said, there are "degrees of racism, sexism, homophobia, and anti-Semitism in all societies – and in situations where you have strength in numbers, you can sometimes get away with expressing it."
Some chants are "outright racist abuse," he added, but most are full of good-natured banter and humor.
"Terrace working-class humor is sharper and often quicker than mainstream, so if a couple decides to get married in the center circle at half time, someone will begin to chant, 'You don't know what you're doing,' and people will join in," he said.
"There might be a reference to a news story; sometimes it's spontaneous, sometimes they are crafted in pubs and tried out on match day."
So what do we have in the U.S.? There's not much of an established tradition of singing and chanting, but there are songs here, too.
Indeed, the Seattle Sounders, New York Red Bulls and New York Cosmos come to mind as just three U.S. teams with a fan base whose pipes can keep up with their Latin American and European counterparts.
Marshall's advice to American fans: "Make it short, make it rhyme and make it funny."
Once you've done that, you just have to make it heard!
Video of the week
LA Galaxy fans better learn the Liverpool anthem "Walk On" – watch as Steven Gerrard gets the send-off of a lifetime from the Anfield faithful on the weekend.
From the Wires
Major League Soccer's expansion Los Angeles Football Club plans to build a $250 million stadium on the site of the old Sports Arena next to the Los Angeles Memorial Coliseum.
The 15-acre complex in Exposition Park would also include a conference center, restaurants and a soccer museum. At its center would be a 22,000-seat venue, home to the new MLS team when it makes its debut in 2018.
The decision by leadership of the new club was made last week, and the club will formally announce its plans Monday, the Los Angeles Times reported.
The project, costing $100 million more than the team's projections last year, still needs approval from the Coliseum Commission and the Los Angeles City Council.
Both panels, along with Mayor Eric Garcetti, have already expressed support for the project and approval is expected by July, the newspaper said.
It would be the country's most expensive privately financed soccer stadium and the first open-air professional sports venue to be built in Los Angeles since Dodger Stadium in 1962, according to the Times.
Construction would be financed by the team and its ownership group, which includes former Los Angeles Lakers Hall of Famer Magic Johnson; Mandalay Entertainment Chief Executive Peter Guber, co-owner of the Dodgers and the NBA's Golden State Warriors; self-help author Tony Robbins; and women's World Cup soccer champion Mia Hamm and her husband Nomar Garciaparra, a former major league baseball all-star.
An addendum to an existing environmental impact report must be completed, a process that could take up to a year. Demolition of the 56-year-old Sports Arena and construction of the stadium would take an additional two years.
The team said at its introductory news conference in October that it would explore stadium sites throughout Southern California, but the Sports Arena location was the only one it seriously considered.
MLS has long favored the area because of its proximity to downtown and public transportation.
When the Los Angeles Football Club begins play in 2018, the league will have at least 23 teams. It is also exploring expansion to Miami, St. Louis or Sacramento.
The Associated Press contributed to this report.