The <i>Other</i> Football: Turning up the heat on the 2022 Qatar World Cup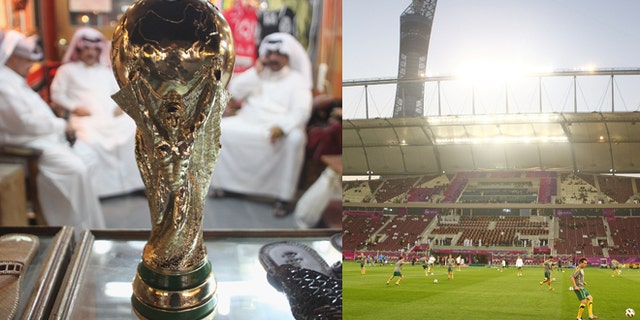 When it rains it pours – but while there's not much rain in FIFA's choice as host country for the 2022 World Cup, Qatar, questions keep pouring in.
World Cups are traditionally summer events, but the unbearable heat of Qatar's summer has produced a growing consensus that something has to change.
Last week a FIFA committee recommended shifting the event to November and December, but that's when Europe's home seasons are under way, and many European clubs are angry.
Qatar was a controversial pick from the start. Allegations of bribery tainted the bidding process, and Qatar has been accused of hosting and funding terrorist groups.
One human rights watchdog even suggested that the treatment of foreign migrant workers who are building the stadiums for the Cup may amount to slavery.
The fix? FIFA should transfer the World Cup to the U.S., which was the runner-up to Qatar in the selection process.
We have the stadiums, US Soccer has grown massively since hosting the men's tournament in 1994, and fans love coming to the States.
Bring it on, FIFA.
Three Questions for Raúl
Raúl González Blanco is one of the biggest names to play in the North American Soccer League (NASL) since Pelé. The former Real Madrid and Spain hit man won six Spanish La Liga titles and three Champions League titles with Madrid. He remains Los Blancos' top all-time scorer. He'll debut with the New York Cosmos at the start of the NASL season in April. He'll also be a team advisor and the face of the Cosmos' new youth academy.
Courtesy New York Cosmos
Why the Cosmos? "The Cosmos have a great history, one of the first to put soccer on the map in the U.S.," Raúl told Fox News Latino, "but they also want to have a big future. This is really important. I'm here at a moment in time when soccer is taking its stronghold in the U.S., which to be honest is due partly to those involved in the project and the club. Through my playing I am able to be part of this amazing project."
On the NASL and US Soccer: "I was really surprised to see the level of NASL games when I visited last October to watch a Cosmos game," he said. "The atmosphere was exciting and the game intensity was at a good level. The level in the U.S. is improving basically day by day."
Advice for young players? "When I was young, I always dreamed of being a professional player," he said. "Every day I played with the ball when school was finished. I played on my first team when I was 10 or 11 years old. You can play in the street, play in the park with friends like I did. I played all the time. I think if you like something, you have to do it every day to enjoy it."
He added, "But first of all for the kids, I think school is most important. To study very well, and afterward of course—maybe it's soccer, maybe it's tennis or dance or guitar or piano. But I think everybody has a dream."
Video of the week
You can see some amazing skills slowed down to a crawl in this FC Bayern Munich training session.
From the wires
Juan Mata and Angel Di María are the two most expensive players in Manchester United's history, costing a combined $150 million last year as the club looked to regain its status as England's top team.
So far, they aren't living up to their price tags — and there's a chance neither will be in United's lineup when the team visits Newcastle in the Premier League on Wednesday.
Mata, bought for $57 million by David Moyes, has mainly been used as a substitute by new manager Louis van Gaal this season despite a decent scoring record when he has started for United. A World Cup and European Championship winner with Spain and twice Chelsea's player of the year, the playmaker is a forgotten man at Old Trafford these days.
Di María took over from Mata as United's costliest player when he was signed from Real Madrid for $92 million, but his form has dipped after an encouraging start.
Van Gaal hasn't found the best position for the Argentina midfielder, who admitted before the 2-0 win over Sunderland on Saturday that he was still in the "settling-in process" in English football. Di María was poor by his high standards against Sunderland and was substituted at halftime — quite a fall from grace for a player who was man of the match in last season's Champions League final.
"I cannot deny what I see and we have to give Angel a little bit more time to adapt to the Premier League," Van Gaal said. "The rhythm of the game is so high here, much higher than in other countries. He has to adapt to the culture and we have to give him time to adapt and also to lift his confidence again."
The Associated Press contributed to this report.