The <i>Other</i> Football: The other U.S. soccer league, NASL, shows signs of staying power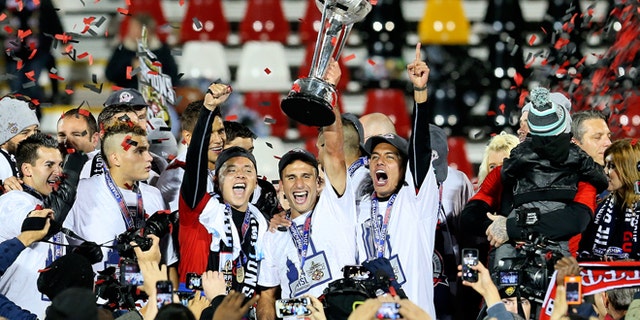 NEWYou can now listen to Fox News articles!
The world eyed with awe the flamboyant North American Soccer League (NASL) of the 1970s and early 1980s – and its namesake of today is determined to build on that legacy.
While icons of the original league, such as Pelé, Johan Cruyff and Franz Beckenbauer, pulled in and thrilled crowds, the reconstituted league – which began playing in 2011 – is growing steadily but with increasing confidence and ambition.
Ahead of NASL's April 4 season kick-off, league commissioner Bill Peterson told Fox News that he's confident the NASL is matching the rival Major League Soccer (MLS) in the place where it counts.
"On the field, I think it's hard to tell them apart," he told me in an exclusive interview. "We've had a number of opportunities to play each other. I think, most days, it would be hard to tell the difference."
Bill Peterson, left. (Photo: Courtesy NASL)
NASL attendance has jumped by 30 percent the last two years, and revenues have grown even more, league sources confided.
Add to this the signing by New York Cosmos of the former Real Madrid and Spain front-man Raúl, and a new TV deal with ESPN.
Even the recent announcement that NASL 2011 champion Minnesota United FC will switch to MLS for the 2018 season has not dampened his spirits, Peterson said.
"It's already a competitive league, so everything is sort of growing, maturing and developing, and that's fine, that's good," he said.
Peterson, NASL commissioner since November 2012, worked closely with MLS teams from 2000 to 2006 as senior vice president of AEG Sports, which owns the L.A. Galaxy, and managing director of the Home Depot (now StubHub) Center. But he played down the prospect that the two leagues might merge any time soon.
"I can't predict the future. I don't know what will happen," he said. "I think everybody needs to think about what's best for the sport over time, over the next decade and longer, and right now nobody is really discussing it, and so we are just going to focus on building a great league for our fans and our players."
Peterson said the aim is to grow the NASL.
"We have got a lot of work to do. We have a lot of teams we want to add," he said. "But, man, we are happy with what's happening on the field, and that makes everything possible."
Peterson said the new ESPN deal—which includes the live broadcast of a minimum of 120 NASL games on ESPN 3 in the U.S., ESPN Play in Latin America and ESPN Player in Europe will make the games available in 75 countries—is a huge boon to the league and will spawn many new opportunities.
"Everything is trending up," he said, but added "we are nowhere near taking a break to pat ourselves on the back."
Video of the week
For a touch of the bizarre, let's go to Africa, where the Ferroviário club of Mozambique celebrated a spectacular goal against Zambia's K-Stars, a little too long and hard.
From the wires
Jordan Allen scored in the 89th minute and Real Salt Lake won for the first time this season, beating Toronto FC 2-1 on Sunday.
The 19-year-old's header from close range came off a feed from Javier Morales from the right wing.
It came just a minute after Toronto tied it at 1 when Jackson took a feed at the top of the box from Bright Dike and used a deft touch to sneak it past an outstretched Jeff Attinella.
Real Salt Lake (1-0-2) opened the scoring in the 38th minute, when Luke Mullholland got behind the defense inside the 6-yard box and headed home a long feed from Morales.
Both teams had apparent goals waived off. RSL lost one to an offsides call, and Toronto had one disallowed when Nick Hagglund was called for a foul.
Both teams missed several players off with their national teams, including U.S. players Nick Rimando for RSL and Jozy Altidore and Michael Bradley for Toronto (1-2-0).