The <i>Other</i> Football: Soccer interest swells as virtual fans rapidly become reality-based fans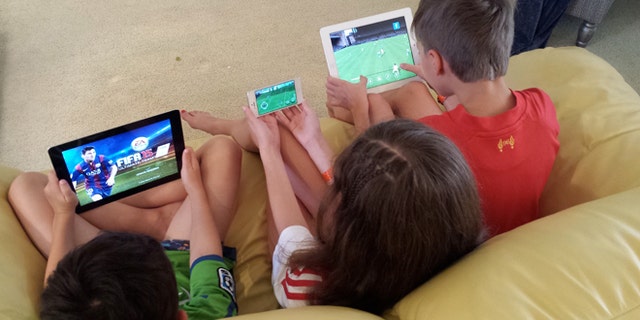 NEWYou can now listen to Fox News articles!
The crowd-pulling power of American soccer will be tested during the upcoming Gold Cup of the Confederation of North American, Central American and Caribbean Football (CONCACAF), which the U.S. is hosting.
It's almost certain that men's national squad's July 7 opening match against three-time World Cup qualifier Honduras will be a sell-out at the 22,000-seat Toyota Stadium in Dallas, Texas.
But Team USA will face its next opponent, Haiti, at the giant 70,000-seat Gillette Stadium in Massachusetts.
That's a lot of seats to fill, and Haiti's team isn't as high-profile as Honduras.
Traditionally, there have been two principal drivers of interest in soccer in the U.S.—the children of the ballyhooed suburban soccer mom, and the steady immigration from the soccer-loving countries of South and Central America.
Thankfully, a new driver is starting to swell interest, and crowds: Video games.
Games featuring soccer stars – even lesser known ones – have become increasingly popular among kids in recent years.
As a youth soccer coach, I was shocked to hear several of my team members talking not only about the big stars but about players who don't get a lot of publicity. It turns out they all play FIFA 14 or FIFA 15 – and their love of the game has grown because of it.
The video games have led to the kids' wanting to play in the same position as their favorite players. "I want to be Messi, I want to be Dempsey, Altidore, Hart, Gerrard or Hulk," they'll cry out.
According to a December study by Electronic Arts – creator of the FIFA video game series – 34 percent of EA Sports gamers became real-world soccer fans after playing the games.
EA Sports soon will announce the 2016 edition of the game, after its 2015 version finished ninth in U.S. game sales last year, according to the NPD Group, a market research firm.
Which isn't to say that the Latino influence doesn't also continue to grow.
Currently 54.1 of the 320.7 million people in the U.S. are Latinos, but by 2050, Hispanics are expected to make up as much as a third of the population.
More than a quarter of the Latinos living in the United States say soccer is their favorite sport, compared to 6 percent of African-Americans and 3 percent of non-Hispanic whites, according to a Public Religion Research Institute (PRRI) tracking poll conducted last year.
Polling has also shown that soccer is now second only to American football in being the favorite sport of young Americans in general – beating out baseball and basketball.
So there's hope yet for filling the Gillette Stadium for U.S. vs. Haiti.
Video of the week
Goalkeeper Eugene Galekovic of Adelaide United in the Australian A League literally hands a howler of an own-goal to the Brisbane Roar.
From the wires
Manchester United broke its losing streak to crosstown rival Manchester City on Sunday, while Chelsea moved one step closer to the Premier league title.
United's 4-2 win at Old Trafford ended a run of four straight losses to City, whose title defense continues to fall apart as Chelsea eked out a 1-0 win at Queens Park Rangers.
City's loss to United dropped them 12 points behind Chelsea after the leaders' latest scrappy win inched them closer to the title.
Third-place United moved four points clear of its local rival, whose manager, the Chilean Manuel Pellegrini, is facing mounting scrutiny after City's staggering dip in form.
Cesc Fabregas scored an 88th-minute winner with Chelsea's first shot on target, leaving Jose Mourinho's team seven points clear of Arsenal with a game in hand and needing 11 more points to capture a first league title since 2010.
United responded to going behind in the eighth minute to Sergio Agüero's goal by scoring twice in 13 minutes through Ashley Young and Marouane Fellaini.
Juan Mata ran onto Wayne Rooney's through-ball to make it 3-1 in the 67th and Chris Smalling made the most of more poor defending to head home unmarked at a free kick seven minutes later.
The Associated Press contributed to this report.
Like us on Facebook
Follow us on Twitter & Instagram