The <i>Other</i> Football: In soccer, as in life, it pays to follow the Golden Rule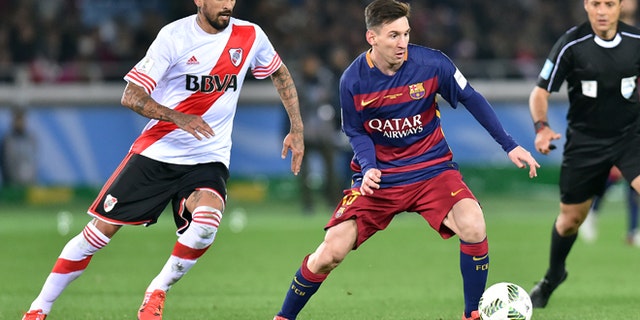 NEWYou can now listen to Fox News articles!
Spring is slowly on the way and with the budding blooms comes Spring Soccer. A renewed flurry of activity and sense of community that brings smiles to young players on the pitch and their parents on the sidelines. Sometimes it turns ugly, as this writer has stated before on TOF.
While we in the media love to focus on the stolen goals, the fouls and the controversy, this week I focus on a couple of positive gestures and one instance of, well, what not to do if you want to show others what to do unto you.
First up is a story of a class-act gesture by Lionel Messi. Fans already love him for his talent on the pitch, but even a naysayer can't help tip his hat to the Argentine.
It came out this week that during December 2015's FIFA World Cup between Messi's Barcelona and the Buenos Aires club, River Plate, the striker took a shot in the 12th minute that was stopped by opposing goalkeeper, Marcelo Barovero.
Messi helped Barovero up, and the keeper said, "I just completed a dream of my son's – to stop a shot by Messi."
Hoping to swap shirts after the game, Barovero found out Messi had promised his to someone else. Instead, Messi gave his boots to the River Plate goalie. "He told me, 'The boots are for your son.' I froze. It was a very big gesture."
In the column of "what not to do" is a story out of Portugal involving Lisbon rivals Sporting and Benfica. Before their derby on Saturday, Benfica players refused to hold the hands of the children escorting them onto the pitch because the kids were wearing their rivals' kit. So Sporting players doubled up on escorts.
Before we bash Benfica too much, Sporting did the same thing in October when they played at Benfica's field.
We understand that there is a rivalry here, but come on, people. These are kids who just want to hold the hands of their idols, regardless of what jerseys they are wearing.
But all is not lost in the fiery and ungrateful world of soccer.
The present contract of England manager Roy Hodgson runs well past the Euro 2016 tournament this summer, but Hodgson, who routinely comes under second-guessing in the press, came out and said that if the public no longer wants him after the tournament, he will step aside.
Hodgson said, "If it's the time for me to walk away and leave it to someone else, then so be it. I certainly won't be looking to walk away from it. But I won't be clinging on when most people are wishing I wasn't there anymore."
This reaction is not typical of managers who often lash out at players, the coaching staff or other members of the organization – even the team doctor in the case of José Mourinho and Chelsea – when their backs are against the wall.
"Whatever happens, I will be quite satisfied that I'm leaving a foundation and a group of players and a body of work that someone can carry on," said Hodgson.
Gentility frequently is not the name of the game in soccer. Be it scuffles on the sidelines or on the pitch, more positive examples, and denouncement of poor behavior, is needed to ensure that the youth get the right message.
We are all but players here, and it is a privilege, not a right, to be able to participate in the beautiful game.
Video of the week
There is no discussion of fair play in football without this wonderful Paolo Di Canio moment.
From the wires
The English Football Association has charged Chelsea striker Diego Costa with improper conduct after being sent off in Saturday's FA Cup loss at Everton.
Costa earned a second yellow card after thrusting his head at Gareth Barry before making a biting motion toward the midfielder's neck. Both players said there was no bite.
Costa also confronted the referee and the FA has given him until Thursday to respond to the charge that his behavior after the sending off "amounted to improper conduct."
The FA has also given Costa until Wednesday to provide his observations about "an alleged gesture he made towards Everton supporters while leaving the pitch at half time."
Costa is facing having his automatic one-match ban increased.
The Associated Press contributed to this report.