The <i>Other</i> Football: As it rolls to a close, 2015 has provided major soccer surprises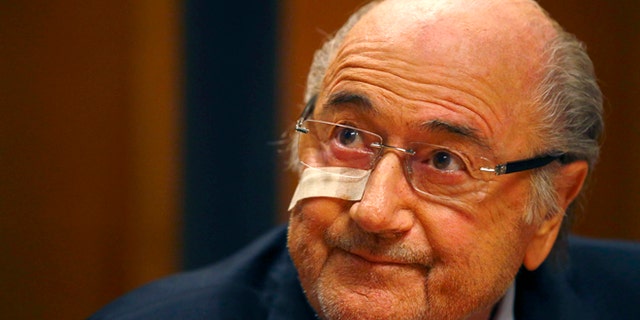 It's been a fun first year writing The Other Football, so here are a few highlights from its inaugural year.
- FIFA corruption: Who would have thought that our supposed non-soccer country could have so influenced the sport's future? Were it not for a U.S. Department of Justice investigation into corruption at the world's governing soccer body, FIFA, we all might have had to listen to Sepp Blatter for another four years.
As it turns out we won't be hearing from Herr Blatter – in an official capacity, at any rate – for at least 8 years thanks to the ethics committee ban levied against him and his potential successor and UEFA chief Michel Platini.
Reacting to the news, Damian Collins, a member of the British Parliament and a leader in the fight to reform FIFA, told the BBC, "The fish rots from the head down, and we know how rotten the head of FIFA was."
Well done to the DOJ for accomplishing what so many others have failed to do. Let's just hope the investigation gets to the bottom of how Russia and Qatar won the rights to host the World Cups of 2018 and 2022.
At this point, it's probably too short notice to switch Russia as host, but there's plenty of time to switch the 2022 finals to the United States should they be taken from Qatar.
- Mourinho's fall: It all began to unravel at Red Bull Arena in New Jersey in July for José Mourinho, the now former manager of Chelsea.
The stars of the reigning Premier League champions were taken apart by a team of Red Bulls reserves and youth team players. A packed house, with what seemed to be more fans of Chelsea than the Red Bulls watched aghast as 16-year-old Tyler Adams headed the Red Bulls into a lead they never lost. The hosts went on to win, 4-2, in a precursor of things to come.
I feel bad for Mourinho – his multi-millionaire squad of spoiled-rotten players let him down, but it was him rather than them who paid the price. Might the "Special One" go north to Manchester United? That would be a good move for the game, as soccer needs more like him.
- Free for all: In the wake of the arrests of still more CONCACAF and COMEBOL officials, including the organizations' presidents, I called for 2016 Copa America tickets to be distributed for free.
Here's an update. The organizers last week sent out an email notifying that tickets for the event, which is being held in the U.S., would go on sale in February. I call on the organizers again: Repay the fans with free tickets!
- Global warning: Two ISIS suicide bombers in Paris sent all soccer fans a warning that the sport itself has a bull's-eye on it. I suggested that soccer should wage a PR war against the terrorists, using the sports marquee stars to reach young people throughout the world and let them know that there are alternatives to violent extremism.
The French side PSG did make a video featuring stars such as Messi, Ronaldo, Neymar and Suárez saying "Je suis Paris" ("I am Paris"), little else has been done.
I'm still waiting for Barcelona's public relations department to respond to my questions regarding the team's sponsor, Qatar Airlines, a company owned by the desert kingdom's royal masters. Qatar's rulers somehow managed to finagle the 2022 World Cup final for their country -- despite the kingdom's seriously worrying links to the funding of terrorism.
It is disgraceful that money comes before principle.
- Table toppers: Last but not least, a happy note as to end on.
Leicester City, a team that was nearly relegated last season, is now leading the Premiership as the calendar rolls over into 2016. Jamie Vardy, a former amateur league player, is now the top goal scorer in the EPL and has also played for the English national team – all at the age of 28.
Can Leicester win the Premiership ? I hope so, if my team West Ham can't. At the very least, a place in next season's Champions League would be well deserved.
What a game! Another reason why soccer is the best sport in the world.
Happy Christmas, as they say in merry old, and we'll be back with a new offering in the new year.
Clip of the week
And while we're on the topic of Leicester City, here an emotional Foxes fan calls in to a BBC Radio 5 show hosted by former Leicester player and Wales international, Robbie Savage. Listen as the fan breaks into tears over his beloved team's amazing run this season.
From the wires
Officials seeking to attract a Major League Soccer team to San Antonio have a field and a 20-year lease.
Spurs Sports & Entertainment on Tuesday announced an agreement with Bexar County and the city to operate a soccer franchise at Toyota Field in 2016.
The $18 million Toyota Field, with seating for 8,500, is owned by San Antonio and the county.
SS&E agreed to a 20-year lease to run all operations within Toyota Field, while also pursuing an MLS franchise. Spurs Sports & Entertainment plans to operate a minor league USL franchise next year.
Toyota Field has been home of the Scorpions of the North American Soccer League.
SS&E owns the San Antonio Spurs, the San Antonio Rampage, the San Antonio Stars and the Austin Spurs.
The Associated Press contributed to this report.