The one big reason the Broncos cannot bench Trevor Siemian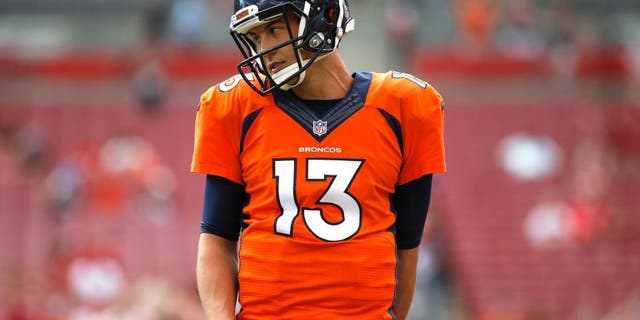 NEWYou can now listen to Fox News articles!
It was a risky proposition from the onset -- a play that was brought on more by an ideology than a competition. When the Denver Broncos opted to go with second-year quarterback Trevor Siemian -- the 250th pick in the 2015 NFL Draft -- it was not because the Northwestern product was necessarily a winning quarterback in the NFL, it was because he was the QB on the Broncos' deliberately bare-bones depth chart who gave the team the best chance to win.
It was a bit shocking that John Elway, one of the greatest quarterbacks in the history of the NFL, built a roster that left Siemian as the team's starting QB. One would have imagined that Elway would value the quarterback position above all in team building, but instead, the defending Super Bowl champions opted to double-down on the formula they almost accidentally stumbled upon last year: defense, defense, defense, and just enough offense. Why pay big bucks for a big-time quarterback when you don't need big-time results?
But the Broncos do need some results, some production, from the quarterback position, and there's growing evidence that Siemian no longer can provide the necessary offensive output for the Broncos to win games. And with the quarterback of the future, first-round pick Paxton Lynch, waiting in the wings and the Broncos on a bye week, there are growing calls to make a quarterback change.
But it's too late for that kind of a move -- the Broncos are Siemian's team for the remainder of the regular season, for better or for worse.
Denver is in the middle of a playoff race, and while the optimist looks at what Lynch has done in limited playing time this season, the pessimist has to be fearful of pinning a team's late-season playoff chances to a rookie quarterback with fewer than 60 pass attempts to his name.
Siemian is practically a rookie as well, but he has experience. It's now incumbent upon him to learn from that experience and adapt.
Siemian was able to facilitate the creation of that offensive quota for the first three weeks of the season before being sidelined by a shoulder injury. Since then, his play has been sporadic at best -- starting with a 50-attempt contest in which he averaged 4.60 yards per attempt and culminating in a three-game stretch in which he's completed only 55 percent of his passes and has performed well below the league average for his position. The Broncos went 2-1 in that three-game stretch, but it wasn't because of their quarterback.
The Broncos' defense is Super Bowl worthy, but without running back C.J. Anderson, without the strong offensive line play displayed earlier this season, and without a playmaking quarterback, a great defensive season could well be played in vain.
The biggest issue with the Broncos' starting quarterback is his inability to work the intermediate and deep passing game into Denver's offense. Only 27 percent of Siemian's throws this season have been more than 10 yards downfield, and he's completed less than half of those throws.
Defenses have keyed in on how Siemian is successful in the Broncos offense -- the short passing game -- and are making those passes more difficult to complete while daring him to go deep down field.
Siemian doesn't have elite arm talent or accuracy (at any level of the passing game), so defenses are willing to take their chances on being burned deep.
Beyond that, defenses have increasingly confused Siemian with exotic coverages and stunts that have created a significant upswing in interceptions (five in his past three games).
So why not go to Lynch? The rookie has a cannon for an arm, has seen the field a bit, and is going to be the team's quarterback eventually. If Siemian has been figured out, why not expedite the move and see if the kid out of Memphis can create a late-season spark?
It makes sense in a lot of ways, but it's too late to make the swap. When the Broncos chose Siemian over Lynch for the first game of the regular season, they placed a massive bet on him. When they went back to Siemian after Lynch saw the field for two games in early October, they became fully pot committed.
Everything that is happening with Siemian now -- all the confusion and back-foot play -- eventually is going to happen to Lynch, and the Broncos cannot afford to have that happen down the stretch of a season.
The time for a peaceful transition of power at quarterback has passed.
No, Denver is going to have to hope that Siemian can find a way to take his game to the next level over the next seven weeks and six games.
If he can, the Broncos will be in the postseason and be a worthwhile bet to defend their crown. If not, Lynch will take over a Broncos team looking to get back into the playoffs in 2017.