The Ohio State-Notre Dame series is nothing if not unique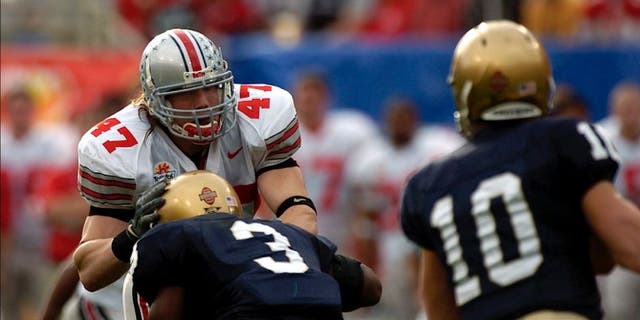 The shared history of Ohio State and Notre Dame in football is, quite frankly, a little odd.
How else would you describe a series that began with a game decided by a touchdown pass from Bill Shakespeare?
The Buckeyes and Fighting Irish are national powers who share a state border but have only faced each other five times.
(For perspective, Notre Dame has played northern neighbors Michigan State 77 times and Michigan 42 times.)
When they first played, Ohio State was a strong program but not yet at the level of Notre Dame.
Three of the Irish's 11 claimed national championship seasons had already happened, while Ohio State was still a few years away from its first.
Now the tables are more or less turned, as Notre Dame assistant coach Mike Denbrock acknowledged this week as his team prepared to play the defending national champions.
"I think it's another step in our program's development, sure," Denbrock told reporters Monday in Glendale, Ariz. "It gives us an opportunity to play the defending national champion in a major bowl game. To go out and accomplish the mission and give ourselves the opportunity to win this game would be a big step in the right direction."
Three of the five games seemingly launched a national championship quest for Ohio State and another ruined one.
The latter came in 1935, when the Fighting Irish handed the Buckeyes their only loss of the season, an 18-13 stunner that concluded with the aforementioned Shakespeare -- a reserve quarterback, not the famous Bard -- threw a touchdown pass in the waning minutes to complete a stunning comeback at Ohio Stadium.
Those Buckeyes had a new coach with a wild offense that injected life into the Scarlet and Gray. Francis Schmidt got the Buckeyes moving in the right direction toward becoming a national power, but he couldn't get his team's over the hump -- in part beacuse he couldn't beat Notre Dame.
Ultimately some guy named Paul Brown -- who ironically enough had been believed to be sending some of his stars to South Bend because the noted taskmaster didn't care for the somewhat haphazard way Schmidt ran his program -- was the man to lead the Buckeyes to their first national title in 1942.
In 1936, Notre Dame won again, this time 7-2 in South Bend, then the series went dormant for nearly 60 years.
The Fighting Irish won eight more national titles during that time while Ohio State ran off six.
As was the case in the '30s, Ohio State played host to Notre Dame in 1995 without as much recent history at the top.
Ohio State had two Big Ten titles in the 10 years before the 1995 season. It's last national championship was in 1968, but the Buckeyes had a couple of close calls in the '70s.
Beating Notre Dame 45-26 in '95 put Ohio State squarely back in the national title race not just that season but also a year later, when the Buckeyes won 29-16 in South Bend.
Fast forward a decade and the teams played in a 2006 Fiesta Bowl that can easily be seen as the game that launched another serious Ohio State national championship pursuit that was foiled at the end.
Now though the shoe might be on the other foot. Notre Dame, with a national championship since 1988 and with only two top 10 finishes in the last 20 years, is arguably the team with the most to gain in this Fiesta Bowl matchup.
Ohio State assistant coach Luke Fickell, who played in those games between the Buckeyes and the Fighting Irish in the 1990s and coached in Ohio State's Fiesta Bowl victory over them a decade later, can remember how it felt to be on the upswing in this series.
"It's hard for me to think we weren't a national program, but back then in 1995, that might have been one of the big hurdles to get over the top," Fickell said. "You had Bobby Hoying throwing four touchdowns and Eddie George running for 207 yards and two touchdowns. And of course, you had Terry Glenn.
"That was one of those times when the highlights came on and that probably put us on a different place on the map."
This matchup between Ohio State and Notre Dame also has the potential to produce a bunch of highlights.
Both offenses are full of playmakers, though the Buckeyes have been more consistent on defense.
There is a good chance a lot of clips from this game will be used during NFL draft broadcasts this spring, and both teams no doubt expect to be in the national title discussion again next season.
Another home-and-home between the schools is set for 2022-23, so it will be interesting to see how the programs change between now and then -- and if they can earn another matchup in the meantime one way or another.