The official Chiefs' Travis Kelce trashed reportedly will be Super Bowl LI ref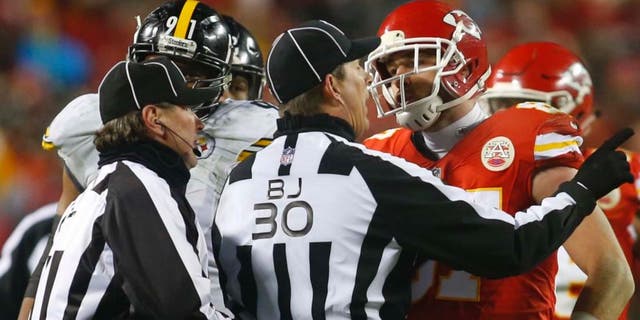 NEWYou can now listen to Fox News articles!
The NFL apparently doesn't agree with Travis Kelce's assessment of official Carl Cheffers. The veteran referee was selected to work Super Bowl LI, ESPN reported Wednesday -- three days after the Kansas City Chiefs tight end slammed Cheffers for a holding call late in the Chiefs' 18-16 loss to the Pittsburgh Steelers.
Kelce criticized Cheffers, who began his NFL career as a side judge in 2000, after he flagged Chiefs left tackle Eric Fisher for holding, which negated a two-point conversion that would have tied the score at 18 with 2:43 left in the game.
After the game Kelce said Cheffers "shouldn't be able to work at Foot Locker" and added that the holding call was "horses**t."
Kelce wasn't the only member of the Chiefs who disagreed with the call. Head coach Andy Reid said Monday that he felt the fact that Steelers linebacker James Harrison slipped made the block look questionable.
"There are certain things you agree with and don't agree with during games,'' Reid said. "It really doesn't matter now that we're sitting here. I don't want to be fined any money but I would tell you I was probably leaning the other way. I thought Fish did what he needed to do on that particular block to get that done, and the problem is when [Harrison] slipped it can look worse than it is."