The odyssey of Trevor Knight has one more chapter to write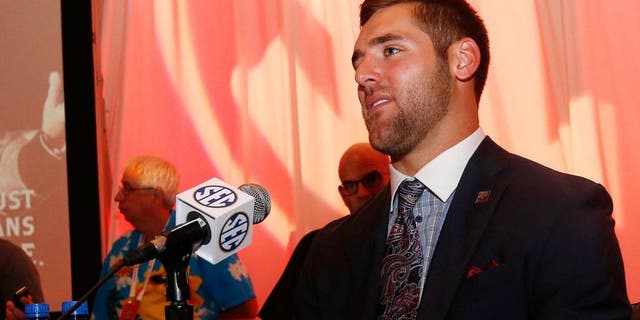 NEWYou can now listen to Fox News articles!
HOOVER, Ala. -- When Trevor Knight first contacted Kevin Sumlin last December about possibly joining his program as a grad transfer, the Texas A&M coach basically said, thanks, but we're good.
Two abrupt five-star quarterback defections later, "our phone calls were a little bit different after that," Knight recalled Tuesday at SEC Media Days.
Of the many grad-transfer quarterbacks suiting up for new schools this season, none comes with a higher profile than Knight, the former Oklahoma captain and two-year starter who, as a redshirt freshman, memorably shredded Alabama in the 2014 Sugar Bowl.
He also carries arguably the biggest burden.
Simply put, Sumlin needed the fifth-year senior to stabilize a program rocked over the past year by not only a second straight disappointing season, but the turmoil of stunning transfers by quarterbacks Kyle Allen (now at Houston) and Kyler Murray (now at Oklahoma).
"Yes, we needed a quarterback," said Sumlin, whose 17-15 SEC record seems increasingly underwhelming for a $5 million-a-year coach. "But we also needed to fill the void with a guy who wasn't just a grad transfer but a guy who actually played a lot of games. ... It was a great match, and I think has led to really a drama-free offseason."
It took just 15 spring practices for Knight to officially earn A&M's starting job. Granted, he had only one other scholarship competitor -- former JUCO transfer Jake Hubenak. But for a guy who lost his job at Oklahoma last season to breakout star Baker Mayfield, winning the respect of his new team was no small milestone.
"Coming into a new program, I didn't know how long it would take to become a leader or anything like that," said Knight, who made 15 starts over two years for the Sooners. "It was just awesome the way they accepted me and allowed me to step into that role pretty early on."
He also steps into a new but somewhat familiar offense led by coordinator Noel Mazzone, Sumlin's big offseason hire. His up-tempo spread shares commonalities with both of Knight's former OU coordinators, Josh Heupel and Lincoln Riley.
And then there's the Aggies' loaded receiving corps. As a true freshman last season, Christian Kirk established himself as one of the nation's most dangerous breakaway threats. Josh Reynolds, Ricky Seals-Jones and Speedy Noil all have big-time experience.
And yet for all of Sumlin's recruiting success the past few years, Texas A&M has largely struggled to figure out its on-field identity post-Johnny Manziel. Alabama, the divisional powerhouse Manziel memorably vexed over two meetings, has throttled the Aggies 59-0 and 41-23 the past two seasons. Other physical SEC teams have had their way with them as well.
Sumlin said Tuesday he expects A&M to be better both at running the ball and stopping the run in 2016. He already knows he can count on arguably the nation's scariest pass-rushing tandem in Myles Garrett and Daeshon Hall as well as an experienced secondary.
But whether the Aggies rise up and contend in their rugged division or spend yet another season hovering around .500 might swing heavily on the arrival of dual-threat quarterback Knight. No one expects him to have a Russell Wilson-to-Wisconsin or Vernon Adams-to-Oregon type of impact. His Oklahoma career production -- 57.1 percent completions for 3,424 yards, 25 touchdowns and 19 interceptions -- was too inconsistent to suggest he'll dominate week-in, week-out.
But at his best, Knight was a guy who threw for 348 yards and four touchdowns to lead a huge bowl upset of Alabama and was a respectable 20-of-33 for 308 yards in a 2014 win over another SEC foe, Tennessee.
"What has helped Trevor is some of that gunslinger [mentality] has won games, and some of that gunslinger [mentality] cost him his job and has put him in the situation that he's in," Sumlin said. "... He's been at the highest highs, he's been able to win games against quality opponents, and he's lost his job. How you handle that can be humbling."
Ultimately, those experiences might prove more valuable in the A&M locker room than his touchdowns on the field.
Few could dispute that immaturity has plagued Sumlin's teams -- starting, of course, with Johnny Football himself. And the chaos of last December threatened to further rupture the Aggies' already fragile chemistry.
"It was crazy," Seals-Jones said of that time. "It was difficult to handle, all the stuff that was happening."
But the wheels were already in motion for Sumlin's big free-agent pickup. "I may have had a little inside information," he joked, having worked for Bob Stoops at Oklahoma from 2003-07. Knight had received his waiver and begun contacting schools shortly after the regular season ended. The timing was such that just as the San Antonio native was deciding on a new locale, the school in College Station suddenly had an opening.
"I look back on it now and honestly, it blows my mind that I made that decision," Knight said. "It just happened so fast, and I took a leap of faith. It was the perfect move, and everything's worked out like I hoped it would so far.
"Being named the starter was huge because in the end, that's why I left. I missed playing, I wanted to get back on the field for my senior year, and I get that opportunity Sept. 3."
In the meantime, Knight continued a tradition he'd previously participated in at Oklahoma by leading a group of A&M athletes on a missionary trip to Haiti. He may have set an NCAA record Tuesday in making his third conference media days appearance, this time in the SEC.
Sumlin joked that at his first team meeting, Knight "[sat] there in the front row with his beard, and all of the 17-, 18-year-old guys are going: Who is that old man?"
So old that four years ago, as a freshman on the scout team, Knight spent practices leading up to the 2013 Cotton Bowl playing the role of a certain Texas A&M quarterback -- Manziel. Four years later, he is Texas A&M's quarterback.
"Never in a million years," Knight said when asked if he could have seen that scenario. "You never expect something like this -- and that's what's cool about it."
It could be a cool story for college football if Knight closes his career in redemptive fashion.