The Noah Syndergaard mess takes another bad turn for the Mets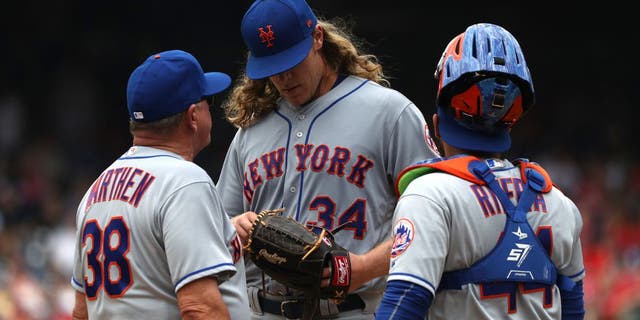 Noah Syndergaard finally got that MRI on his aching arm, and it revealed he has a partial tear in his right lat muscle and will force him to the 10-day disabled list, the Mets said Monday.
The news comes one day after Syndergaard left a start after just 1 1/3 very rough innings with pain in his arm. He had been scratched from a start last Thursday and then declinedto get an MRI that the team requested.
Our Ken Rosenthal broke down the entire mess in a column Sunday night. Syndergaard's trip to the DL has felt almost inevitable since coming to camp loaded up with extra muscle and declaring he wants to throw even harder than he did last year, in a league that increasingly rewards velocity.
Syndergaard recorded just four outs in Sunday's start against the Nationals, allowing five hits and five runs in what would end up being a 23-5 blowout win for the Nationals.Prior to that debacle, the 24-year-old was 1-1 with a1.73 ERA in four starts.
The Mets are already reeling from injuries, with six other players spending time on the disabled list this season. Star outfielder Yoenis Cespedes went on the 10-day DL just last Friday.
It's a brutal sequence of events and a troubling trend for the Mets, who currently sit in last place in the NL East less than two years removed from a World Series berth and should have the tools to contend again with a fully healthy roster.
Brad Mills-USA TODAY Sports | Brad Mills