The NFL's starting offensive linemen weigh over 50,000 pounds combined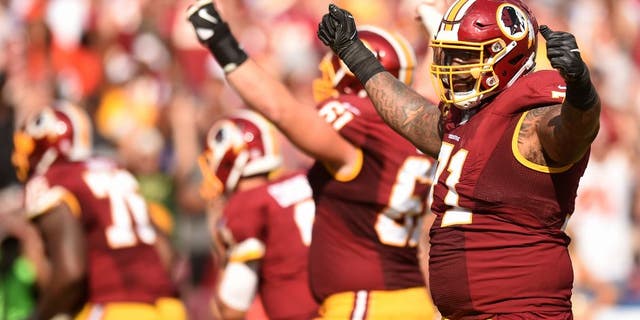 NEWYou can now listen to Fox News articles!
Earlier today we learned about a high school football team in the state of Washington with linemen so large that three opposing teams have forfeited their games.
At the level of competition where you would expect the linemen to weight over 3 bills, the Washington Redskins have the heaviest starting offensive line with a combined weight of 1,630 pounds -- an average of 326 per man. That's LT Trent Williams (320), LG Shawn Lauvao (326), C Spencer Long (326), RG Brandon Scherff (323) and RT Moses Morgan (335). The folks at Memo-Nomics compiled the data (which may be up or down a few pounds here and there due to injuries, including in Washington where Long took over for starter Kory Lichtensteiger).
The Falcons have the lightest offensive line at a svelte 1,522 pounds for a 304.4 average. In total, Memo-Nomics found that the combined weight of the league's 160 starting offensive linemen is 50,472 pounds.
That sounds pretty incredible until you discover that the world's largest gluten-free pizza also weighs about 50,000 pounds.
The average lineman size (and the average American) certainly has boomed in the past 50 years. When the Packers won Super Bowl I, their largest players weighed 260 pounds. The Washington Redskins' famed "Hogs" weighed an average 273 pounds in 1982.
Of course, some linemen have to eat a Michael Phelps-ian amount of calories to keep the scale tipped. Just take a look at former Chargers center Nick Hardwick before and after: