The most interesting names in the NFL Draft won't necessarily be top selections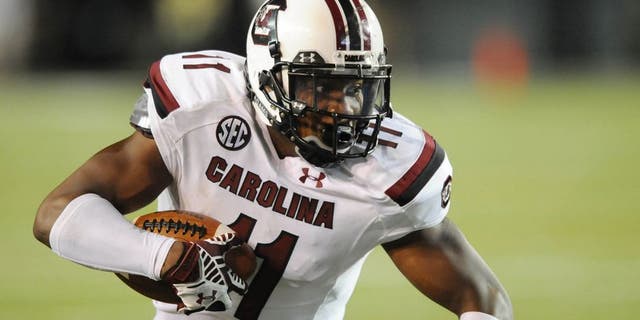 NEWYou can now listen to Fox News articles!
Every young football player dreams of hearing the commissioner call his name at the NFL Draft, but some of those names will stand out for reasons that have nothing to do with football when they're read in Chicago later this week.
These guys might not all be future NFL stars -- and some might not even get drafted -- but their names are certainly worthy of first-round recognition. So without further ado, meet the NFL Draft All-Name team:
Pharoh Cooper (WR, South Carolina): The key to excellence seems to be putting a new spin on the word pharaoh. It worked for American Pharoah in last year's Triple Crown, and it's working for Cooper, an All-SEC wideout who skipped his senior year in Columbia to enter the 2016 draft. He's likely a Day 3 pick.
Geronimo Allison (WR, Illinois): The former junior college standout may not have the goods to be a star at the professional level, but he has the perfect name for making a leap as big as the one between the Big Ten and the NFL.
Cassanova McKinzy (LB, Auburn): All you need to know about McKinzy is that he chose Auburn over Clemson because the latter didn't have a Chick-fil-A on campus. (He later tried to recant, but no one is buying it.) Generally, casanova is spelled with one S, but it's doubtful he cares, so long as his future team gets it right on his paycheck.
Ka'imi Fairbairn (K, UCLA): The Hawaiian-born Fairbairn won the 2015 Lou Groza Award and his full name, John Christian Ka'iminoeauloameka'ikeokekumupa'a Fairbairn, is more than a mouthful. Good luck fitting that on the back of a jersey.
Le'Raven Clark (OT, Texas Tech): The number of "Quoth Le'Raven" headlines we see this year will all depend on how the likely first-rounder fares in his first NFL season. Hope he's a fan of Poe.
DeForest Buckner (DE, Oregon): The Clark entry also applies to Buckner, a probable top-10 pick whose name will most likely lend itself to plenty of Forrest Gump references and jokes about seeing "DeForest for the trees" as long as he's in the league.
Scooby Wright (LB, Arizona): His legal name is Philip, but his dad called him "little Scooby Doo" as a baby, and it stuck. There was a time when Wright would have been a likely first-rounder, particularly after winning the Nagurski Trophy, Lombardi Award, Lambert Award and Bednarik Award as a sophomore. But injuries slowed him in 2015, and now he's looking like a late-Day 2 pick at best.
Halapoulivaati Vaitai (OT, TCU): The best part about Vaitai's name is that his brothers are named Kevin and William. And, if you're wondering, it's pronounced hah-lah-poo-li-VAH-tee VIE-tie.
Briean Boddy-Calhoun (CB, Minnesota): I've known a Brian, and I have a good friend named Bryan, but I can't say I've ever met a Briean. Boddy-Calhoun says it's pronounced BREE-an (the last name sounds like "body"), but I'm not sure I'm "Brian" it.
Moritz Boehringer (WR, Germany): The enigmatic wideout goes by the nickname "Silence" and most recently played for a team called the Schwabisch Hall Unicorns in the German Football League. He drew plenty of interest during a workout at FAU in March, and if a team decides to take a flier on him, Boehringer would be the first player drafted directly from Europe to the NFL.
Blake Frohnapfel (QB, Massachusetts): The Marshall transfer may not ultimately be drafted but he has been called the best quarterback you've never heard of, so he'll get an invite to camp from someone. His surname apparently means "happy apple" in German, something the aforementioned Boehringer probably could have told you without looking it up.
Jordan Swindle (OT, Kentucky): If this guy offers you an investment opportunity, I'd recommend passing. Also, his nickname is said to be Swin Diesel.
Silverberry Mouhon (DE, Cincinnati): Mouhon tells people he's named after the author A.R. Silverberry, but scribe Silverberry's website says he didn't begin writing seriously until 1998, five years after Mouhon was born. So there's a bit of mystery behind this name. But in any case, it's a fun one. Should be a late-round pick.
Don Cherry (LB, Villanova): The FCS product isn't likely to be selected but if he is and he's not wearing a completely ridiculous suit when it happens, he's making a huge mistake.
Prince Charles Iworah (CB, Western Kentucky): Iworah has a great name, but it may not have been the best on his own team. During his time with the Hilltoppers, Iworah shared the field with Garrett Schwettman, Wonderful Terry, Zhock Mason and Ge'Monee (yes, like G-Money) Brown, among others. I could have listed all of them, but Iworah -- who is already sick of the "Coming to America" jokes -- is the best of the bunch on the field, so he gets the nod, and likely a mid-round selection.
You can follow Sam Gardner on Twitter or email him at samgardnerfox@gmail.com.