The Maple Leafs made history by getting five goals from five different rookies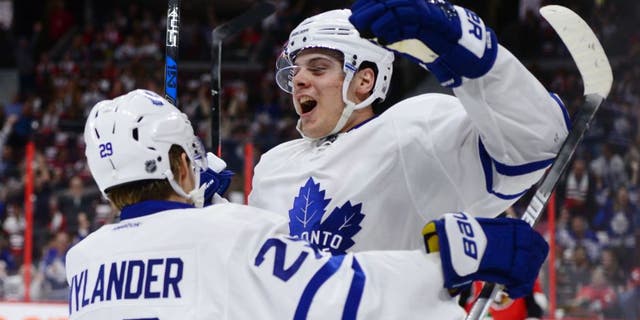 NEWYou can now listen to Fox News articles!
It's no secret that a significant portion of the Toronto Maple Leafs' success this year can be attributed to an outstanding batch of rookie players. The Leafs are currently sixth among all NHL teams in scoring, and around 40 percent of all their goals this season have been scored by first-year players.
But on Monday night, Toronto pulled off a feat that hasn't been seen in the franchise's long history. In their contest against the Islanders in Brooklyn, the Leafs got five goals from five different rookie skaters on their roster. Nikita Soshnikov, Auston Matthews, Mitch Marner, Zach Hyman and William Nylander all scored. The average age of that collective group is 21 years old.
Despite the contributions from the youngsters, it wasn't enough for Toronto. The Islanders managed to get a late, game-tying goal in the third period before eking out a 6-5 victory in overtime.