The Latest: Wisconsin, Iowa State and Florida State advance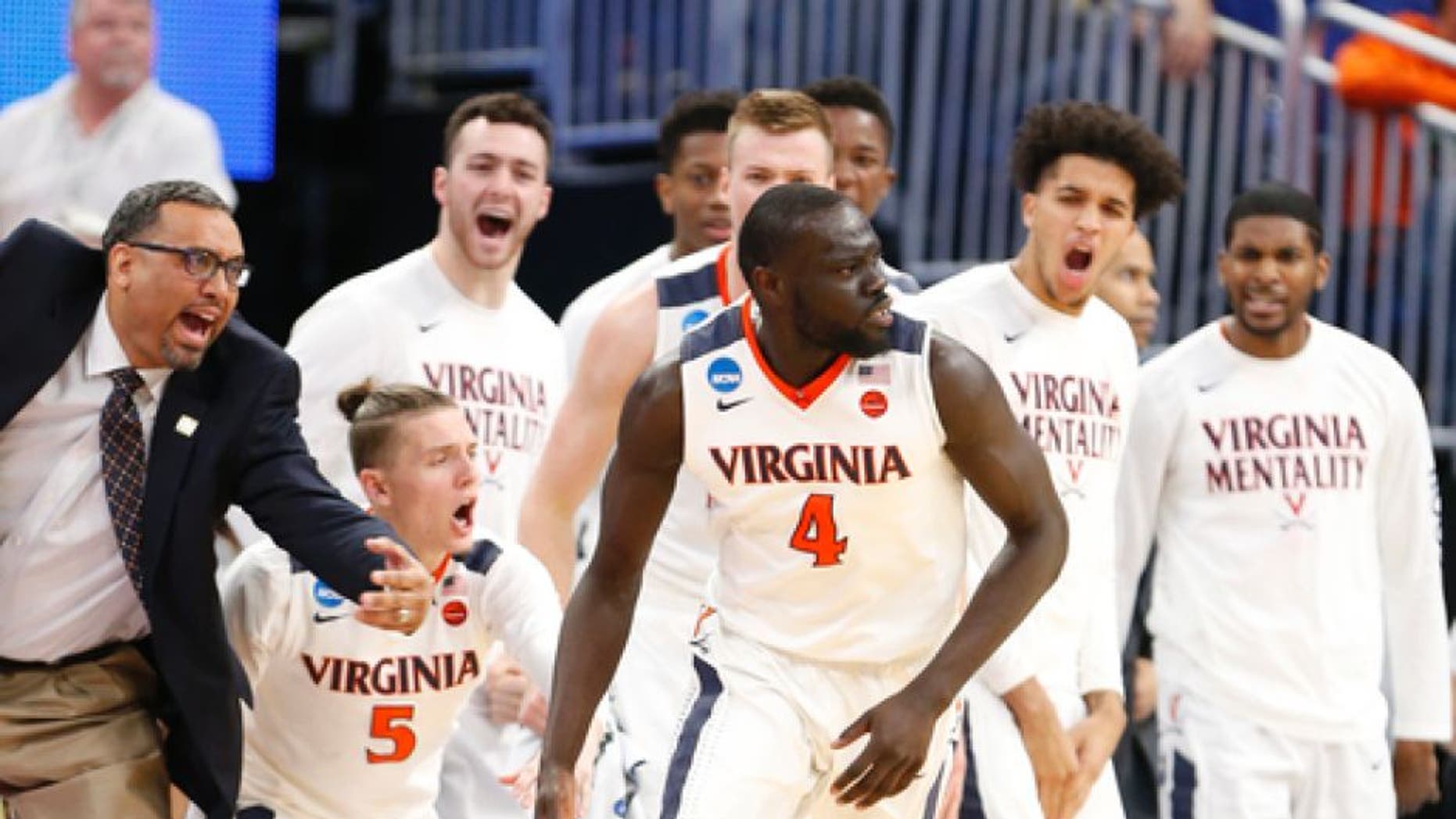 The Latest on the NCAA Tournament (all times EDT):
12:20 a.m.
Tournament-tested Wisconsin is moving on, and so are Florida State and Iowa State.
Bronson Koenig made a school record eight 3-pointers and scored 28 points and Nigel Hayes added 16 to lead the Badgers past Virginia Tech 84-74.
The eighth-seeded Badgers made all the big plays in the closing minutes to set up a meeting with top-seeded Villanova on Saturday.
The Seminoles held off a spirited effort by Florida Gulf Coast, which lost defensive standout Demetris Morant to an ankle injury early in the second half before falling 86-80. Dwayne Bacon led FSU with 25 points and nine rebounds.
Monte Morris had 19 points, eight rebounds and eight assists, and Iowa State outlasted Nevada 84-73 to advance to the second round for the second straight year.
---
11:40 p.m.
Iowa State and Nevada are getting in each other's faces in the second half, with a double technical and a lot of trash talking.
Iowa State is threatening to pull away late. The Cyclones lead 69-59 with less than 5 minutes left.
Nevada got close early in the second half, trying to become just the latest No. 12 seed to take down a 5.
---
11:35 p.m.
Demetris Morant is back on the Florida Gulf Coast bench with a walking boot on his right foot/ankle and using crutches.
Morant had to be helped off the court with 17:19 remaining in the second half against third-seeded Florida State in Orlando, Florida.
Morant was injured while fouling Terance Mann. The Seminoles lead the 14th-seeded Eagles 74-63 late in the second half.
11:20 p.m.
Arizona has the first half high score for Thursday, putting up 53 points against No. 15 seed North Dakota in the opening 20 minutes. The Wildcats lead 53-37.
It's the best offensive first half this season for the Pac-12 regular season and tournament champions. The Wildcats came into the NCAA Tournament as one of the hottest teams in college basketball.
Arizona shot 61 percent for the half.
---
10:55 p.m.
Forward Demetris Morant has left Florida Gulf Coast's NCAA Tournament game with a right leg injury.
Morant had to be helped off the court with 17:19 remaining in the second half against third-seeded Florida State in Orlando, Florida. Morant was injured while fouling Terance Mann on a play. He was initially taken to the bench and then helped by two teammates to the locker room.
The Seminoles led the 14th-seeded Eagles 47-40 at the time.
Morant had five points and five rebounds.
---
10:35 p.m.
Dwayne Bacon might be saving Florida State's, well, bacon.
Bacon has 16 points on 8-of-10 shooting, carrying the third-seeded Seminoles to a 40-36 halftime lead against No. 14 seed Florida Gulf Coast in Orlando, Florida.
Bacon scored on a tomahawk dunk, a nifty, up-and-under move and another layup in the final 2 minutes, helping FSU build a late lead.
Brandon Goodwin has 14 points to pace the Eagles.
---
9:40 p.m.
The upset by No. 11 seed Xavier over No. 6 seed Maryland is one many people saw coming - about 43 percent of people who filled out brackets on Yahoo and ESPN picked the lower seed to win.
Many gamblers preferred the Musketeers, too. Nevada sports book William Hill says 54 percent of bets were placed on Xavier, and 58 percent of the money wagered backed the 2-point underdog.
Trevon Bluiett scored 21 points and Sean O'Mara had 18 to help No. 11 seed Xavier upset sixth-seeded Maryland 76-65 during the first round of the NCAA Tournament on Thursday night.
---
9:25 p.m.
UCLA could be without reserve forward Ike Anigbogu for its NCAA Tournament opener against Kent State due to a sprained foot.
UCLA coach Steve Alford said Anigbogu injured the foot during practice on Tuesday and would be a game-time decision on Friday.
A 6-foot-10 freshman, Anigbogu has provided the third-seeded Bruins with energy and a defensive presence off the bench, averaging 4.9 points and 4.3 rebounds per game.
UCLA has played mostly with an eight-man rotation, so Alford said he might go with more four-guard lineups until he's back.
Alford said forward TJ Leaf (ankle) and point guard Lonzo Ball (thumb) are both close to 100 percent and will play.
---
8:55 p.m.
UCLA coach Steve Alford is focused on the NCAA Tournament, not what job is open - even if it is at Indiana.
Alford played four seasons in Bloomington and led the Hoosiers to the 1987 NCAA title, so his name was one of the first to come up when Indiana coach Tom Crean was fired on Thursday.
''I love UCLA. I love Los Angeles. You're talking about arguably the greatest `brand' anywhere on the planet, and we got things going at a very high level now and we're very excited about it,'' Alford said before the Bruins' NCAA Tournament game against Kent State. ''We're excited about being in this tournament and seeing what we can do in this tournament.''
Alford played at Indiana from 1983-87 and left as the school's all-time leading scorer, steals and 3-point shooting. After a brief stint in the NBA, he went into coaching, making stops at Southwest Missouri State, Iowa and New Mexico before becoming UCLA's coach in 2013.
Alford was thought to be on the hot seat heading into this season after the Bruins failed to make the NCAA Tournament a year ago, but has turned the program around with a strong recruiting class headed by point guard Lonzo Ball.
UCLA enters the NCAA Tournament 29-4 and expected to make a deep run into March.
---
8:45 p.m.
UPSET ALERT: No. 11 seed Xavier, no stranger to pulling off upsets in the NCAA Tournament, leads sixth-seeded Maryland 65-58 with less than 4 minutes to play in Orlando, Florida.
It would be a huge victory for the Musketeers, who are without second-leading scorer Edmond Sumner and lost seven of 10 entering the tournament.
Xavier is playing in its fourth consecutive NCAA Tournament and is 23-20 in NCAA play since 1990.
- Mark Long reporting from Orlando, Florida.
---
8:40 p.m.
Defending champion and top overall seed Villanova has opened the second half on a 21-6 run after playing from behind for much of the first half to No. 16 seed Mount Saint Mary's.
The Wildcats are up by 13 points with 9 minutes left in the game.
---
8:20 p.m.
Vermont senior Kurt Steidl has left the Catamounts' game against Purdue with a left leg injury.
Steidl went down after he jumped out to defend a 3-point attempt with about two minutes left in the first half. A trainer worked on his leg for a short while before the swingman was helped to the locker room, walking on his own, but with a pronounced limp.
Vermont trailed No. 4 seed Purdue 37-36 at halftime.
- Jay Cohen reporting from Milwaukee
---
8:05 p.m.
Villanova, the top-seeded team in this year's NCAA Tournament, is in some trouble at halftime.
The Wildcats have been outplayed by No. 16 seed Mount St. Mary's and only lead 30-29 after 20 minutes. The Mountaineers jumped to a 10-2 lead and are going to sneaker to sneaker with the defending NCAA champions, who are attempting to be the first school to win consecutive titles since Florida in 2007.
Villanova missed its first eight shots and didn't take the lead until Eric Paschall powered in a dunk with 2:33 left in the half.
Since the NCAA introduced seeding in 1985, no top seed has ever lost to a No. 16 seed, a record of 129-0.
- Tom Withers reporting from Buffalo.
---
7:25 p.m.
Actor Bill Murray made the trip to Orlando to support Xavier and his son, Luke, who is an assistant for the team.
Murray sat in the first row in the Musketeers section, but was mostly subdued during the first half.
Murray is a huge sports fan, notably rooting for Chicago's pro sports teams. He was in attendance throughout the Cubs' postseason run, and was in Cleveland for the Game 7 World Series win.
Luke Murray is in his second season on Chris Mack's staff at Xavier. Murray spent the previous two years at Rhode Island. He also has spent time at Towson, Wagner and Arizona.
---
7:20 p.m.
Villanova has looked shaky in the opening minutes of its opener. The top-seeded Wildcats, attempting to become the first team to win consecutive titles since 2007, have missed their first eight shots, committed two turnovers and had three shots blocked by Mount St. Mary's in the opening five minutes.
---
7:13 p.m.
In a classy gesture, Villanova coach Jay Wright went into Bucknell's locker room following the school's loss to West Virginia to congratulate the Bison on their season.
Wright played at Bucknell and graduated from the school in 1983.
Not long after the visit, Wright and the Wildcats began defense of their NCAA title with a matchup against No. 16 Mount St. Mary's.
- Tom Withers reporting from Buffalo.
---
5:40 p.m.
Cinderella has taken the afternoon off at the NCAA Tournament.
While that might be good for your bracket, maybe not so much in the drama department for March Madness.
When fourth-seeded Florida polished off 13th seeded East Tennessee State as dinner time on the East Coast approached, the higher-seeded teams improved to 6-0 on the opening day of the tournament.
The closest call so far came in Buffalo, where 12th-seeded Princeton took fifth-seeded Notre Dame to the final buzzer before falling 60-58.
An upset on the brackets is brewing with No. 12 seed Middle Tennessee State up by double digits against No. 5 seed Minnesota, but Las Vegas casinos actually favored Middle Tennessee State.
---
5:35 p.m.
Minnesota big man Reggie Lynch returned to the bench after picking up third foul with 18:51 left in the second half of the Golden Gophers' first-round game against Middle Tennessee.
Lynch is the Big Ten's defensive player of the year. But he played just 9 minutes in the first half because of foul trouble.
The Blue Raiders found more room to maneuver in the lane in the second half again when Lynch went to the bench, building a 14-point lead with 15:31 to go.
One Minnesota fan yelled from the crowd, `What are you doing?'' after Lynch picked up his third foul. Coach Richard Pitino also shot Lynch a look of disbelief and a few choice words when Lynch picked up his third foul.
---
5:08 p.m.
Minnesota has a new unofficial assistant coach on its bench.
Senior Akeem Springs is out for the NCAA Tournament after tearing his right Achilles during the Big Ten tourney last week. Springs said earlier this week that he would join his teammates on the bench wearing a suit, and that's exactly what he did when the fifth-seeded Golden Gophers faced 12th-seedeed Middle Tennessee in first-round action.
Springs sported a pink tie and had a black walking boot over his right foot. He's sure to have his voice heard in the locker room with Minnesota trailing 37-31 at halftime.
---
4:46 p.m.
Retired football coach Steve Spurrier made the trip to Orlando to cheer on his alma mater.
Spurrier sat a few rows behind Florida's bench Thursday, rooting for the Gators to beat East Tennessee State.
Spurrier also might be privately pulling for the Buccaneers. Spurrier grew up in Johnson City, Tennessee, home to East Tennessee State. Spurrier called ETSU coach Steve Forbes to congratulate him on making the NCAA Tournament.
---
4:13 p.m.
Gonzaga slowly pulled away from South Dakota State for a 66-46 victory. And they avoided the first 1 vs. 16 upset in the history of the NCAA Tournament.
It looked possible for a while.
The Jackrabbits led for the first 17 minutes of Thursday's game in the West region and stayed in range for most of the game. Jordan Mathews scored 16 points to help Gonzaga pull away.
Gonzaga became the 129th straight No. 1 seed to beat a 16 since the bracket was expanded to 64 teams in 1985.
Other results from Thursday's first-round games:
Butler 76, Winthrop 64
Virginia 76, UNCW 71
Notre Dame 60, Princeton 58
---
2:58 p.m.
Fifth-seeded Virginia rallied from 15 points down to beat 13th-seeded UNC Wilmington 76-71.
London Perrantes scored 24 points and Marial Shayok added a career-high 23 off the bench.
Virginia advanced past the first round for the fourth consecutive year and won as a 5 seed for the first time in four tries. The Cavs can thank Perrantes and Shayok for making it happen.
---
2:26 p.m.
Avery Woodson has the hot hand from 3-point range for fourth-seeded Butler in a first-round game in Milwaukee against 13th-seeded Winthrop.
The senior guard is 5 of 7 from behind the arc for a team-high 15 points to lead the Bulldogs to a 41-27 lead at halftime. Woodson is one 3-pointer short of tying his career high from behind the arc.
The game is being played at the Bradley Center, the home of Butler's Big East rival, Marquette. Woodson scored 17 in a 68-65 win over the Golden Eagles the last time that Butler visited Milwaukee on Feb. 7.
---
2:25 p.m.
Notre Dame avoided a 12-5 upset in Buffalo, holding off Princeton - which missed a late shot for the lead - 60-58.
Twelve-seeds are popular upset picks, having beaten five seeds 46 times in tournament history.
The West Region game - played in Buffalo - was the first contest of the full tournament.
---
1:22 p.m.
New Jersey Gov. Chris Christie is attending Princeton University's NCAA Tournament game, but he's not rooting for his state's Ivy League university.
Christie is sitting a few rows behind Notre Dame's bench Thursday in Buffalo and rooting for the Fighting Irish.
The Republican has been friends with Notre Dame coach Mike Brey since he worked at the University of Delaware. Christie graduated from the school.
Christie's daughter Sarah is a student manager for Notre Dame.
Christie's son Andrew graduated from Princeton last year and played for its baseball team.
---
12:50 p.m.
Notre Dame guard Rex Pfleuger had to leave the game to get stitches in the first half against Princeton.
The sophomore went to the locker room after taking an elbow from Princeton's Steven Cook while Cook was driving to the basket in their first round game.
Pfleuger returned to the bench after getting the stitches and having a concussion ruled out. Pfleuger is averaging 4.8 points and 2.8 rebounds per game for the Irish.
He didn't seem rattled and asked a team official to take a picture of the stitches that made him look more like a hockey player than a kid in the middle of March Madness. He made it back on the floor with 4:04 left in the half.
---
For more AP college basketball coverage: http://collegebasketball.ap.org and http://twitter.com/AP-Top25