The Latest: Louisville playing game, losing assistant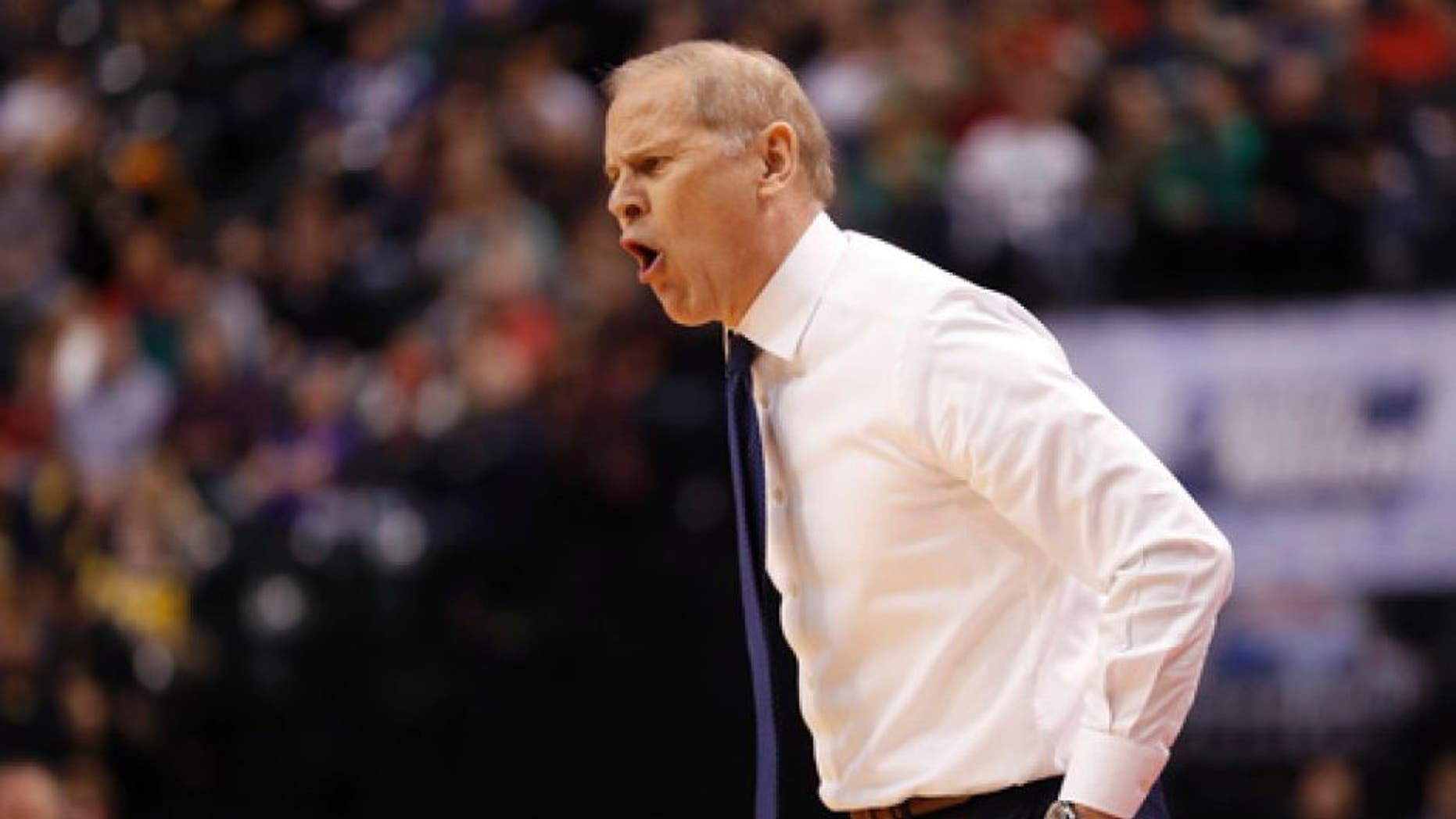 The Latest on the NCAA Tournament (all times Eastern):
12:35 p.m.
Louisville is getting caught up in the coaching carousel as it plays its NCAA Tournament game.
Arkansas State has announced it has hired Louisville assistant Mike Balado as its next head coach. Arkansas State officials said Balado would be introduced at a Monday press conference.
Balado has been an assistant on Rick Pitino's staff the last four years. He replaces Grant McCasland, who resigned Monday to take over North Texas' program.
This is one of two coaching hires to be announced today. Washington announced it has hired Syracuse assistant Mike Hopkins as its next head coach. Hopkins replaces the fired Lorenzo Romar.
---
12:10 p.m.
Seventh-seeded Michigan and second-seeded Louisville have tipped off Sunday's second-round games in Indianapolis.
The Wolverines are 7-0 this season on neutral courts, with six wins coming against NCAA Tournament teams.
Louisville has made the Sweet 16 in five of the past six years. The lone miss came in 2016 when the Cardinals served a school-imposed postseason for alleged recruiting violations. The Cardinals have been to 21 regional semifinals, the fourth-highest total in NCAA history.
Louisville leads the all-time series 3-0, with one win in Louisville, one in Ann Arbor and most recently in the 2013 championship game in Atlanta.
---
12:01 p.m.
The Atlantic Coast Conference raised some eyebrows during football season by going 10-4 in head-to-head matchups with the Southeastern Conference, which prides itself as the nation's best football conference.
Now the SEC has a chance for payback in the NCAA Tournament.
The SEC already beat the ACC once this weekend, with Florida blasting Virginia on Saturday. Today's action features two more SEC-ACC matchups as South Carolina faces Duke and Arkansas meets North Carolina.
The SEC headed into the NCAA Tournament with an 8-10 record against ACC teams.
The ACC earned nine NCAA Tournament bids to lead all conferences, but it endured a brutal Saturday as Notre Dame, Virginia and Florida State all lost by double-digit margins. The ACC has a chance to redeem itself Sunday as it brings out its heavy hitters with North Carolina, Duke and Louisville all playing. Those three schools have combined to win four of the last eight national championships.
---
The Sweet 16 field will be filled out in Sunday's eight NCAA Tournament second-round games.
No. 1 seed Kansas against No. 9 Michigan State features two top freshmen in the Jayhawks' Josh Jackson and the Spartans' Miles Bridges. No. 2 Kentucky against No. 10 Wichita State is a rematch of the 2014 game where the Wildcats ruined the Shockers' 35-0 season.
No. 2 Louisville vs. No. 7 Michigan play for the first time since the 2013 title game won by the Cardinals. No. 11 Southern California, which meets No. 3 Baylor, tries to stay alive after starting in the First Four.
Higher seeds were 6-2 Saturday. No. 8 Wisconsin bounced No. 1 overall seed and defending national champion Villanova, and No. 11 Xavier ousted No. 3 Florida State.
---
For more AP college basketball coverage: http://collegebasketball.ap.org and http://twitter.com/AP-Top25