The last time the LA Rams made a draft pick this player's name was called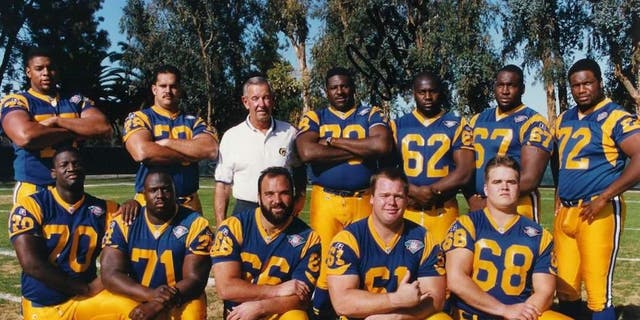 In the world of sports, athletes often dedicate their entire lives to reaching the pinnacle of their profession, but for many, life at the top can be short-lived. Sometimes all a player gets to experience at the highest level is one minute on the court, one trip to the plate, one shot on goal or one checkered flag, but more often than not, that fleeting moment in the spotlight is a story all its own. This is One and Done, a FOX Sports series profiling athletes, their paths to success and the stories behind some of sports' most ephemeral brushes with glory.
The Rams will make history Thursday when they make their first NFL Draft selection since the franchise returned to Los Angeles. Regardless of whether they take Jared Goff or Carson Wentz, the pick will knock Ron Edwards from the record book.
A little-known offensive tackle out of North Carolina A&T, Edwards was the original LA Rams' last draft pick before the team moved to St. Louis in the spring of 1995. It's an odd claim to fame, to be sure, but one Edwards has held dear for the last two decades.
"I was really excited when I heard that they were moving back," Edwards told FOX Sports this week. "They haven't had a team in about 20 years, so it's good that they're going to have one again. I remember when I was out there, our training facilities were in Anaheim, and I was so ecstatic about that, so I'm happy to see them back."
Edwards grew up a Dolphins fan in Temple Hills, Md., rooting for the likes of Dan Marino, Mark Clayton and Mark Duper as he forged his own path as a football player. At 6-5 and 311 pounds, Edwards was never a fit to emulate those playmakers, but he excelled as a defensive tackle at Crossland High School and earned a scholarship to play football at A&T.
Once there, Aggies head coach Bill Hayes shifted Edwards to the offensive line -- he later did the same with Jamain Stephens, a first-round pick of the Pittsburgh Steelers in 1996 -- but while Edwards embraced his new position and earned first team All-MEAC honors as a senior, he never figured that success would lead to a career in professional football.
"Playing in the NFL didn't become a goal of mine or something that I was even looking for until that final year," Edwards said. "I started receiving letters from different teams that they were looking at me, and I remember some of the coaches came by and they timed me in the 40 and I ran a 4.95. That's when I started getting a lot of looks.
"Prior to that I was just going to college to get a free education," continued Edwards, who studied occupational safety and health at the school. "I mean, A&T gave me a full ride scholarship, and that was my whole purpose for playing football."
In April 1994, the Rams were coming off a 5-11 season under Chuck Knox, who was back for a second stint as head coach. Despite its record, LA finished among the league leaders in rushing in '93, thanks to the efforts of standout rookie Jerome Bettis, and its quarterback combo of Jim Everett and T.J. Rubley was among the least-sacked in the NFL. With future Hall of Famer Jackie Slater's 20-year career drawing to a close, the team knew it needed to shore up the O-line.
With that goal in mind, LA used the 15th overall pick on Auburn offensive tackle Wayne Gandy, a move that Edwards figured took him out of the conversation with the Rams. From there, the Rams used the first of their three second-round picks to grab Isaac Bruce, then shored up the other side of the ball, spending four of the next five selections on defensive backs and defensive linemen.
By the time the sixth round rolled around on the second day of the draft, Edwards was unsure where or whether he'd be selected, but finally, with their last pick of the draft, the Rams called on Edwards, who was taken 189th overall.
"I was very anxious," Edwards said of the experience following the draft from his family home in Maryland. "I was highly rated going into the draft, and I was hoping that I was going to get drafted, so I was so happy when the Rams picked me. It was such a great moment, something I'll never forget."
A few weeks later, Edwards was in California for minicamp, and though he embraced the opportunity to work alongside established vets like Slater, Leo Goeas, Blair Bush and Tom Newberry, he quickly found the NFL to be a bigger challenge than he anticipated.
"I left college and I thought I was the best of the best at my university, but you get to the NFL and everybody is the best of the best," Edwards said. "You've got some truly high-caliber players that you're going up against. You had Sean Gilbert, who was there on the defensive side of the ball. D'Marco Farr was also there, and he was great. So they had some good guys, some solid competition."
Still, Edwards stuck with the team through training camp -- at one point he was involved in a scuffle that led to safety Deral Boykin getting six stitches at the hands of fellow offensive tackle Darryl Ashmore -- but when the regular season started, he was relegated to the practice squad. From there, Edwards was quickly scooped up by the Bengals, but Cincinnati waived him in late October, and he returned to LA, where he finished out the year.
The following offseason, the Rams moved to St. Louis, but still he struggled to earn snaps.
"Heck, I tried every position," Edwards said. "I even snapped. I was a long snapper. So I was snapping, playing guard, trying to play every position on the line to make sure I could stay on the squad."
After the 1995 season, Edwards left the States for an opportunity in NFL Europe, playing under Jack Bicknell with the Barcelona Dragons. The following year he attempted to make an NFL comeback, and he got a tryout with the New England Patriots. However, Edwards was still recovering from offseason back surgery at the time, and the injury proved to be a career-ender.
"I went and tried out, it was preseason, did all the agilities, worked out well, did everything that I thought I had to do to make the squad," Edwards said. "Then Bill Parcells pulled me into the office when I finished all the workouts, and he said, 'This is the economic side of the game that I'm going to explain to you.'
"He basically told me I was like used products," Edwards continued of Parcells, who was in his final season as the Patriots' head coach. "He actually used an aluminum can as his tool for illustration. He crumpled up that can and stretched it back out and said, 'This is how your back is. We can straighten it back out, we can fix it, but every time you take a hit, you're going to bend at the same spot, and your back is that spot.' He said, 'You know, you hit with your neck and shoulders and get that jolt down your back, so every play, you're more of a liability than an asset to the team.'
"He basically said he had to make a business decision, that he could get a young guy who's just as strong, just as fast and can play just as well without injury, and he wouldn't be worried about whether I'd go on injured reserve every time I made contact," Edwards added. "So he told me right there, in New England, to hang up my cleats, be happy that I got a degree and go get a real job."
It was a harsh assessment of Edwards' place in the NFL landscape, but one he says he needed to hear.
"It was a shocker," Edwards said. "But it made me realize that the game of football -- there were jokes in the locker room that 'NFL' means 'not for long' to the players. And that's a true statement. You're just an injury away from your career being over."
From there, Edwards went on to a brief coaching stint at Bowie State, but he later left football altogether and put his degree to use working for the state of Maryland. Edwards eventually ended up in the transit industry, a field he's still in today, doing safety and security consulting for transit properties across the country. In his spare time, he also runs a non-profit called the Academic Empowerment Foundation with his father.
"We help kids get into school, help kids take SAT prep, take them to college fairs, things like that," Edwards said. "And I use my experience to tell them that, 'Hey, you don't go to school just to play football or play sports. You go to school to get an education first.' Because I got my education, I wasn't left without. I had a plan B in place, and my plan B was actually my original plan A."
As he distanced himself from football, Edwards kept an eye on the Rams, however. He's close friends with former Rams defensive end Tyoka Jackson, and though Edwards will soon be replaced as the latest Los Angeles Rams draft pick -- he believes the team will take Cal's Goff first overall -- he says he'll always be grateful for the opportunity he got in LA.
"It's something that I hold dear," Edwards said. "I can say I was a part of an elite group of people that got drafted into the NFL. I played there for a few years, and that's a part of my history. There are only a chosen few who can say that. People dream about doing the thing that I had the chance and ability to do."
PREVIOUS ONE & DONES:
May 12: Dean Morton
May 19: Ross Browner
May 26: Dave Salvian
June 2: Mine That Bird
June 9: Kerwin Bell
June 16: MIchael Campbell
June 23: Tyson Wheeler
June 30: Roe Skidmore
July 7: Steven Hill
July 14: LaMarr Hoyt
July 21: Bernard Quarles
July 28: Matt Tupman
August 4: Kevin Melillo
August 11: Roy Gleason
August 18: Cory Aldridge
August 25: Tom Brown
September 1: Tony Cloninger
September 8: Mike Pantazis
September 15: Wilbur Wood
September 22: Doug Clarey
September 29: Danny Young
October 6: Chad Wiseman
October 13: David Matranga
October 20: Brad Fast
October 27: Zenyatta
November 3: Ohio Northern
November 10: Dave Scholz
November 17: Matt Walsh
November 24: Clint Longley
December 1: Steve O'Neal
December 8: 1985 Miami Dolphins
December 15: 1998 New York Giants
December 22: Ed Podolak
December 29: Scott Skiles
January 5: Bram Kohlhausen
January 12: 1968 New York Jets
January 19: Ricky Proehl
January 26: Mike Boryla
February 2: John Kasay
February 9: Julius Erving
February 16: Shaquille O'Neal
February 23: Mario Andretti
March 1: Nykesha Sales
March 8: 1962 Yale Basketball
March 15: 1998 Harvard Women's Basketball
March 22: 1971 Penn Basketball
March 29: Earnie Killum
April 5: Denny McLain
April 19: The XFL
You can follow Sam Gardner on Twitter or email him at samgardnerfox@gmail.com.